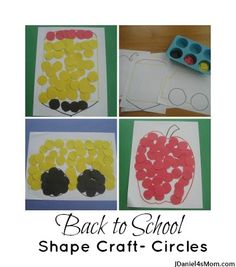 This week JDaniel and I looked at the book Away We Go! by Chieu Ann Urban and explored circles while doing a Back to School shape craft. It is a wonderful board book about transportation. Each page has shape cutouts that allow you to view shape cutouts on the upcoming pages. The cutouts are each a part of a vehicle. There are kinds of vehicles in the book everything  from construction equipment to space vehicles.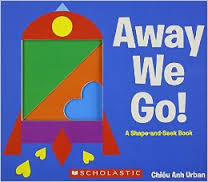 Children are invited to look for particular shapes on each page. It is kind of like a shape I Spy book for young children. Despite JDaniel's post preschool age, he enjoyed looking through the picture and hunting for the shapes. The brightly colored pictures and seeing how each shape cutout would be used in the next picture was a lot of fun.
What did we do with this book?
Back to School Shape Craft
JDaniel worked with circles to fill  outlines of Back to School shapes I had drawn for him. There was a school bus, an apple, and a pencil. He was given a muffin tin filled with colored circles. Each color was a part of a zone or area on the Back to School pictures.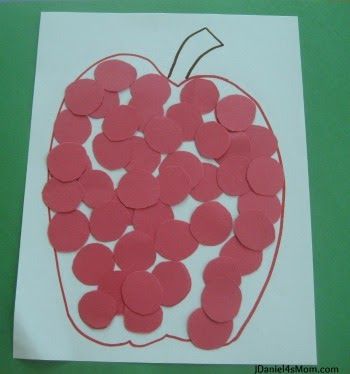 The apple was the easiest to fill. It really only needed red circles. I didn't give him any guidance as to how to fill the apple or how to many circles to use. I just wanted to fill in the area of the apple.  When he was finished, we talked about how the word area is a math word that describes how many of an object can fill up a space. I wasn't concerned that the circles overlapped and were not side by side. The idea was just to fill the inside of the apple.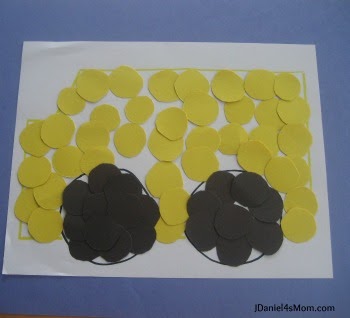 The bus was a little bit trickier for JDaniel to fill. There weren't many rounded edges outside of the tires. The circles were more or less just placed into the bus. I like the layering that was done of the tires. I thought about having JDaniel add windows to the bus, but I wasn't sure that the round windows would look right.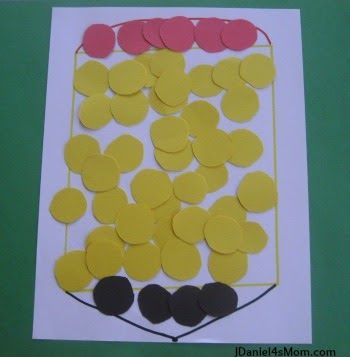 Circles might not have been the best shape to fill the Back to School pencil. They were fine for filling the yellow section of the pencil. The eraser area and tip of the pencil are narrow areas.The circles didn't fit as well in them.
By the time we got to the pencil JDaniel was circle crafted out. This Back to School Shape craft with circles was too much to do at one sitting. I should have put out one shape a day.
The author of Away We Go! has designed a set of shape activities that feature transportation you can find them on her blog Chieu Ahn Urban. I think they are well done.
 I have decided to ask you to link  your posts to the 
Read.Exlore.Learn. Facebook
 page instead of running a link up. I hope you will stop by and share your children's book related activities there.
Disclaimer: I was sent a copy of the book Away We Go! to review.
Follow JDaniel4's Mom on 

Facebook

, 

Pinterest

, and 

Twitter

.

(Visited 5,144 times, 1 visits today)