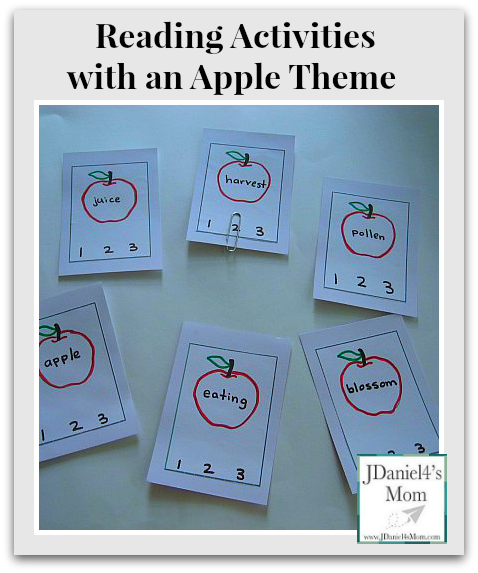 Apples
 is a wonderful picture book that shares tons of information about apples. The illustrations help young readers picture walk through the book. There is a lot of text on each page and many young readers will need to have this book read to them. It is so worth reading with them even if it is only a page or two at a time.
The book shares how bees help pollinate apple blossoms, young trees are encourage to grow, the history of the apple and so much more. My son loves to know why things are they way they are. This book shared with him a bounty of information on apples. He really liked the history of apples the best. It discuss ancient Greece and Rome. JDaniel is really into that time period right now.
As I mentioned the illustrations are wonderful. Phyllis Limbacher Tildes pictures really illustrate what the text is sharing.  I think you will really enjoy exploring this book.
What did we do to explore this book?
Working with Syllables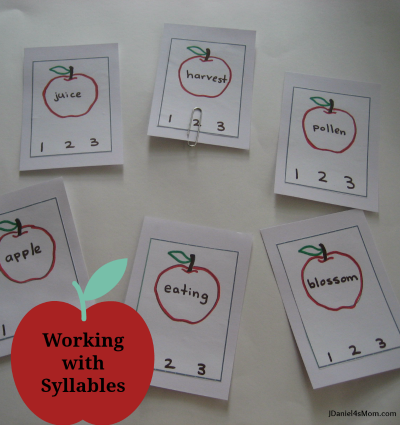 When I was teaching syllables were taught in second grade, now identifying syllables is taught as a pre  reading activity. JDaniel came home with worksheet focusing on syllables. I decided maybe we should work on them at home too.
I used the same template I created of the math activities last week to create syllable cards with apple themed words on them. JDaniel and I sounded out the words on the cards and clapped the number of syllables each word has.
Then he put a paper clip over the number of syllables each word has. We had fun clapping and clipping. This maybe a style of task card that I make for him again and again for reading activities and other content area skills.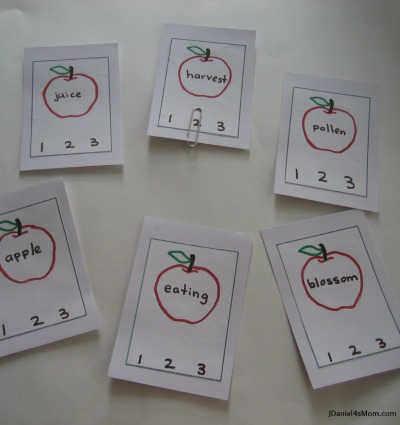 More Reading Activities
LEGO and Reading Comprehension Sheets to Explore Color
I have decided to ask you to link  your posts to the Read.Exlore.Learn. Facebook page instead of running a link up. I hope you will stop by and share your children's book related activities there.
Disclaimer: This post does contain affiliate links.
(Visited 178 times, 1 visits today)