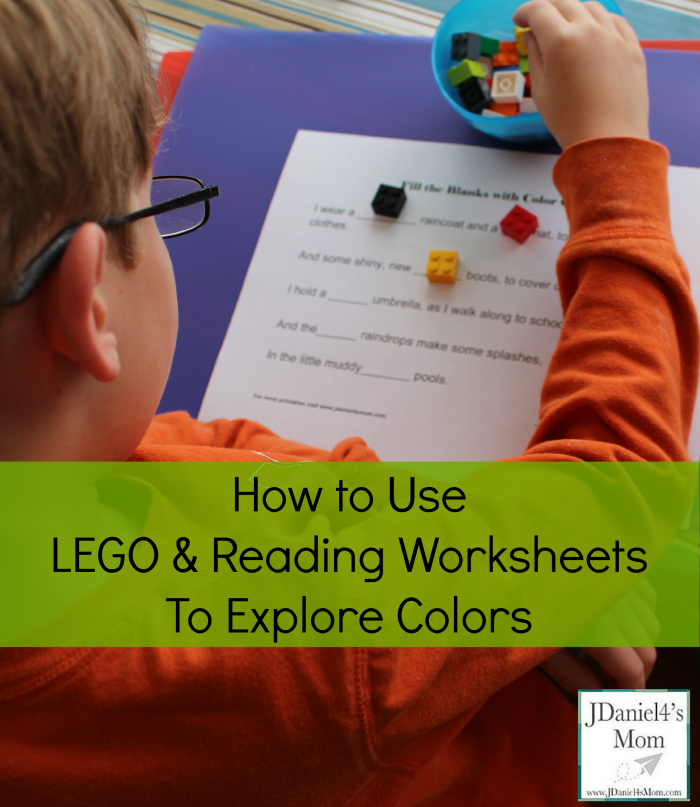 I have been sharing fun LEGO activities all week. After reading about today's activity, I hope you will check out my LEGO print made party placemat, Counting Bees activity and the Draw and Plan It activity. Today's activity uses reading cloze or fill in the blank reading worksheets. Children read what is on the page and fill in the missing words. In a traditional reading cloze kids try to fill in the that they think comes closest to the missing words by writing it in the blank spaces. This activity asks children to Fill in the Blanks with Color Cubes or LEGOS. The missing words on both reading worksheets are color words.
When my son and I did this activity, I didn't tell him to place what he thought was the perfect brick of the perfect color in the blank spaces. I wanted him to have fun creating funny sentences.
The beauty of placing LEGO on the blank lines is that you can try a variety of colors to fill in the blank. The colors can be what they would be in real life or silly like the ones we used.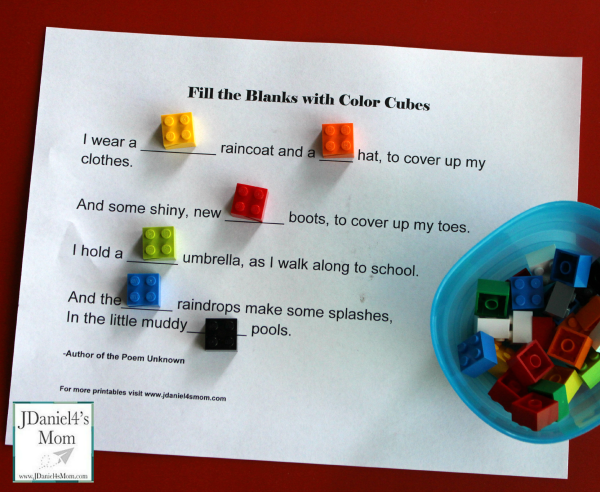 One of the reading worksheets shares a fun poem about rainy weather. The second of the reading worksheets shares silly sentences that I composed. You may look at the reading worksheets and think of fun sentences of your own that you would rather use. Feel free to do that. Your children may enjoy coming up with their own fun or silly sentences for you or other children to fill in.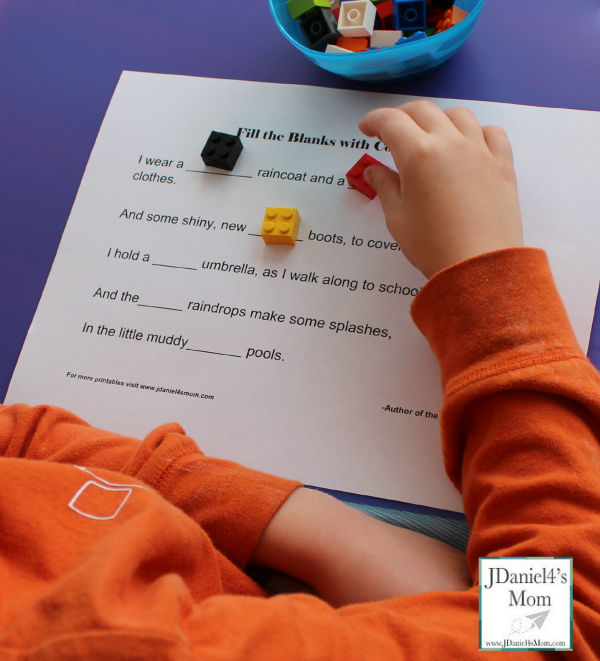 The goal of this activity is for children to interact with words that they can read. This activity opens the door for kids to play with words and bring their on meaning to them. Each time they place a LEGO in a blank space they can totally change the word picture that sentence creates.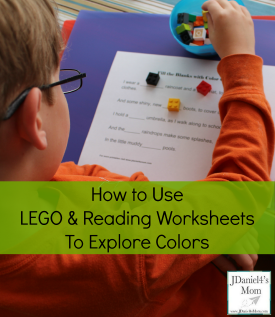 If you try this LEGO activity , please leave me a comment below telling me about how it went  or share a picture of it on my Facebook page. If you are looking for more LEGO learning games, you will find a number of them on my LEGO Learning Activities Pinterest board.
(Visited 864 times, 1 visits today)