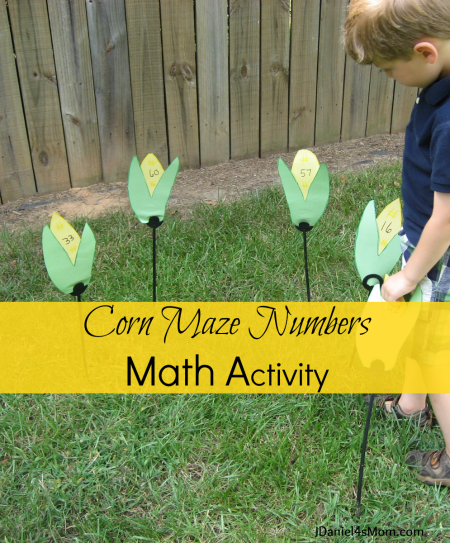 We will be walking through a full-size corn maze when we go to the pumpkin patch until then we have small corn maze math activity in our backyard. It doesn't have any dead ends or twists to it. It is a simple avenue of corn that we can walk through.
Our corn maze is simply construction paper husks of corn placed on stakes. (The stakes have been collected over time. Our lawn care company places them in our front yard along with a placard with their company name on them. We keep the stakes and pitch the placards.)
I placed a wide variety of numbers on the corn cobs. JDaniel is working on the numbers 1-100 at school this year. I picked numbers that are all over that range.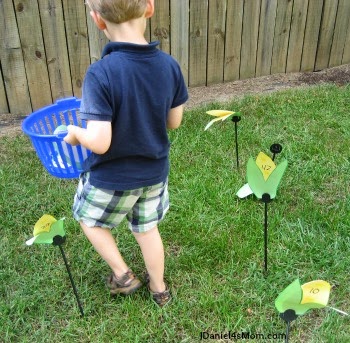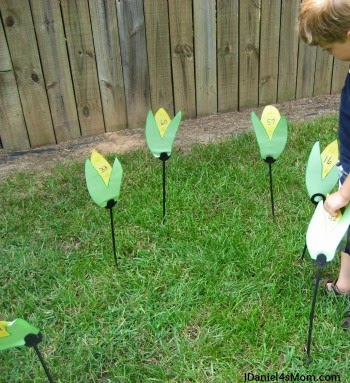 The first time through the corn lane JDaniel had to simply read the number to me. If he could read me the number, then he could pick the corn husk and put it into his blue harvest basket. Some numbers gave him some trouble, but most were not difficult.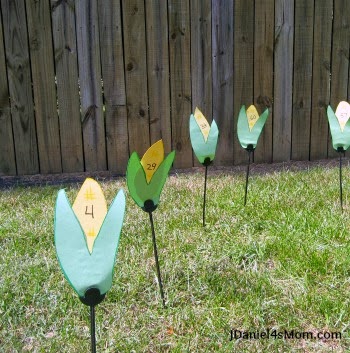 We then planted the corn husks back onto the stakes. I should have laminated them. The construction paper started to crease a little when we put the corn back on the stakes.
As we walked through the corn this time I asked JDaniel to tell me the numbers that came before and after each number on the corn. This took a little longer and required a little thought. Simply recalling the number had been much easier. This required visualizing the number and then the numbers that appear around it. Moving up to a new level in the higher levels of thinking was a good brain stretcher for him
The last time through the numbers I had JDaniel tell the number in the ones and ten places in each number. I think understanding what makes a number a number helps children bring meaning to the number. This wasn't that difficult for him. I didn't think it would be. The goal of was to help him start to build up the number sense compartment of his brain.When he learns expanded notation in school, knowing how many tens and ones a number has will be helpful.
After we explored the corn maze math activity a little more, we took it down and put in it the garage. I was pleasantly surprised that JDaniel asked if we could put it up again a few days later. This time he helped me set up the corn maze math activity and picked what math activities we would do. He got to be the teacher and I was the corn harvester. I just love having him teach me new things.
Have you ever been through a corn maze?

(Visited 440 times, 1 visits today)