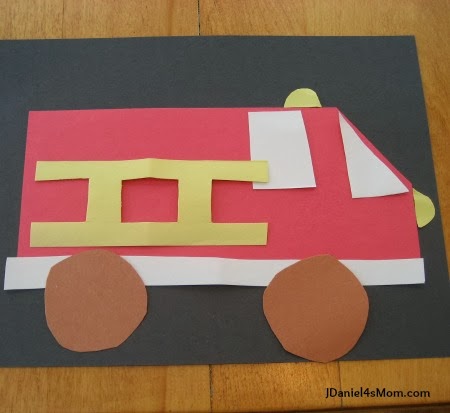 One of the fun things I have been doing to help JDaniel's class this year has been to help with the SEEDS program. It is right up my alley. The program is like Read.Explore.Learn. and you know how much I love to explore books.  I decided to share a fire truck theme book with them called Meeow and the Big Box
 and do a fire truck craft.
The link below is an affiliate link. It was placed there for your convenience.
Meeow and the Big Box
is about a kitten who uses a big box to create fire truck for pretend play. We first heard this book shared at a library story time focused on fire safety. The librarian created a visual using a box that walked us through each of Meeow's steps. The children just loved  this book.
Creating the Fire Truck Craft
I only get about a half and hour to read the book and do the craft. To save time I try to have everything cut out and ready to glue down.  I even do a trial run on my own or with JDaniel to time it. He loves getting to the be guinea pig for his class.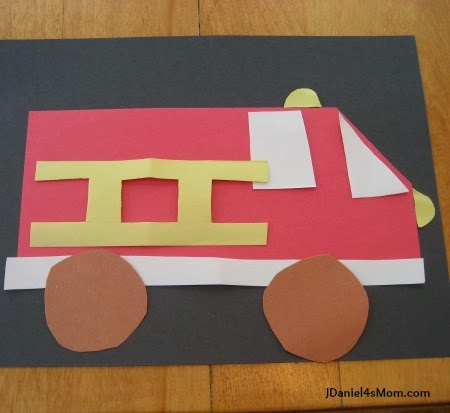 Here is how the trial for this craft turned out:
First we put the body of the fire truck on black paper. Then JDaniel added the windows and white bumper area. I think I could have cut a longer strip for the bumper. It really didn't stick out very far in the front or back of the fire truck. I may need to make these a little longer for the class.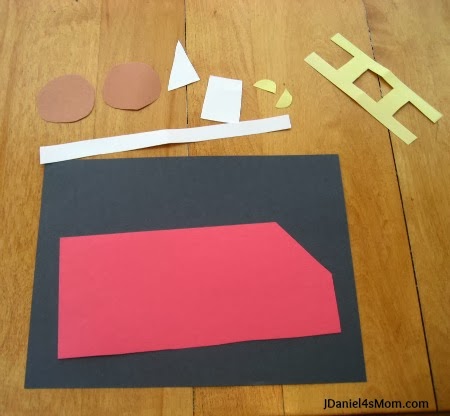 The windows for the fire truck were moved around a lot. JDaniel had ideas about where they needed to go and not go a couple of times.  They really could go anywhere on the front of fire truck and could be turned vertical or horizontal. I think not having a specific place for the windows gives the children can invitation to make their trucks unique.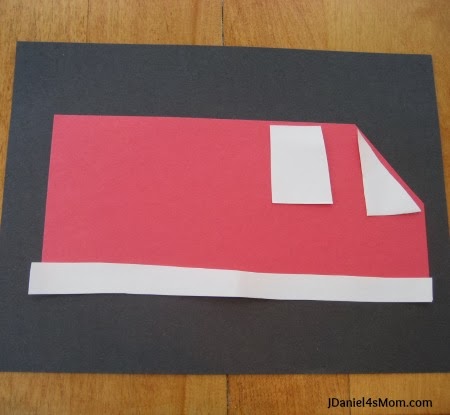 After working on the windows, JDaniel worked on adding the yellow accessories to the truck.  The ladder could have gone anywhere on the truck or even on the roof of the truck. Both of the lights could have gone on the top for on the front. The trial run ended up with one of the top and one on the bottom.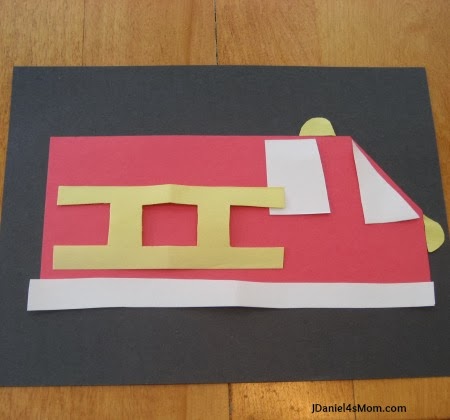 The last thing to go on the fire truck craft was the wheels. I am not sure that fire trucks have brown wheels, but black wheels would have blended into the black background so, I went with brown.
I think it will be fun to do this craft with JDaniel's class. We had fun working on it together. It would also be great to create with your children during National Fire Safety Month in October. They would probably like to read Meeow and the big box and make a fire truck too.

(Visited 2,217 times, 1 visits today)