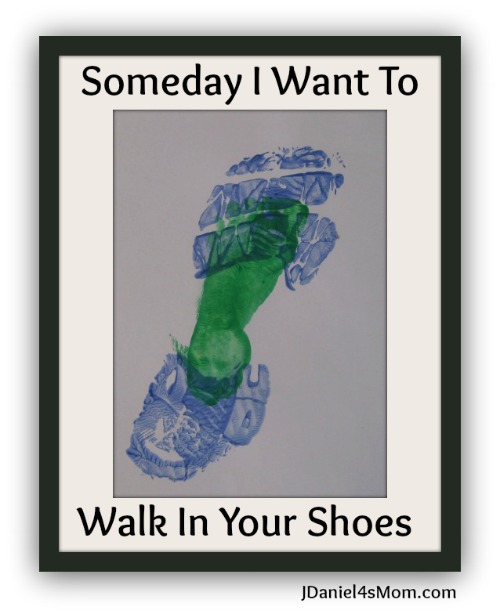 Father's Day is such a wonderful day to celebrate. I wanted to create a Father's Day craft that would capture a memory and  carry a message of how much JDaniel loves his dad. The idea I came up with was a craft I am calling Walking In My Father's Shoes. We have created a few other Father's Day crafts I will share with you at the end of this post.
When JDaniel was little he would put his little feet into him father's shoes and stomp or shuffle around the house. He had to stomp or shuffle. My husband's shoes were heavy and way to big for him. Yet he loved to slip his feet into them. There was something wonderful about putting on his dad shoes and trying to walk in them.
If JDaniel grew up to be like his father and chose to walk a path similar to him, I would be thrilled. They are very similar already due to DNA and life experience. Seeing JDaniel grow into even more of who his father is would be wonderful. (I  am not saying he shouldn't be his own person. Just that his dad has wonderful qualities.)
How did we make one of my favorite Father's Day crafts?
We painted the bottom of an old pair of  my husband's sneakers with blue paint and carefully placed the shoe onto paper. We had to pressed the sole of the shoe from the inside to make as deep a print as he could. Rocking the shoe back and forth seemed to help.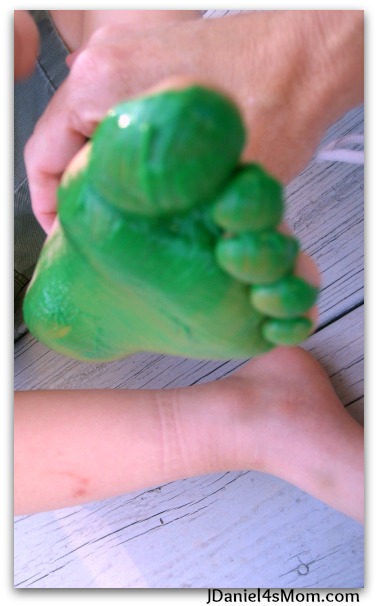 After the shoe print dried, I painted the bottom of  JDaniel's foot green. Then I helped him place his footprint on the paper.
The next step will be to print out the words Some Day I Want To Walk In Your Shoes on a larger piece of paper and put a frame around it.   We haven't done that yet so, I made a mock up on PicMonkey of what it will look like.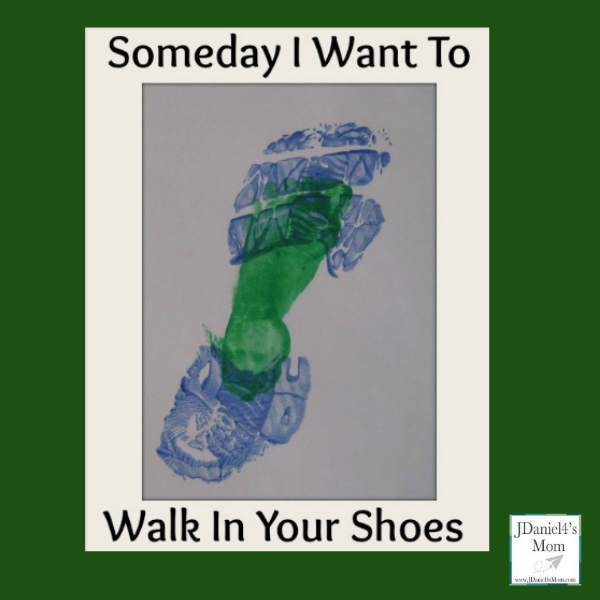 This simple Father's Day craft would be so easy for you to put together. I bet you have child that loves to walk in his father's shoes.
Here are some more Father's Day crafts:
Amazing Out of This World Father's Day Card
Star War Themed Light Up Father's Day Card
"Best Dad I Ever Saw" Paper Plate Craft
"You Nailed It" Footprint Card

(Visited 6,522 times, 1 visits today)