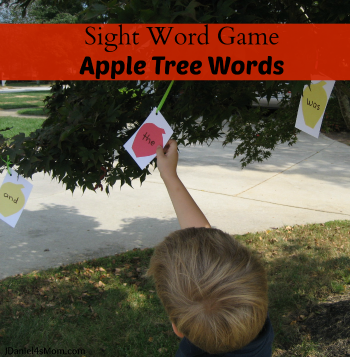 When JDaniel came home from school last week, he found an Apple Tree Words sight word game hanging from a tree beside our driveway.  "What is that? " he asked me. "It is a fun way to work on sight or popcorn words," I told him.
He gave me a look like more sight words. Yes, we have been working on sight words a lot this fall.  JDaniel is learning some of them at school and we have been working on some at home. We have worked with them several different ways. There has been
sight word snacks
and
sight word eye charts
to name a few. Apple Tree Words gave him a chance to play a game that required him to get up and move.
 Sight Word Game – Apple Tree Words
Create

I found some apple cutouts in my fall folder of ideas. ( I love when I find treasures like that.) On each of the apples, I placed a sight word. The apples were then mounted onto a blank index card. The cards had holes punched into them and ribbon placed through the hole.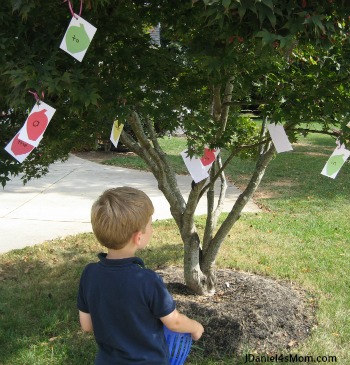 When the cards are completed, I hung them up on a tree with low hanging branches.
Play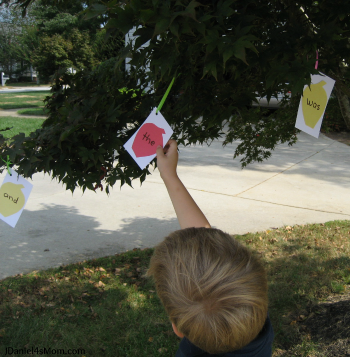 JDaniel was given a plastic basket to collect the apples from the tree. Each apple could not be picked until the word on the apple had been read. If I had to help me sound out the word, the apple had a remain hanging until he had read one other apple word correctly.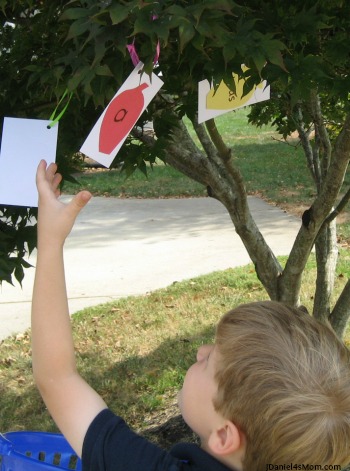 JDaniel's favorites are the one and two letter words. He went for those first.Word after word came down from the tree. There were only a few words that gave him any trouble. He actually ended up having to capture each word between his fingers and reading it.
After the Activity Idea

The one thing that I didn't plan for in this sight word game was that JDaniel might try to pull the apple tree words down instead of trying to slip the ribbons off the branches. Thankfully the tree we used for the apple tree word sight word game has flexible limbs. When he pulled the words down the limp bowed down and let the word's ribbon slip right off.
Have you picked apples this year?

(Visited 1,317 times, 1 visits today)