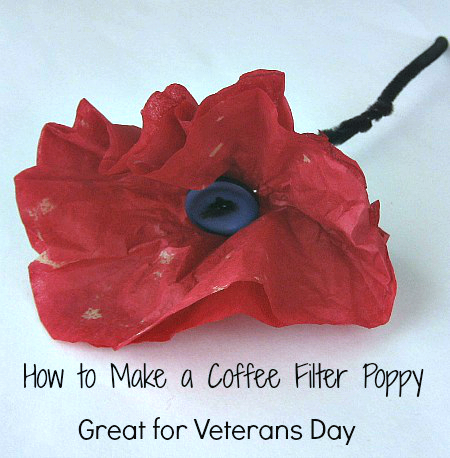 On Friday I showed you a cork painted poppy that JDaniel made. It ended up being a wonderful flower, but it wasn't something we could give to Veterans or display in a vase. We created coffee filter poppies for that reason. I thought you would like to learn how to make coffee filter poppies too.
They are so easy to make. The first thing you need to do is paint two coffee filters. We happened to have a red bingo marker. It was great for coloring the filter red. A few little bingo marker dots paint can go a long way. The filter absorbs the paint and spreads.
It took quite a while for our coffee filters to try. One of us used more than a little paint. If we had used less paint, they would have dried faster. I think they took about an hour to dry.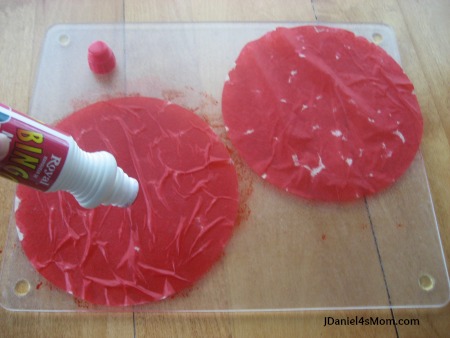 When they were completely dry, we  put the two filters together and then folded the filters in half. Then in half again or into four quarters. I drew a heart shape on the folded filters and JDaniel cut it out. This gave us the poppy petal shape we needed. He did a great job cutting it out.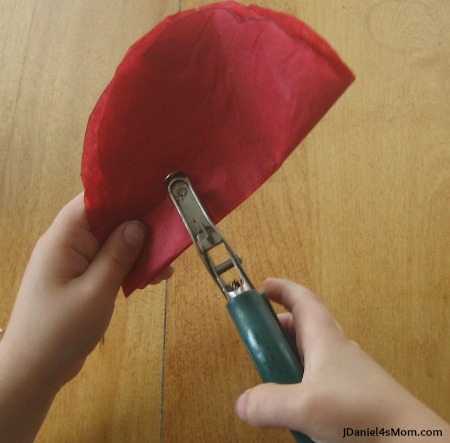 Then the coffee filter was opened up into a half. JDaniel used the hole punch to create two holes near the fold. His holes ended up a little off center, but that was okay. I would have put them closer together, but I was not in charge of the hole punch.
A pipe cleaner was then threaded up one of the holes in the filter and through a blue button. The pipe cleaner was threaded down through a second button hole and down through the second hole in the coffee filter. The ends of the pipe cleaner were then twisted around the to create a flower stem.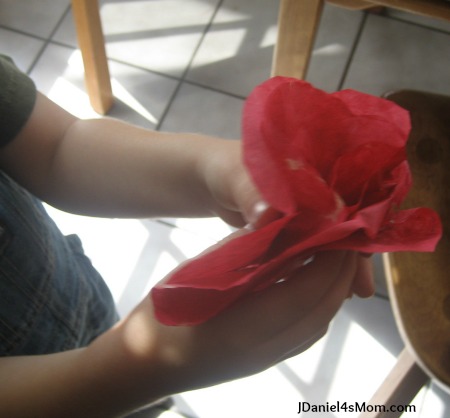 JDaniel then mushed the sides of the flower together into a tight bud. When he let go of the closed bud, it  unfolded as a pretty bloom. The flower had pretty folds and a bell like base.
This poppy will be sent to my sister and brother in-law who are both war veterans. I bet you could make some to give to someone you know who have served in the military. The flowers will be easy for you to make now that you know how to make a coffee filter poppy.
Do you know a veteran you could give a poppy to?

(Visited 14,082 times, 1 visits today)