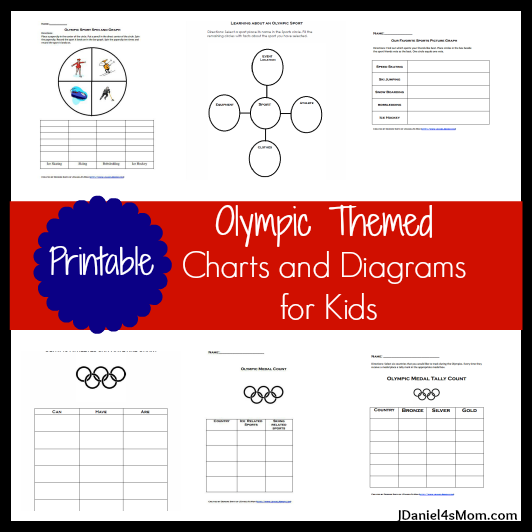 I decided to create some kid's activities with an Olympic theme that feature graphs and charts. Since JDaniel started kindergarten, we have been working more and more with them. They are being emphasized a lot at this school. Providing JDaniel with opportunities to explore them while interacting with some of the sports he will see during the Olympics was my goal for creating this unit. 
These kid's activities could be done in at home or in a classroom. If you were doing them at home, you may need to gather data from friends or neighbors for some of them. You could also ask your Facebook friends what they would pick.
Let me walk you through each of the Olympic Themed Graphs and Charts.
Learning About An Olympic Sport (Lotus Diagram)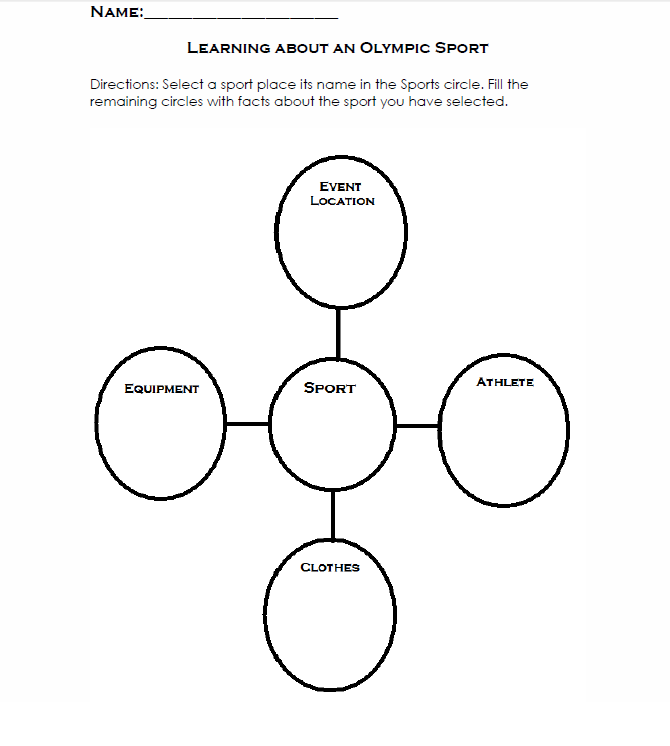 Children are invited to select an Olympic sport and describe various aspects of it. If they don't know much about the sport they selected, they can research it at the library or online.  This chart focuses on the basic aspects of a sport. Other circles could be added to cover more specific aspects of the sport.
Olympic Venn Diagram
This kid's activity asks children to compare and contrast skiing and skating. The center area focuses on the ways that both sports are the same. Skiing and skating are vastly different sports. It may take some higher level thinking to figure out of they are the same.
Olympians Can Have Are Chart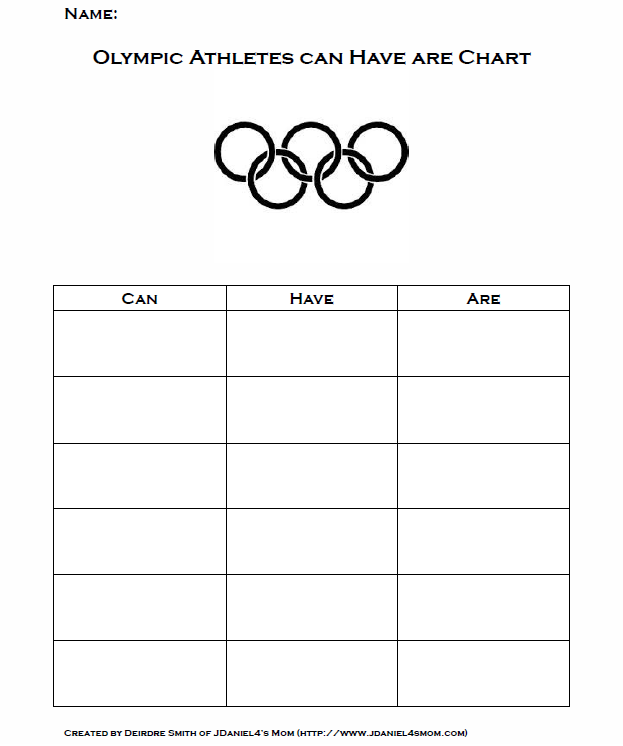 This is a new chart for me. I found Can Have Are Charts while searching for charts for kindergartners. Children are asked to brainstorm thing that Olympians can do. Things like march into an area with athletes from around the world, win Olympic medals, and live in dorms with athletes from around the world. Then they are asked to have thing that Olympians have like team uniforms and the chance to win a gold medal. Finally,they are asked to come up with things that Olympians are like the best in their sport.
Olympic Medal Count
Rather than select four countries for children to follow the medal count of our medal count recording chart has the countries blank. Children can select any countries that they would like to follow. Each day of the Olympics they can record the number for bronze, silver and gold medals that those countries have won. They can record each medal with a tally mark or a circle. We will be using tally marks at my house.
Olympic Sport Spin and Graph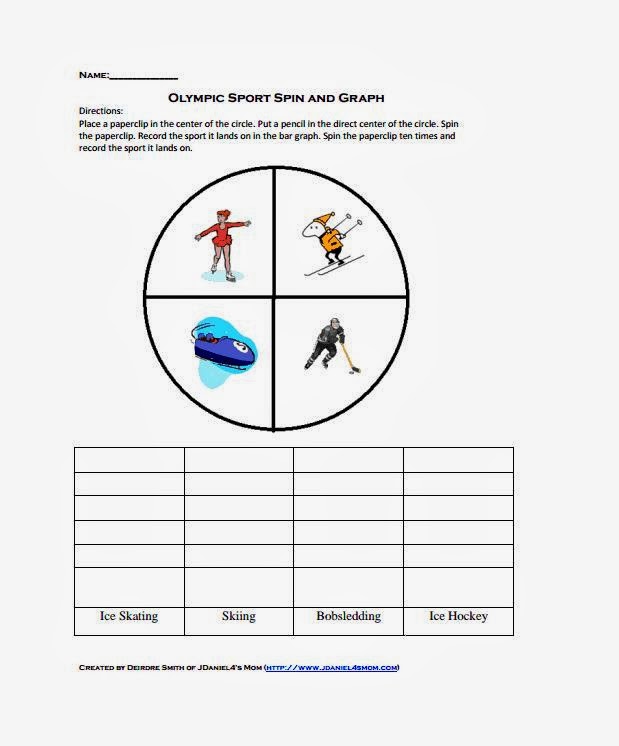 The Olympic Sport Spin and Graph allows children to record on a bar graph each time they spin a particular sport.  Skating, skiing, bobsledding and hockey are pictured on the spinner.
 Children will need a pencil and a paper clip to create a spinner. They simply put the end of paper clip in the center of the spinner. Place a pencil in that end of a paperclip. Push the paper clip with their fingers and watch it spin. The sport it lands on will be recorded on the bar graph.
Favorite Sport Graph
Children can ask friends, neighbors, parent's Facebook friends what their favorite Olympic sport is and record it on the graph with a circle .
Skiing or Skating Medal Count Chart

There are so many Olympic sports that use skate or skis. Children will need to learn a little about the sports at the Olympic to know whether they use skates or skis. Then they can record whether a country has won a medal or medals in a skiing or skating sport each day.

Would you like the whole collection of Olympic Themed Charts and Graphs ? Just click on Olympic Themed Charts and Graphs link and your will be able to download them for free.
Deirdre Smith writes/owns JDaniel4's Mom. After twenty years as an elementary school and technology resource teacher in Northern Virginia, she became a stay at home mom in upstate South Carolina. Her blog features ways she and her 5-year-old are exploring learning, crafting, creating healthy meals and living life to its fullest. Deirdre can also be found on twitter as @jdaniel4smom and on her blog's FB page. You can also check her out on Google+.

(Visited 2,336 times, 1 visits today)