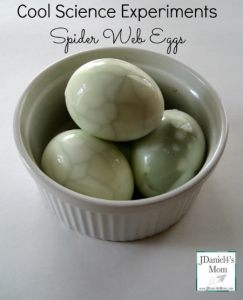 This cool science experiment for kids that creates a spider web on a cooked egg has that wow effect that kids really enjoy. This experiment definitely fills children with wonder. JDaniel kept turning the egg over and over to check out the web effect.
While you could probably use a variety of different fruits or dyes to create the spider web effect on, we used blueberries. They happen to a fruit that we buy a lot of at my house. (They are a favorite.) In fact I had to hide the blueberries we used for this experiment in the freezer. The large container I had purchased of them was disappearing very quickly.
How do you make spider web eggs?
The first thing we had to do was gather all the ingredients or science supplies. We took several eggs out of the fridge and placed them in a saucepan. Then we added enough water to the saucepan to cover the eggs. Finally we added a cup of frozen blueberries. I don't think you would have to use frozen blueberries. Ours were frozen because they had been hidden in the freezer.
With all the ingredients in the sauce pan, you are now ready to boil them. We let ours boil for about 10 minutes.
Then we took the eggs out of the water and blueberry mixture. The eggs were then rinsed off with warm water. After rinsing the eggs, we lightly cracked them on the counter. Even with trying to crack them lightly we ended up with some big cracks.
The now cracked eggs were placed back into the water and blueberry mixture. We let them sit in the blue liquid for about three hours. You may want to experiment with the time at your house. The longer they are in the darker the web may be on your eggs.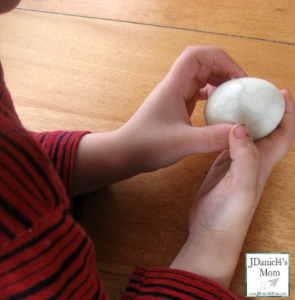 When the egg sitting time was up, we removed the shell from the eggs. Viola! The interior of most the eggs had a spider web effect. Some of the eggs ended up with big bluish purple spots. We guessed that that was due to the thinness of some of the shells. The blueberry color had probably soaked through the shell during the boil.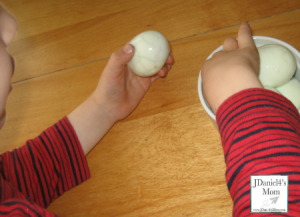 As I mentioned at the beginning of the post, this cool science experiment for kids has a wow effect. JDaniel keep turning the eggs around and around to check out the spider web pattern.
After observing the physical changes to the outside egg, we talked about all the physical changes that had happened inside the egg. We ended up having a good science discussion and a really cool snack.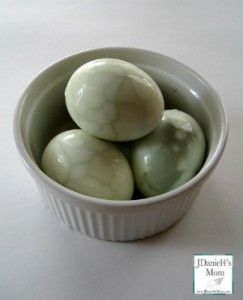 Other cool science experiments featuring eggs:
Spinning Eggs (This post has a printable recording sheet.)
Floating or Sinking Eggs ( This post has a printable recording sheet.)
If you are interested in doing more cool science experiments with kids, you may want to explore my Early Learning- Science Activities Pinterest board.

(Visited 17,237 times, 2 visits today)