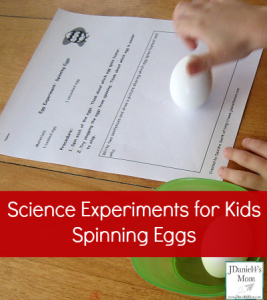 Egg Experiment: Spinning Eggs is the second experiment in a series of five egg science experiments for kids I will be sharing with you. I know the idea having children spin eggs might be a little scary. Well, it might make you worry less to know that one of the eggs in this experiment is cooked. Yes, that means one of the eggs is raw or uncooked. Don't worry I will share with you tips on how to make working with this eggs less scary to spin in this post.
Before we started spinning eggs, I asked JDaniel to predict which egg he thought would spin the best on the table. When he had given me his answer, I asked him to tell me why.
With predictions made we talked about the rules of spinning eggs. While they may seem obvious, it was  good to go over them.
Egg Spinning Rules
Don't put all your power into the spin.  Why? It might cause it to sail off the table.
Place the egg in the middle of the table. Why? Placing it near the edge of the table could cause it to fall off the table.
Placing your arm up as a barrier to keep the egg of the table is a great idea.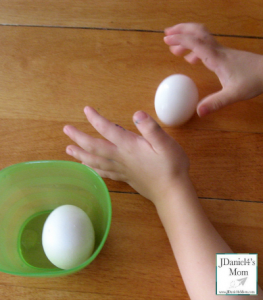 Outcome
We had a hard time getting either egg to spin on its end. We tried and tried. Each time the eggs slipped to their sides.
The cooked egg would spin in around, but we had trouble getting it to stay in place. It tended to wobble off course a little.
The uncooked egg really didn't like to spin. It preferred to roll. It liked to add a little flair to its roll by adding a turn at the end of the roll.
We talked about why the uncooked egg didn't spin well and decided that liquid inside the uncooked egg was sloshing around and causing the egg to move different ways on the inside effecting the outside movement.
We talked about how the cooked egg doesn't have all that liquid moving around. It is so much easier for a solid object to spin because of that.
Then my son recorded the result of the experiment on a recording sheet.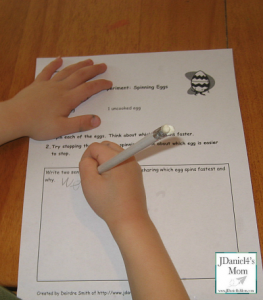 After several attempts to spin the eggs on the table, JDaniel decided that the egg experiment of spinning eggs needed to be moved to the floor.  This turned out to be a great decision. The eggs were able to move around without encountering places that they could fall off of.
Here are the links to the Science Experiment for Kids- Spinning Egg printables:
Science Experiment for Kids- Spinning Eggs with Writing Lines
Science Experiment for Kids- Spinning Eggs with Writing and Drawing Box

(Visited 3,215 times, 1 visits today)