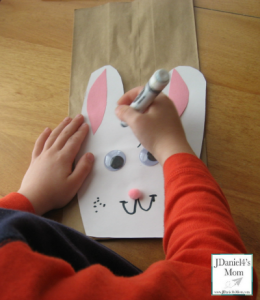 Bunny bags are a fun Easter craft! We created bunny bags to contain some special treats for JDaniel's teachers at school. They are really wonderful and we decide to send some yummy treasures their way. This fun Easter craft was super easy to create using materials we had at home. JDaniel's  rabbits fun facial features made his teachers super happy.
Materials Needed for This Easter Craft:
Brown paper lunch bags
White construction paper
Pink construction paper
Pink pompoms- small
Wiggly eyes- large
Magic Markers
Glue Stick
Hole Punch
Index Card
Ribbon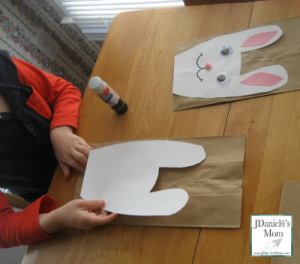 We started by gluing white construction paper cutouts of a bunny's head to the brown paper bags. I went ahead and cut them out ahead of time. You could draw an outline of the bunny's head for your children to cut out or have them cut out the bunny head free hand.
Next we glued some pink ear inserts onto the bunny's ears.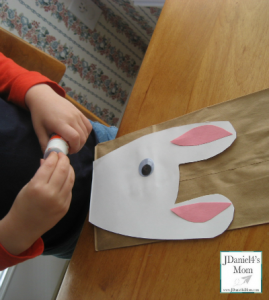 Then we glued on the pink pompom as the nose and the wiggly eyes. Having the eyes and noses in place on the bags really seemed to help us both picture where the other facial features would need to go.
I went ahead and added a mouth to the one bunny bag that I was going to do. It would be a good example for JDaniel. He would be able to make a bag similar to mine was what I was thinking. I was wrong. He created unique bunny faces for each bunny that were more awesome than mine was.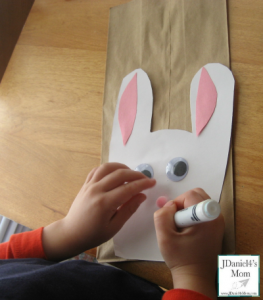 JDaniel's bunnies ended up with eyebrows, eyelashes, and super fun mouths. One bunny even had hair. They were so cute. I couldn't help smiling from ear to ear as each one was completed.
We set these fun Easter ideas aside to dry overnight. When we knew for sure that the eyes and noses were solidly in place, we added the treats to the bags. Each teacher got a number of pieces of Hershey's Easter candy from a box of candy I was sent to use to make Blonde Brownie bunnies. They also received a Blonde brownie bunny.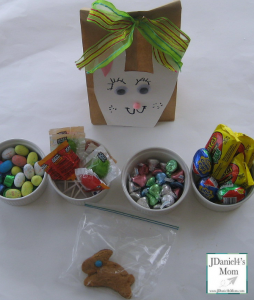 When the bags were filled, I folded down the top of the bag once and place two holes in the flap with a hole punch. We placed a foot long piece of ribbon through the holes. Onto one end of the ribbon I put a gift card I had made in advance. Each card read "Hopping You Have a Great Day!" Then the ribbon was tied in a bow.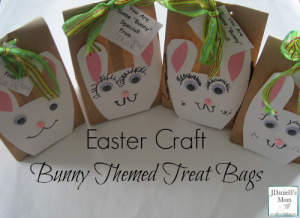 This Easter idea turned out so well. I think the best part of the bags were the facial features JDaniel added to them.
If you are looking for more Easter themed crafts, snacks and learning activities, you may want to visit my Easter board on Pinterest.

(Visited 686 times, 1 visits today)