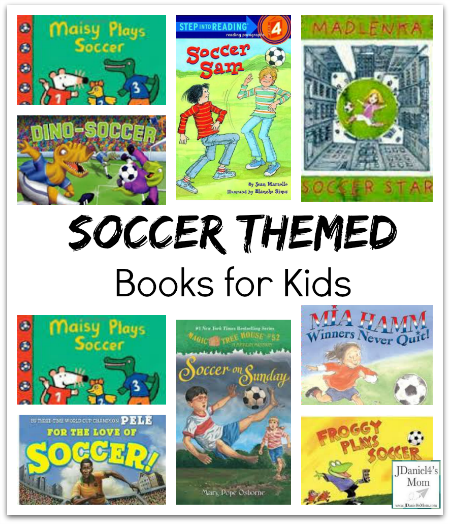 JDaniel has really enjoyed playing soccer this spring. He started playing last spring and has really liked getting onto the field to participate in drills and games. I thought is would be fun to look for children's books with a soccer theme that might interest him. While searching I came across I wide variety of fiction and non-fiction books for kids with a soccer theme. For this post I decided to focus on fiction books rather than books that highlight the fundamentals of soccer or a particular athlete's life.
This post contains affiliate links.
Madlenka Soccer Star
 by Peter Sis shares how a little girl with a brand new ball hits objects like a parking meter she encounters outside her house including friends into playing soccer.
For the Love of Soccer!
 introduces children to Pele and his love of soccer. This fun book is co-authored by Pele himself. How cool is that!
Winners Never Quit!
 co-authored by Mia Hamm is a story that shared that winning isn't everything or even the only thing when it comes to playing sports.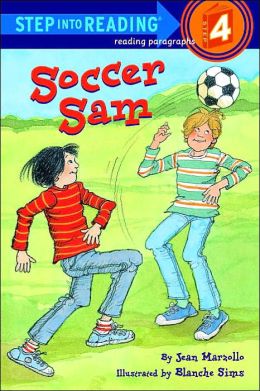 Soccer Sam is a wonderful book about a boy and his cousin Marco from Mexico. They don't speak the same language at the beginning. They don't even play the same games outside. By the end of the book Marco has taught Sam and his friends how to play his favorite sport and so much more.
The book Soccer Song shares how a little girl named Jill learns to find her right position on her team. Her friends work hard with her to find just the right spot.
The wonderful Franklin the turtle learns how to play soccer and how to play fair in the book Franklin Plays the Game . Children are really going to enjoy watching Franklin learn a new sport.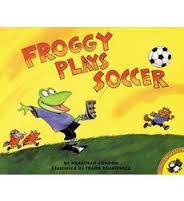 Froggy Plays Soccer
  is the tale of Froggy is and soccer team. Froggy prefers to pick flowers and do cartwheels. Will he come through when they need him  to help with the city championship? Kids will love finding out if he does.
Magic Tree House #52: Soccer on Sunday  takes Jack and Annie to Mexico where they meet a young man who would like to play like the great Pele. As with other Magic Tree House books Jack and Annie have traveled on a mission to find a secret for Merlin.
Maisy Plays Soccer
 explains to readers the fundamental aspects of soccer with one of their favorite characters Maisy. It also shares concepts like sportsmanship, friendship, and enjoying the game.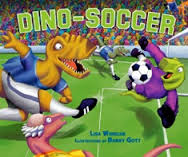 Dino-Soccer
 is a rhyming tale of the Biters(carnivores) and the Gazers (herbivores) in a soccer match.  There is chaos and fun that ensues as the match goes on. My son loves soccer and dinosaurs! This was a big hit.
If you love reading books on a theme with your children, you may enjoy browsing through my Collections of Books by Theme Pinterest board.

(Visited 1,186 times, 1 visits today)