A scarecrow is a great learning or party theme for a fall harvest unit, Thanksgiving or Halloween. With that in mind here a is a  build a scarecrow snack and some ways to share the snack with kids.  Also included in this post in the printable Build a Scarecrow Snack bag tag. Children can use the ingredients in this  build a scarecrow , play learning games or just to nibble on.
Here is how to put together a scarecrow building snack mix: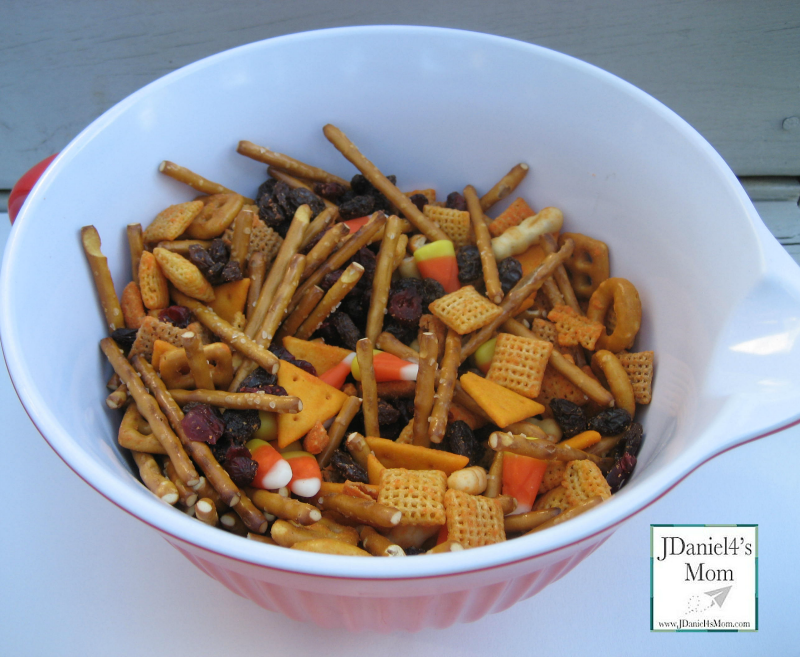 Ingredients
Dried cranberries (A row of these will from the scarecrow's smile.)
Raisins (These can be the scarecrows eyes or buttons on the scarecrow's clothes.)
Chex mix (The various foods in the mix can be used to make the scarecrow's clothes and the outline of his head.)
Candy corn (This will be used for the scarecrow's nose and neck.)
Pretzel sticks (These will be used to make the scarecrow's arms and legs.)
Directions
Add each of the ingredients to a mixing bowl and toss with a large spoon.
(Affiliate link placed below for your convenience.)
We placed on scarecrow building mix into long clear treat bags.
I placed a whole in the top left corner of the bag tag with hole punch.  They a piece of ribbon was place through the hole. The bags were tied shut with a piece of red ribbon and a scarecrow building tag.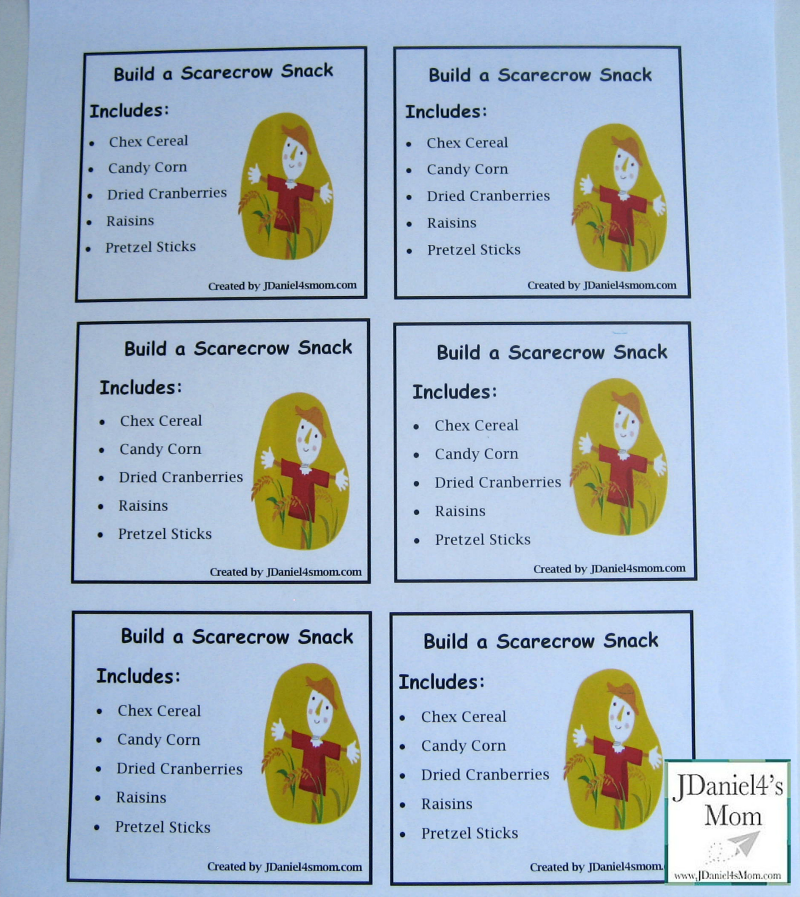 Scarecrow Party Ideas
After you pass out the  snack  bags during a snack or party time, you can have your children empty the bag onto a paper plate or paper towel.
 Here some things you can do with the ingredients:
Sort each ingredient into its own pile on your plate.
Create pattern with the scarecrow building elements at the bottom of your place.
Build a scarecrow using the ingredients on the plate. I have placed suggestions on what each ingredient could be used for. Children could choose to follow these  guidelines or build a scarecrow in a new and exciting way.
While I suggested that these would be great to have at a party, I think they would be great to send home with kids as a treat bag.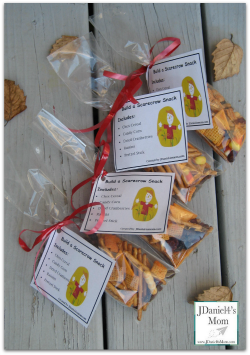 Here are some more scarecrow themed activities:
Free printable scarecrow game board
Disclaimer: You will want make sure that the children you are sharing this snack with don't have any food related allergies to the ingredients. Some of the items in the snack pack might need to be taken out and foods that are safe for them can be added.

(Visited 7,830 times, 1 visits today)