This shape sheep craft is one of those preschool activities that opens the door to explore shapes and gives you a cute end product. It would be great for a farm unit, The Year of the Sheep,a nursery rhyme unit or Easter.
In fact I think it would one of those preschool activities that would be fun to do after reading or singing the following rhymes:
Mary Had  Little Lamb
Mary had a little lamb,
His fleece was white as snow,
And everywhere that Mary went,
The lamb was sure to go.
He followed her to school one day,
Which was against the rule,
It made the children laugh and play
To see a lamb at school.
And so the teacher turned it out,
But still it lingered near,
And waited patiently about,
Till Mary did appear.
"Why does the lamb love Mary so?"
The eager children cry.
"Why, Mary loves the lamb, you know."
The teacher did reply.
Baa, Baa, Black Sheep
Baa, baa, black sheep,
Have you any wool?
Yes, sir, yes, sir,Three bags full;
One for the master,
And one for the dame,
And one for the little boy
Who lives down the lane.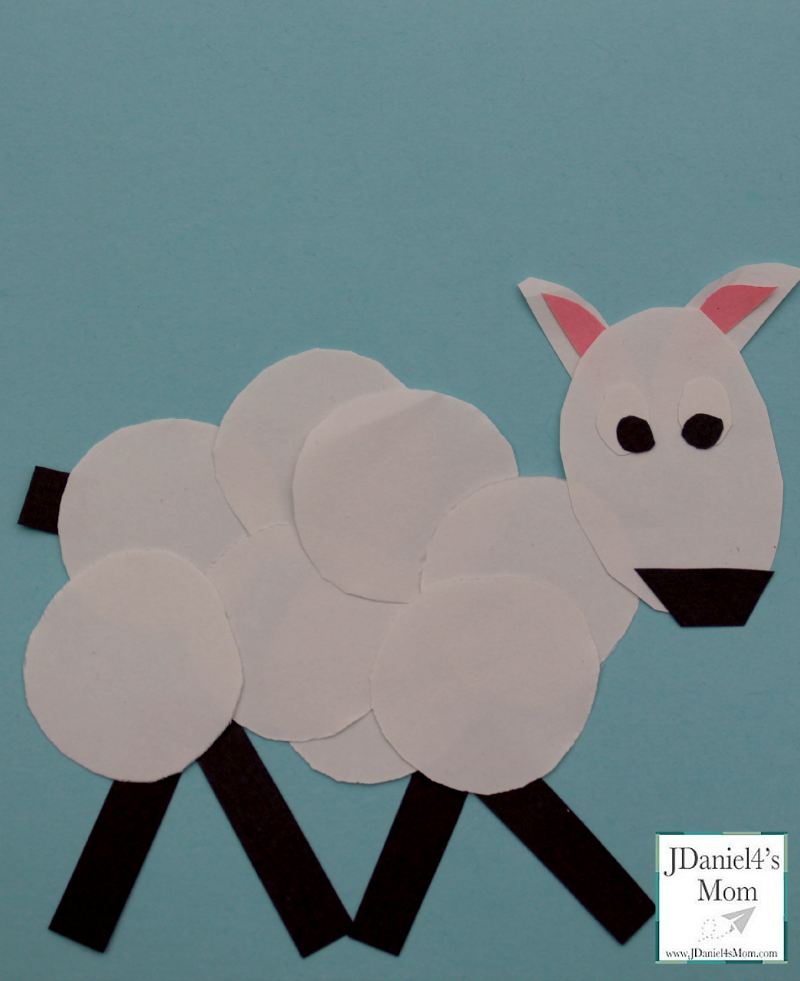 What do you need to put the shape sheep together?
Shape pieces:
White circles
Long black rectangles
Black trapezoids
Small black circles
Large white ovals
Small white ovals
Small black squares
Non- Shape pieces:
Small white almond shapes (For the sheep's ears)
Small pink almond shapes (For the sheep's ears)
Putting the Sheep Together:
There are several approaches that can be taken when setting up preschool activities.
You can create a sample of what the final product might look like.
You can give each child a set of the shapes that could be used to create a shape sheep and leave it up to their imagination.
You could place the materials in a central spot and have children select what they will need to create a shape sheep.
There really isn't a right or wrong way for this activity to be done. You know your children and how they best like to approach preschool activities and crafts. I tend to let my son see a final product and he tends to end up with a final product that looks very different from the sample. We end with two great crafts in the end that reflect our personalities!
Extending Preschool Activities Like The Shape Sheep
Children can be asked to count how many of each shape they have used.
They can be asked to create a find all the parts of the sheep that equal two.
Counting how many shapes their are with four sides would be fun too.
Here are some other preschool activities that can found on the blog:
Five Little Apples Song and Craft
Color Activity- Sorting Ninja Turtles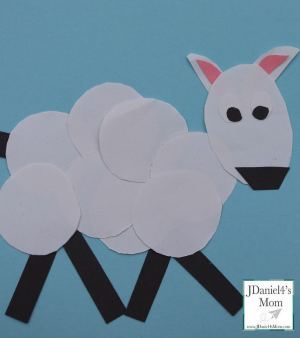 If you do make a shape sheep of your own, please leave me a comment below telling me about it  or share a picture of it on my Facebook page.

(Visited 1,265 times, 1 visits today)