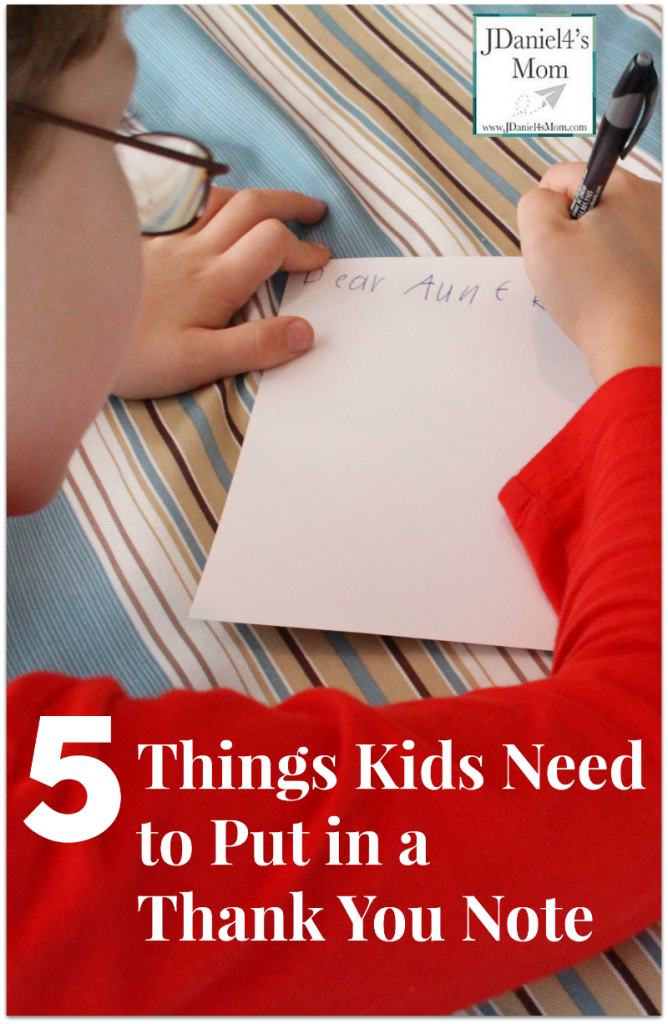 Right after Christmas or his birthday, I try to sit JDaniel down and have him write a thank you note to each person that has sent him a gift. Sitting down to write isn't his favorite thing. He tends to rush through the task. That leads to him skipping important things he needed to put in the thank you note.
This year I have devised a checklist of what he needs to include in each thank you note.  We are going to go over it before he starts writing.
5 Things Kids Need to Put in a Thank You Note
Opening or Greeting
This includes the word Dear and the name your child calls them. You could have them write the person's title and last name, but that seems to formal to me.
What They Are Thankful For
A sentence about the gift or gifts they are thankful for. It doesn't have to be a long or fancy sentence. Just saying that they are thankful for the game, puzzle or book by name is fine.
How The Gift Will Be Enjoyed
A sentence or two sharing how or when they will use the gift is so important. It gives the giver insight on how much the gift has been or will be will be enjoyed.
Samples:
This is the book I will be reading before bedtime.
I couldn't wait to work on my new puzzle at the kitchen table.
I will be saving this for the next rainy day. What fun it will be to play this game with my friends!
Closing Word
If your children don't know the gift giver very well, the could use words like sincerely, with many thanks, or thinking of you. If they know and love the person, ending with love is totally appropriate. The key is helping your kids select a word or words they would feel comfortable with.
The Child's Name
While the receiver of the thank you note will probably know who the card is from, it is important that children write their name clearly. Some kids get caught up in writing in cursive or fancy letters. I sometimes find them hard to read. The older eyes of grandparents might too.
Brainstorm Before Writing a Thank You Note
I found that it helps for children to share what they are going to write in their thank you note out loud. It helps them compose clear sentences. Young children could dictate their thoughts orally parents could write them down. They could write them right on the thank you note. They could write them on a piece of paper for their child to copy onto a card.
Before my son could write I would trace his hand in a thank you note. Then I would have him tell me what he wanted to say. Now that he is older I am going to work with him on including the five things I shared above.
Printable Thank You Notes
Thank You Notes from Teachers (As a teacher, I have to send thank you notes to my students.)
Color Your Own Thank You Notes
3 Free Printable Thank You Notes
Thank You Notes You Can Decorate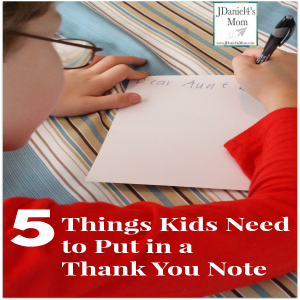 You will find more printable cards on my Great Ideas Pinterest board.

(Visited 2,920 times, 1 visits today)