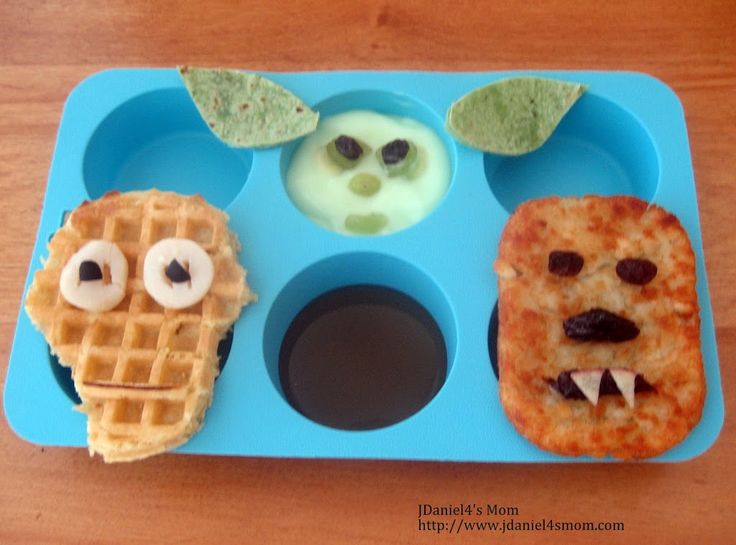 JDaniel adores Star Wars. He has sticker books, action figures, and even a light saber . Today is JDaniel's 4th birthday. How could I not give him a Star Wars breakfast in a Muffin Tin!
R2-D2 and C-3PO are his favorites but, I could figure out how to do all the details R2-D2's  has on his case. I chose to do C-3PO, Yoda and Chewbacca instead.
C-3PO looks like he has been through a battle and lost part of his face. I confess I had a hard time cutting through the waffle. I kept trimming and trimming to smooth out jagged edges and finally decided enough was enough.
Yoda was fun to make with his green tortilla ears and lime yogurt face. At first I had him smiling and he just didn't look right. Yoda always seemed to have a stern look on his face. I had to try several grape smiles to get it right. His raisin eyes had to be adjusted several times too. Yoda had piercing eyes it was hard to capture them in raisins on grapes on apples without having everything fall into the yogurt.
Chewbacca was so easy to put together. He just needed raisin eyes, a prune nose, a prune moth and apple bite teeth. Chewbacca's fur really need to be darker but, I was afraid he would get overcooked in the toaster oven.
JDaniel loved this meal. The best part was dipping Chewbacca and C-3PO into syrup! Syrup isn't mentioned in Star Wars as far as I know but, JDaniel sure loves it.
This post is linked to Muffin Tin Monday.

(Visited 1,460 times, 1 visits today)