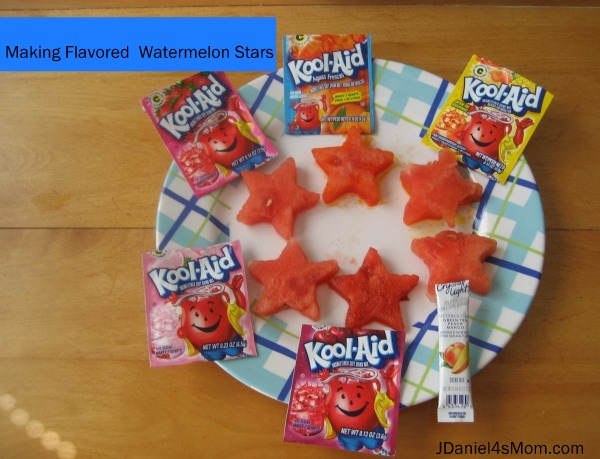 Memorial Day is right around the corner and many of you will be celebrating with picnics and family gatherings. During those gatherings, you may want to have a cool refreshing treat for the younger members of your family or your friends family. Flavored watermelon stars are both cool and refreshing. This watermelon recipe is fun and easy to make with your kids.
Watermelon Recipe
You simply cut stars out of the slices of watermelon using a star-shaped cookie cutter. Slices that are about one to one and a half inches thick are the easiest to cut through.
We tested out five varieties of Kool-Aid and one type of green ice tea mix in our flavored watermelon stars. The flavors we used were peach-mango, cherry, strawberry, pink lemonade, and orange. The peach-mango green tea was our local grocery store brand. You could select any flavor you or your family enjoys best or you could randomly select packets as I did.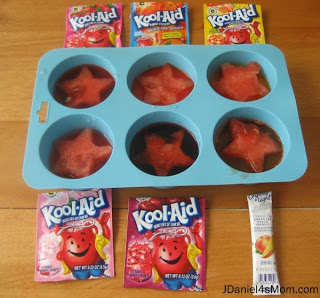 Each star was dipped in a mixture of a teaspoon of the liquid and a 1/3 a cup of water. The star remained in its muffin cup for about ten minutes. If you leave the watermelon stars in flavored water too long they become very mushy.
When the watermelon had absorbed some of the drink flavors, we did a taste test. Actually, JDaniel did a test taste. He loved all the flavors, but the strawberry watermelon star was his favorite.
If you decide to try this at home, you may choose to only dip our watermelon stars into one flavor. With just one flavor you may decide to place them all into one bowl instead of a muffin tin. When they have absorbed the fruit flavor, you can set them on a platter for your guests.
You may decide you want to have a star dipping food area at your event for children to try dipping star into the flavor of your choice. If decide to do a dipping area, you may want to have forks or tongs available for lifting the stars out. The flavor dipping cups will probably not stay free of germs if little fingers are repeatedly reaching into the bowl or muffin tin to retrieve their stars.
What is your favorite powdered drink?

(Visited 185 times, 1 visits today)