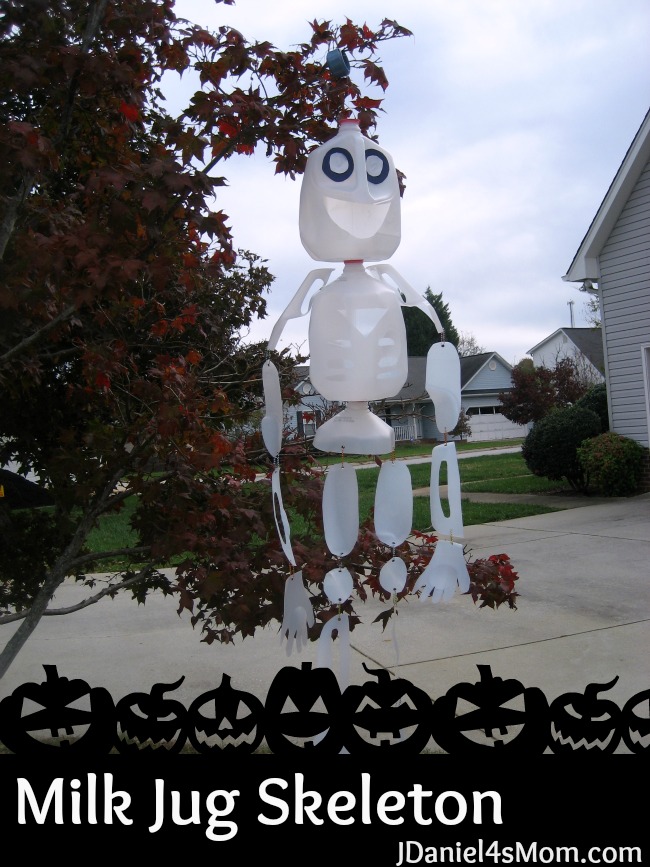 There isn't an x-ray needed to see the bones in our milk jug skeleton. Last weekend we visited the  Roper Mountain, a local science center, near us for a Halloween event. While at the Roper Mountain Science Center, we saw these wonderful milk jug skeletons. They looked so cool. I knew I just had to make a milk jug skeleton for our yard.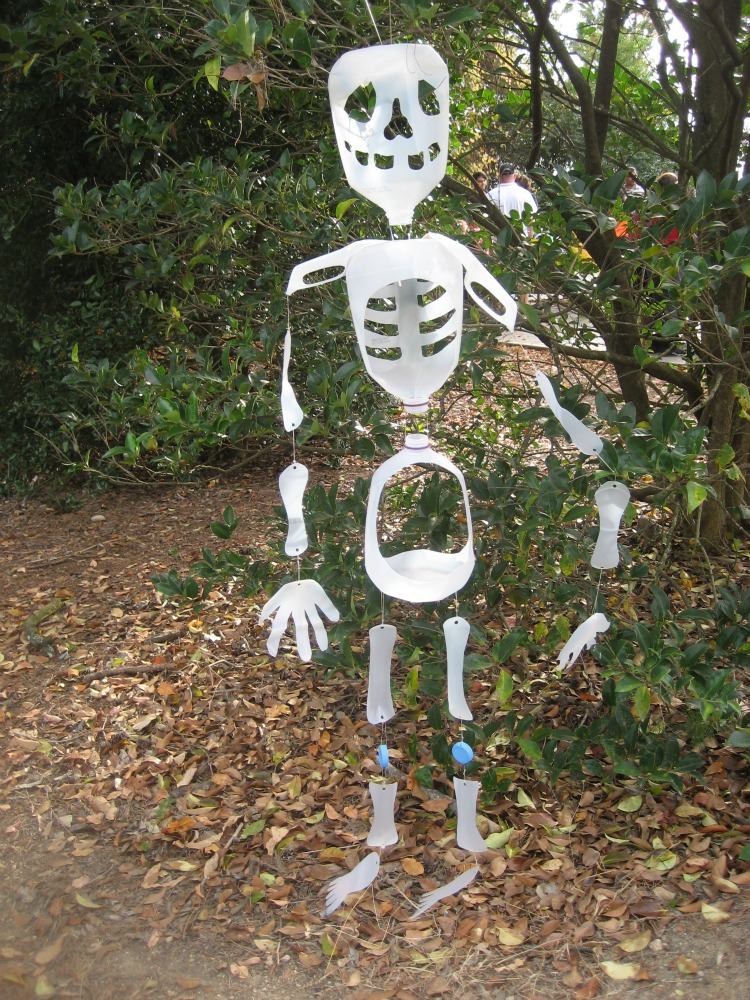 Roper Mountain Science Center's Milk Jug Skeleton
I have been forgetting to put out our recycling on Mondays so, we had enough milk jugs to create one. This skeleton took six milk jugs to create.
Making Our Milk Jug Skeleton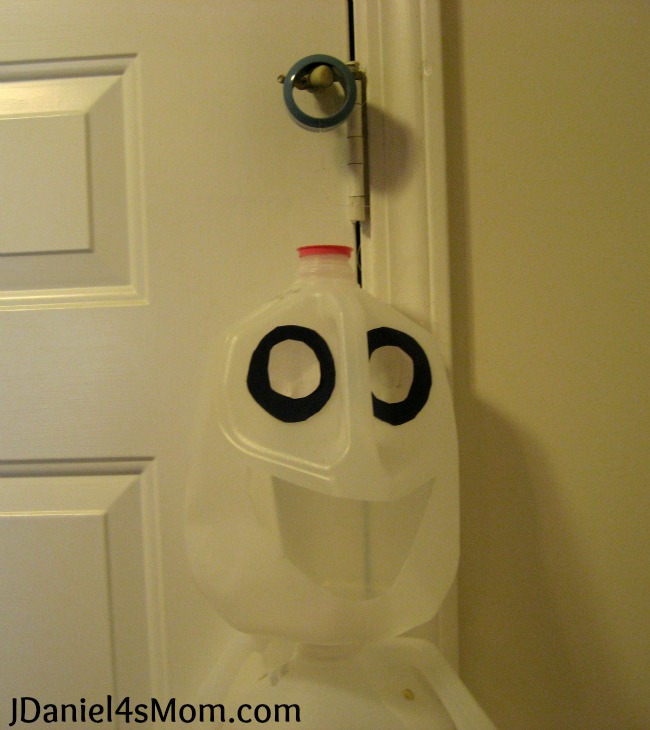 The first milk jug was used to create his head. The Roper Mountain skeleton used the back of the milk jug to create the facial features of the skeleton. I created the face using the jug handle as our skeleton's nose. They also turned the milk jug upside down so he won 't have a cap on his head. Our skeleton has a cap on his head because his mouth would have had to be under the handle if I had flipped our jug upside down.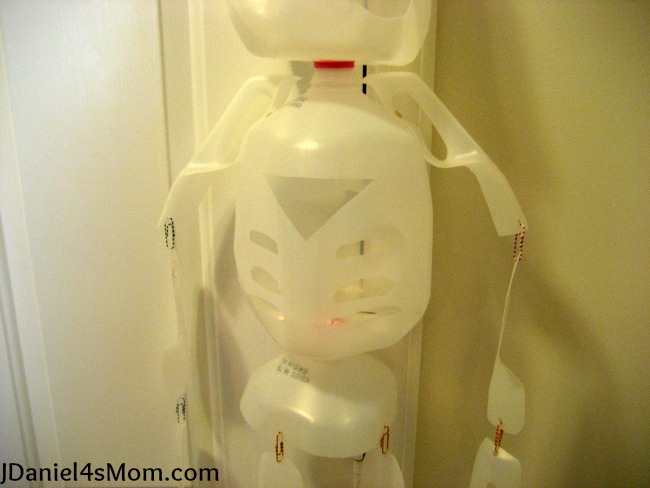 We used a second jug to create the skeleton's chest. I cut out ribs and a breast bone out of the second jug. To keep the ribs and breast bone cut out symmetrical I cut a template out of paper and traced it onto the jug before cutting the design out. I didn't cut out the back of the skeleton's chest the way they did a Roper Mountain on their milk jug skeleton . It probably would have let more light in. I want to reuse this milk jug skeleton and thought not cutting out the back would give him more stability.
I used brace fasteners to attached the skeleton's shoulders to his trunk. The shoulders were handles cut out of the third and fourth milk jug.

The hip section of the skeleton  was cut out of the top third of the fifth milk.

The milk jug caps were then glued on the milk jug sections. When they had dried, I strung fishing line down through the head cap,  then through the trunk section, and down through the hips. The fishing line allows the skeleton to rotate and move, but not swing wildly.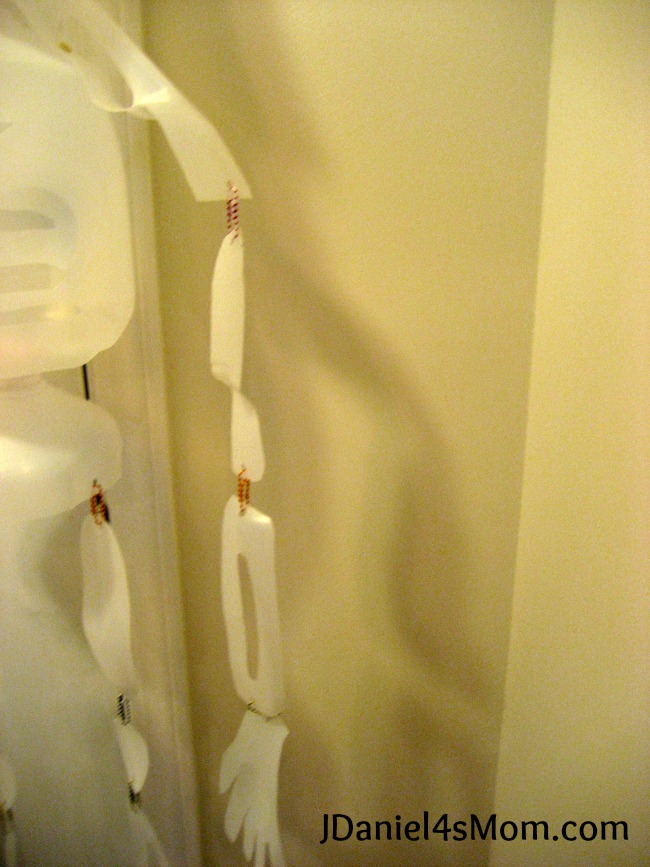 The remaining milk jug and the leftover pieces of the other jugs were used to create the bones in the arms and legs, hands, knee caps and feet. Two of the arm pieces and two of the leg pieces had oval holes placed in them to represent the two lower arm and leg bones.

The arm and leg sections all got holes punched in them. Paper clips were threaded onto bones and they were attached to each other.
I think our skeleton came out pretty well.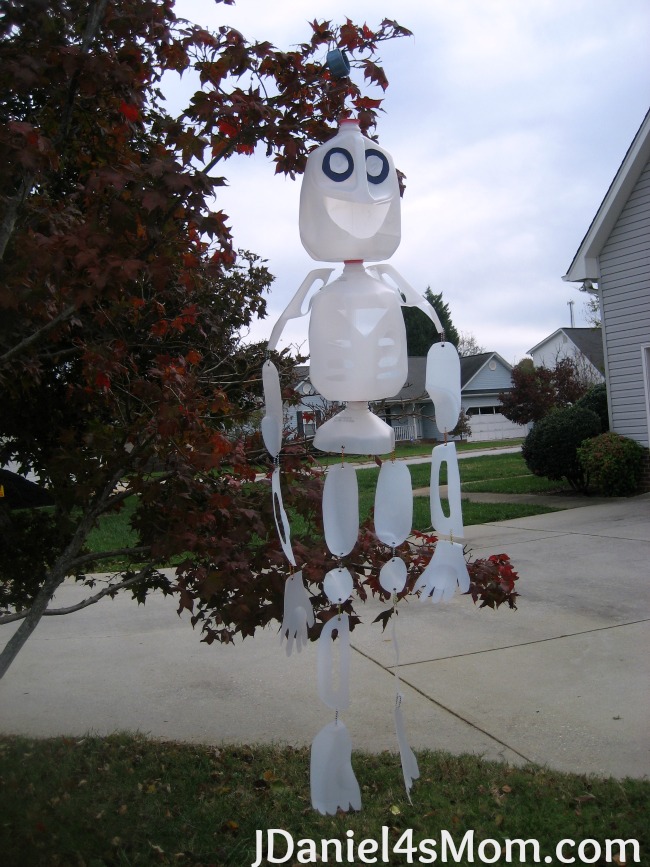 Did you create Halloween craft at your house?
This post is linked to Mrs. Matlock's Alphabe Thursday.

(Visited 1,117 times, 1 visits today)