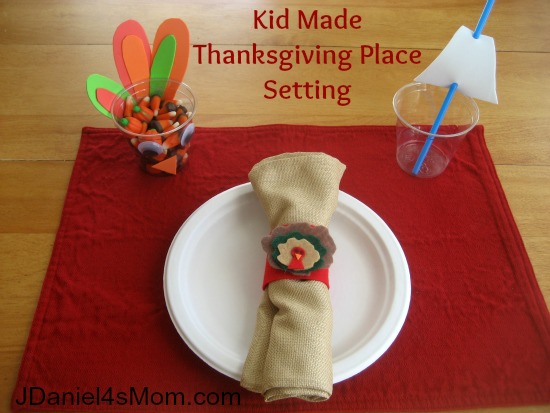 Are your children looking for ways to help you get ready for Thanksgiving? Are you looking for something for them to do while you are rushing around your house getting ready for guests? Creating Thanksgiving crafts for kids that can be used on your holiday table is a great idea. These three table setting elements are easy to put together and if children are having to make eight or ten of them could take them a little while to make.

The turkey treat cups requires only wiggly eyes, some colored sheets of foam, and a clear plastic cup. Literally all you have to do is cut out feathers and a beak out of foam.  Then glue the eyes, feathers, and beak onto the plastic cup.  If you have wiggly eyes and foam that have sticky backs you don't even need glue.

The Mayflower sail straw is just a piece of white foam cut into a sail. A blue straw was laced through holes punched into the sail. If you have straws of various colors, you could have the children create a pattern of straws with sails by having every other cup of the table be the same color.

The napkin ring can be made by wrapping felt around a toilet paper tube that has been cut down. A simple turkey can be created with felt or foam. The turkey is then glued onto the felt wrapped tube.  I didn't add feet to my turkey, but you could. I bet they would look adorable.

If are looking for a more formal look for your Thanksgiving table, you might think about creating a table setting like this for Thanksgiving breakfast or the leftover snack on Thanksgiving evening.
Here some more Thanksgiving for kids activities:
Building Thanksgiving Words with Letter Feathers
Thanksgiving Science -Sink or Float

(Visited 550 times, 1 visits today)