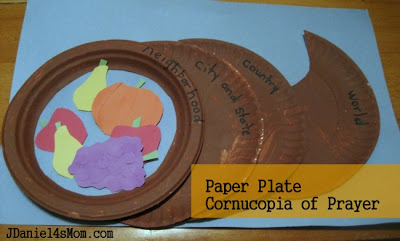 Years ago I was taught to pray for the area I lived in, the city and state I lived in, my country and the world. It was a simple prayer exercise that lead me to pray  for my family and friends as well as people around the world.  My prayers became less self focused and more others focused when I prayed this way. I decided the time before Thanksgiving would be perfect to introduce this method of praying to JDaniel. Thanksgiving is a time of thankfulness and gratitude. It is a time when we spend time with family from faraway and sometimes it is a time when we travel to places beyond our everyday world.  This Thanksgiving for kids activity is a great way to explore prayer.
Thanksgiving for Kids Activity
JDaniel and I constructed a cornucopia out of paper plates painted brown as a visual reminder of those prayer areas. We filled the open end of the cornucopia with fruit and vegetables. The fruit stands for fruitful prayer. The vegetables were added just to balance the fruit. I wish I had a deep reason for having them there.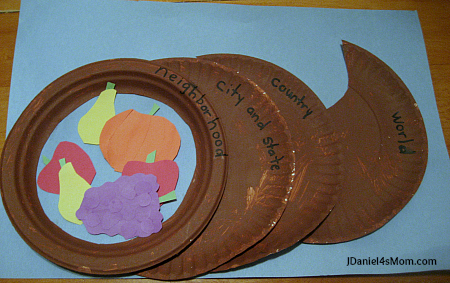 My family and I having been praying from the front of the cornucopia back each night. I think it has helped us each to focus on the world around us and the world beyond us. Our prayers are not as much focused on our family now.
We are  also trying to keep our eyes open when we are out and about to find prayer needs in our neighborhood, city and state. It has been wonderful to see the world through eyes of prayer. The our local world is filled with blessings we can thank God for and areas of concern we can ask him help with. 
We world beyond the one we drive around in has been a little bit harder. We can pray for things we hear on the news or global issues like famine and lack of peace.  I think we may need to choose areas of the world to focus on and read about to broaden our world view.
This has been a wonderful prayer tool for my family.
If you like this Thanksgiving for kids activity, here are a few more that you will like:
Lantern Turkeys

(Visited 1,111 times, 1 visits today)