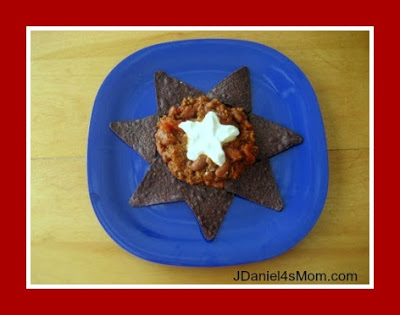 I have been doing some searching online for Presdent Obama's favorite foods. There seems to a wide variety of opinions on what he really likes. He like popcorn, but I think it is probably the slightly buttered kind. The
red,white and blue popcorn
I shared yesterday may not be something he would like to have. I also read that he likes chili. I didn't find any descriptions of what kind of chili he likes so, I decided to make my own patriotic chili recipe.
We are on a ground turkey kick out my house. It is really the only type of ground meat that we have been having lately. The chili I made started out with base of ground turkey.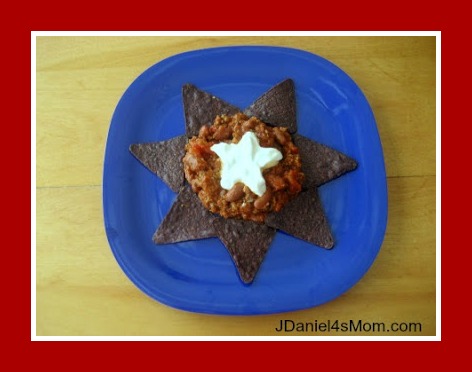 Chili Recipe
Ingredients:
2 pounds of  cooked ground turkey
1 jar of tomato sauce
1 can of red kidney beans
2 Tablespoons of chili powder
1 Tablespoon of minced onion
1 teaspoon of cocoa
a dash of cinnamon<
Directions:
I literally placed everything in a stock pot and let it simmer.
When the chili was ready, I  put it on a plate and placed a star shaped cookie cutter on top of the pile of chili. Then I spooned in sour cream until the cookie cutter's center was filled. The chili was surrounded by blue corn chips just before I served it to my guys.
JDaniel loved the chili, chips, and sour cream. My husband asked what I added to the chili that made it sweet. I told him about the cinnamon and he asked that I go back to the old chili recipe. The cinnamon was a  last minute addition. I don't think I will try adding something sweet to it again. I love to experiment while cooking I will have to try something else next time.
How could I jazz up my patriotic chili recipe ?

(Visited 97 times, 1 visits today)