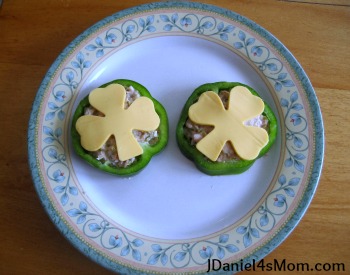 When JDaniel wandered into the kitchen to see what I was making for lunch, he said, "Yuck!" He really doesn't like peppers. When he saw me cutting them up for a green pepper and tuna salad platter, he just couldn't hold back his feeling about it."This isn't a lunch for you," I told him, "This is a lunch for me!" I was glad I had planned for two St. Patrick's Day recipes for lunch. This recipe wouldn't have gone over well with him.
He seemed satisfied and  relieved to know that he wasn't going to have to eat it and headed back into the living room to look at library books while I got his lunch ready.
I personally thought it end up looking delicious. The tuna salad had a little sweet pickle and mayonnaise in it. The pepper mixed with the salad was yummy. I love a little crunch in my tuna salad. The orange cheese shamrocks cut up into small pieces and mixed with the pepper and tuna were wonderful.
What was the second of the two St. Patrick's Day recipes for lunch?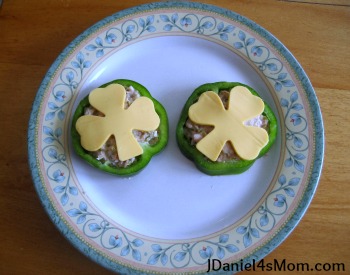 JDaniel got a cold pizza made of butternut squash spaghetti sauce, mozzarella cheese, pepperoni and fresh spinach.  JDaniel loves fresh spinach. He eats it by the handful.
He also got a serving of a lime and mandarin orange jello salad with marshmallows. We made it together. I love that it has all the colors of the Irish flag in it. He just loves its taste. He will ask for it for dessert until the jello bowl is empty. I knew he would be thrilled to get it in his lunch.
Applesauce with green sugar sprinkles was also added to the lunch. Foods just seem to become special when you add sprinkles to them. JDaniel just loves to find them in his lunch.
Well, when he saw the lunch he was so happy! He loved every bit of it. Not only was it filled with favorite foods. I didn't have any peppers in it.
Here are some more St. Patrick's Day recipes:
Spinach Hummus with a Pepper Rainbow
Fruit and Yogurt St. Patrick's Day Parfait
Irish Symbols in a Muffin Tin Lunch
What would be in your children's St. Patrick's Day Recipes for a delicious lunch?

(Visited 84 times, 1 visits today)