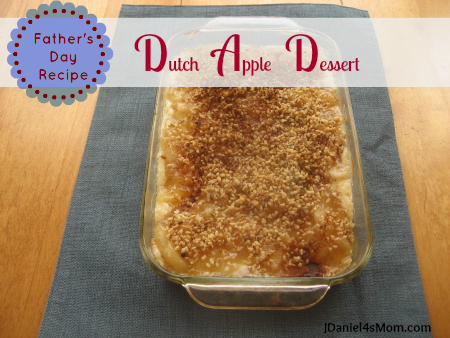 Most dads love dessert or least the dad at my house does. I decided to seek out a recipe that my guys could enjoy during their father/son evening last Friday and I could make a  Father's Day recipe that for my husband's Father's Day dinner. The dessert I was looking for needed spell out dad. I looked through all my recipe books and online to find the perfect one. Finally, I found a recipe for Dutch Apple Dessert on Snackpicks.com, that looked easy enough for JDaniel and me to put together. Did you notice that the D in Dutch, the A in apple, and the D in dessert spell dad?
We had to head to the store before we started to get some of the ingredients.  JDaniel and I had fun trying to find them. While I thought they would all be in the baking aisle, they were a few that were hard to find and were eventually found on other aisles. The lemon juice wasn't with baking things for example. It was in the juice aisle sitting right next to the apple juice.
While gathering the ingredients was an adventure, making our D.A.D  or Dutch Apple Dessert was really easy.
Wait! Let me give you the ingredients list before I share how we made it.
Ingredients
1 1/2 cups of crushed graham crackers (JDaniel had a great time crushing them.)
1/4 cup of melted margarine or butter (We used Smart Balance Spread.)
1 can ( 14 oz.) of sweetened condensed milk
1 (8 oz.) container of sour cream
1/4 cup of lemon juice
1 (21 oz.) can of apple pie filling
1/4 cup of finely chopped walnuts
1/4 tsp. of cinnamon
Recipe Directions
Crush one sleeve of graham crackers using a food chopper. ( You can really chop them with any tool you like.)
Melt the margarine or butter or dairy spread in the microwave for 15 seconds.
Mix the graham cracker crumbs with the melted margarine.
Press the mixture into the bottom of an 11 x 7 x 1/2 inch baking dish.


Mix the condensed milk, sour cream, and lemon juice together in a small bowl until thoroughly mixed.


Spread this mixture over the graham cracker crust. If there is any left in the bowl, you may want to sample it. It is really wonderful.

 

Spread almost all of the apple pie filling over the condensed milk mixture. Save just a little bit for your child to sample. JDaniel was really anxious to try just a little spoonful of the apple pie filling.
Sprinkle cinnamon over the apple pie filling and place chopped walnuts over the cinnamon. A little cinnamon can go a long way. If you are making this dessert with a child, you will want to supervise the adding of the cinnamon.
Bake in a 350-degree oven for 30 minutes.
Father and Son Taste Test

After making this dessert, I went to a dinner hosted by the wonderful lady who leads my table group at our church's Mentor Mom group. When I got home, half of the dessert was gone. I asked JDaniel about it the next day and he said that my husband had only had a little bit. JDaniel admitted that he had had most of it. Why? Dad is trying to be good about portion control and apparently JDaniel isn't.
I think that both guys really liked this Father's Day recipe for Dutch Apple Dessert. It will mostly likely appear on my Father's Day menu.

(Visited 1,799 times, 1 visits today)