I can't believe I haven't featured this week's book The Very Hungry Caterpillar
 on Read.Explore.Learn. before. We have several copies of it in JDaniel's room and I have read it to him a zillion times. He loves to count the fruits that the very hungry caterpillar eats as he prepares to build his cocoon.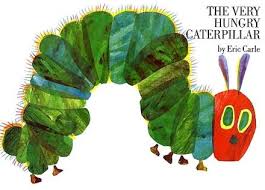 If you aren't familiar with the story, a little caterpillar hatches from an egg and then begins a daily inhalation of food. He starts his week of slowly and gradually eats more and more until he isn't a little caterpillar any more. The caterpillar has digested  enough to carry him through the time he is sequestered in a cocoon.
Each food he eats has a hole in the middle of it. JDaniel loves to put his finger into each hole as he counts the foods the caterpillar eats everyday. He learned to count as I read this book over and over again.
What did we do to explore this book?
Caterpillar Snack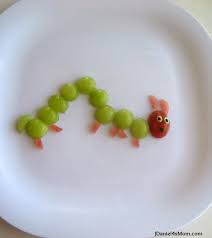 I am not huge on snacks. JDaniel does enjoy them though. We had green grapes, tomatoes, and watermelon in the fridge. I decided to use them to construct the caterpillar from The Very Hungry Caterpillar for him. Half a grape was used for each of the caterpillar's sections. except his head. Half a grape tomato was used for his head. The Very Hungry Caterpillar's antennae and feet are tiny slices of watermelon.
The caterpillar's eyes and nose also came from the fridge. I cut tiny circles out of a flour tortilla and colored them green with a food marker.
Measuring the Caterpillar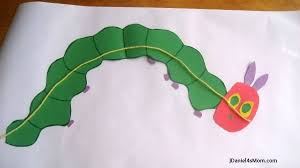 JDaniel has been very interested in measuring with a ruler lately. He wants to find the length of the tiles in the kitchen, my foot, and his shoes. Not everything he wants to measure is completely straight. I decided to show him a trick for measuring oddly shaped objects.
I made The Very Hungry Caterpillar out of construction paper. The caterpillar is simply a piece of green paper folded in half with connecting curves cut out of it. It front and back ends are reflections of each other.
Then we took yarn and organized it inside the caterpillar's body to follow its curves. We lifted the yarn up very carefully and lined it up above a ruler. The yarn length of the caterpillar was longer than the ruler. We wrote twelve inches onto the white paper. I had JDaniel hold the remaining length of the yarn while I recorded the first length. We then measured the remaining yarn. It turned out to be eight inches. The caterpillar didn't look twenty inches long, but that is what he turned out to be.
Sight Word Game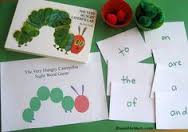 JDaniel has really gotten into learning to read. We have been working on six sight words a week. This week I thought we would play a game to help him review the words we have worked on. I made a The Very Hungry Caterpillar game board using a paint program.
He earned a red pom pom for the first word he recognized and a green pom pom for the remaining words he read. The goal was to review six words at time. I ended up having to print out two game boards. JDaniel remembered so many of the words and he loved earning pom poms for the caterpillar.
How did you explore books this week? If you have a post you would like to share, please link it up below. Once you have added your post, please visit at least three others.
Follow JDaniel4's Mom on 

Facebook

, 

Pinterest

, and 

Twitter

.
Disclaimer: This post contains affiliate links.

(Visited 5,160 times, 3 visits today)