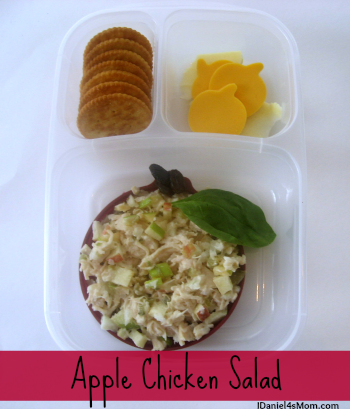 We are all trying to eat more fruit at my house. JDaniel and my husband have always been great about eating fruit. The one that really needed to work on it was me so, that means I will be serving more fruit. Since I plan most of the meals and search for new recipes, I decided to find one for a salad that would great for lunch and had fruit in it. The one I found was an apple tuna salad. Which sounded great, but I decided to switch out the tuna for chicken. Not only was I going to enjoy the apple chicken salad, I decided JDaniel would too. A kid's lunch filled with apple chicken salad served in a bento would be fun for him.
Apple Chicken Salad
Ingredients
1 large can of chicken
1 tablespoon of olive oil
2 tablespoon of mayonnaise
1 small apple chopped into small pieces
1 teaspoon of dried onion
1 tablespoon of sweet pickle
Salt and PepperDirections
Stir all of the ingredients together in a small bowl.
Add a dash or two of salt and pepper. (JDaniel doesn't link pepper so we left it out.)
Refrigerate overnight.
Serve with crackers or on a bed of lettuce.
The salad was really wonderful. I used gala and Granny Smith apples in the salad. They made it a little tart and a little sweet. We also added fresh sweet onions instead of dried onions to the salad. Oh! I added just a tad more mayonnaise to the recipe.  It made it just a tiny bit more moist. If you prefer a drier chicken salad you may decide not to add the extra tad of mayonnaise.
JDaniel enjoyed the salad. I think if was the inclusion of crackers I added to his lunch that in encouraged him to try it. I love that he is willing to try new things like an apple chicken salad in his bento box.
What kinds of salads do you put in your kid's lunch?

(Visited 168 times, 1 visits today)