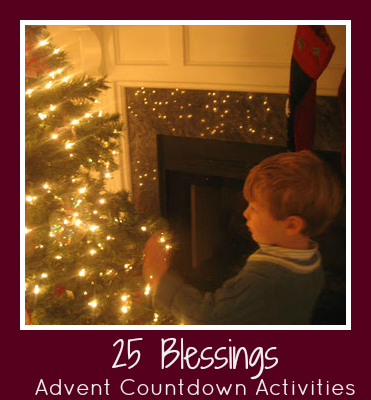 Every year my sister Shell sends my son an Advent calendar with chocolate pieces tuck behind its tiny doors. He loves it. JDaniel looks forward to hearing scripture verse behind each door while he is enjoying a piece of milk chocolate every morning. Why not come up with something special for us to do in the evening each night during Advent I thought  when the box delivering this year's Advent calendar arrived. That is when the seed of thought for the Advent activity 25 Blessings started to grow.
I had to think through what I wanted our family to do for our 25 blessings and if it needed to be something beyond offering prayers of Thanksgiving. After thinking about it for awhile, I decided that I would offer up an area or person for us to be thankful for and a list of ways we could show our thanks for that area or person in our lives.
My family has been blessed in so many ways this year along with having many challenges. This year my husband lost his job and went back to school. I searched and searched for a job and found one at a wonderful school in early November. JDaniel started kindergarten and found going to school five days a week full time wasn't something to dread.
We have been blessed with an amazing family, friends and church that has supported us with prayers, listening ears, and emotional support through the challenges we have encountered with all those changes. They have truly helped us is make it through this year.
There have been troubles with an aging house and cars. Thankfully our immediate family is aging well.  (My husband did back issues earlier this year, but it is much better.) Both our mom's had health scares early in year and seem to be much better now. JDaniel's  fall allergies seem to have disappeared and only his spring ones remain.
Why did I tell you all this before sharing my list? I thought it might help some of the things on my list make more sense.
Advent is truly I time for us remember those blessings and be thankful.
Here is the list of advent calendar ideas or  blessings and the day we will be rejoicing and remembering them:
Grandparents health
Births in our family and our church
Family returning from job assignments overseas
Good doctors and healthcare
Wonderful teachers at school
Learning to read
Wonderful coaches in soccer class
Our home
Clean Clothes
Kind neighbors
Friends to play with
Good food to eat
Cars that get us where we need to go
Awesome resources available at the library
Police and firemen that keep us safe.
Clean water to drink
Being able to freely worship
Allergies that seem to be lessening
Opportunity for my husband to learn a new SQL Server Database and Programming
Job for Mom (me)
Wonderful parks to explore and play in
People who remember our family in prayer
Words of encouragement and lessons from the Bible
Amazing friends
Memories of loving and laughing as a family
Here is my list of ways we can celebrate our advent calendar ideas or blessings:
Make a baked good to take to a person on the list we are thankful for.
Draw picture to send  to a person on the list we are thankful for.
Send a prayer of thanks
Donate some toys in their name to Miracle Hill
Donate books in their name to the local library
Take food to the food bank
Call a person on the list and give them thanks
Invite a person on our list to do something with our family
Look for someone during the day to do something kind for just as we had kind things done for us
Send a card or e-mail to family remember sharing something we are thankful or to give them thanks
Read a bible verse that talks about that area of thanks
List five things that make that area or person special
Share a special memory about that area or person
State a lesson you have learned from that person or event
You could easily adapt this to your family. Simply sit down and make a list of things you are thankful for or have blessed you. You will have 2 areas or people in no time at all. I tried to include things in the following areas:
Immediate family
Extended family
Health
Neighbors
Community helpers
Church members
Events that happened this year
Ways our basic needs have been met
Then all you need to do is come up with ways you want to rejoice in those blessings or advent calendar ideas. You are more than welcome to use our list of ways.
I printed out our blessings and ways to celebrate onto an envelope and index cards. They could have simply been written out.
Will you join me in this Advent activity of counting down 25 blessing? 

(Visited 1,032 times, 1 visits today)