Green colored craft sticks of various lengths glued symmetrically onto a green craft stick make a wonderful Christmas tree craft and a science experiment. Yes, a science experiment. We could have simply glued the stick together and then glued pom-poms on the trees branches. We could have, but we didn't.
What I did ask JDaniel to do was to try to pick up tiny pom-pom is chopsticks that were strapped together with a rubber band. When a pom-pom was gripped between the chopsticks, I asked him to try to put a pom-pom on each branch.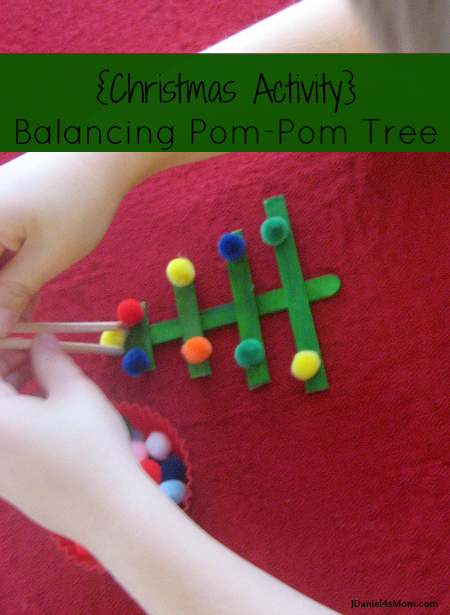 Getting the pom-pom to balance on the sticks wasn't easy. If you placed them down just a little bit off they fell onto the table. It took a lot fine motor work to pick up the pom-pom and release it onto just the area of each branch. We found if the pom-pom was held near the bottom of the chopsticks it had a shorter distance to fall to was more likely to stay on the branch. If the pom-pom was too far up, we risked having it bounce off the branch and onto the table.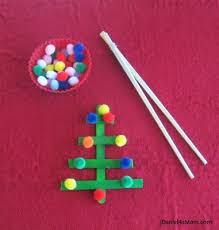 How did we make the tree?
Cut each of four color popsicle stick in descending lengths with a sharp tool.( I used a hand held pruning tool.) We had a 2 inch stick, a 3 inch stick, a 4 inch stick, and a five inch sticks.
The sticks were lined up on a full length stick horizontally.
When we thought they were symmetrical, the sticks were glued into place.
The tree was left to dry for a few minutes while we wrapped the rubber band around the chopsticks.
Small pom-poms were placed in a cup while the tree was drying.

Then we started the balancing activity. As I mentioned, this Christmas activity was a little tricky. It took a lot of focus and finger control to balance pom-poms on a tree. The branches sit on the fulcrum base and can wiggle.

(Visited 1,238 times, 1 visits today)