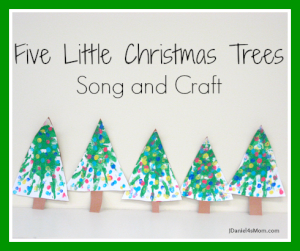 Have you heard the five little Christmas trees chant or song? My son loves the five little pumpkins chant so much that I searched and searched to find a Christmas themed chant that he would enjoy. I found one called the five little reindeer while searching. It is really cute, but I decided to keep looking.  When I found the Five Little Christmas Trees chant, I knew it was the one. I just love that each of the trees finds a home.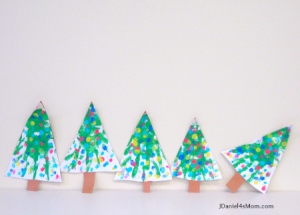 Here is the chant or song:

5 little Christmas Trees
Standing all alone
Their hearts were very sad
'Cause they hadn't found a home.
Then chop went the axe
And down fell the tree
And off they went with a happy family!
(Continue from 4-1 Christmas Trees)
No little Christmas Trees
Standing all alone
Their hearts were very happy
'Cause they all found a home!!!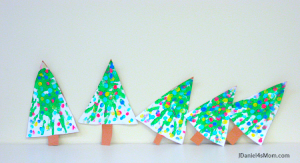 Beyond just repeating the chant I really like when we can act it out or retell the rhyme with a manipulative or craft. We have made egg carton pumpkins for the five little pumpkins and handprint turkey puppets for the five little pumpkins. This time we made handprint trees with fingerprint ornaments.
When the trees were dry, they were glued to construction paper to make them a little bit sturdier. In hindsight I should have backed them with thin cardboard and added a cardboard stand for them. Things here have been a little upside down and construction paper seemed easier.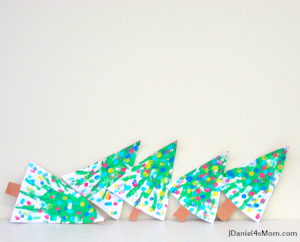 We lined the trees up on against a wall. When it was each trees time to fall, it was tipped over. We didn't eliminate a tree after it was tipped over. It was just left lying on its side. We should have had one of JDaniel's Fisher-Price people carry it off.
The five little Christmas trees is such a fun chant. I hope you will try it with the children in your life.
(Visited 10,122 times, 1 visits today)