It is fascinating to explore the customs and traditions people celebrate during New Year's Eve and New Year's Day around the world. I made a New Year's Customs Sheet that shares what people do to celebrate around the world. The customs sheet could  be read and discussed or it could become part of a learning activity that you could do at home or with your students at school.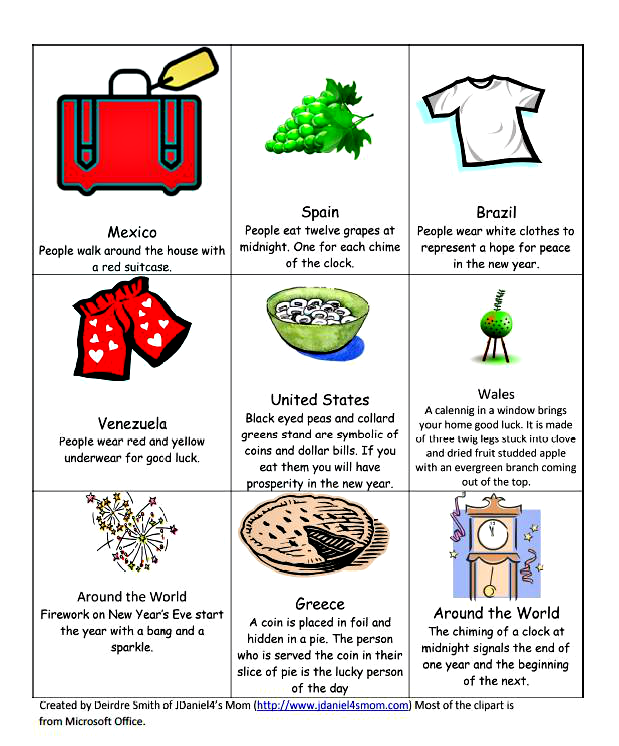 What activities could you do with the New Year's Customs Sheet?
Red Suitcase Craft– Cut out each custom square and glue it to a red construction paper suitcase. The squares will look like the old fashioned travel stickers people used to put on their suitcases long ago.
Concentration Game-
Print out two sheets of the New Year's Customs Sheet. Then cut out each customs. Place 18 custom pieces upside down and search for the matches.
Custom Puzzle Match-
Print out a New Year's Customs sheet. Cut each custom piece into two sections. The top section should contain the picture and part of the world that celebrates that custom. The bottom section should contain the custom. The cuts can be made with various styles of jagged edges. Then try to match custom to its picture like a puzzle.
Guess the Custom Game-
After reading over each custom,  have one person describe one of the pictures and everyone else can  guess what the custom is.
Pictionary Custom Game-
Cut out each custom from the New Year's Eve Custom Sheet and place them in a stack. Take turns selecting a custom from the stack and illustrating it. Everyone else tries to guess what custom is being illustrated.
I bet you can find more ways to this 
New Year's Customs Sheet
. If you do, please leave a comment below sharing your idea.
Happy New Year!

(Visited 1,345 times, 1 visits today)