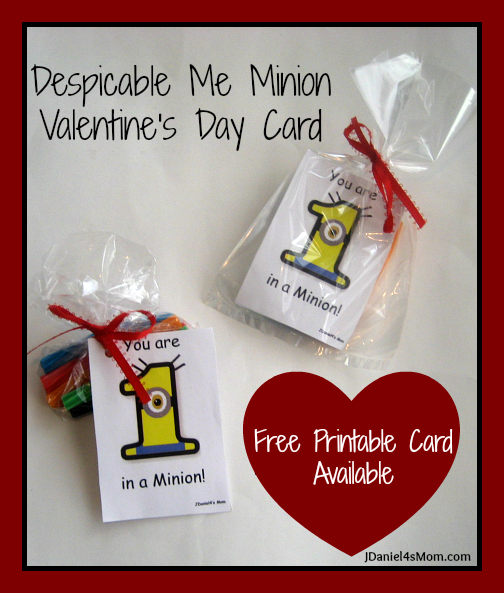 Despicable Me Minion Valentine's Day Cards seemed like the perfect thing to make for my Minion loving guy. He has loved Minions since he saw the movie Despicable Me with the next door neighbor. JDaniel requested I make him a
Minion costume for Halloween
.I thought I would surprise him with these Minion cards for Valentine's.
Rather than try to recreate the actual Minion I decided to decorate the number one up as a Minion.  By having the number one already on the card I eliminated the need to write out the number one. I found several Minion Valentine's Day cards on Pinterest that stated Happy Valentine's Day on them. I decided to not include the words Happy Valentine's Day on the card so, the cards could be used in other ways like birthdays cards, lunch notes, and gift bag tags. I copy pasted the cards into a Word document that includes four cards per sheet.
The Despicable Me Minion Card
has been uploaded to Google docs and you can download your own copy of it for free.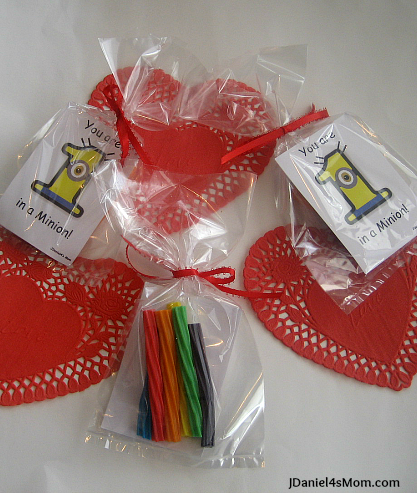 It was hard to decided what to include in the treat bag with the card. I thought about trying to fill the bag with banana flavor candy, but I am not sure that banana flavored candy is as popular with children his age as it might be with Minions. (Minions love bananas.). Then I thought about filling the bags with yellow colored candy, but most of the available yellow candy is lemon flavored. Lemon might not go over well with kids JDaniel's age either. We also thought about putting Twinkies in a treat bag. They look like the shape of a Minion's body, but they really won't look like Minions unless I give them faces and overalls. That sounded like a really big job! There was always the option of making sugar cookies in the shape of number ones and icing them yellow. My one concern with that idea was whether they would travel well to school. I feared that the cookies would be crumbs by the time JDaniel passed them out.
I ended up getting colorful fruit flavored licorice. The strands of licorice looked like the number one of me. It took three package of licorice cut in half to give all 27 children in JDaniel's class 6 strands of licorice.
During one of our snow days last week we gather all the materials needed to put the class cards and treat bags together. Thankfully already had most of the materials.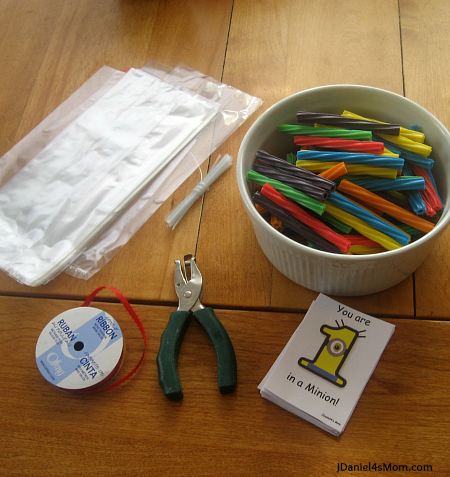 Here is what we used:
Clear Plastic Bags ( We needed two sizes. I only had enough large bags for 24 students.)
Rolls of Ribbon
Bag Ties
(3) Bags of Fruit Flavored Licorice
Despicable Me Minion Cards Printed Out On Cardstock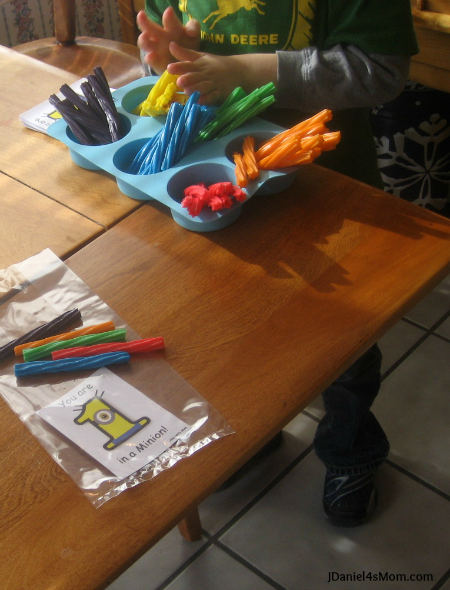 JDaniel decided we needed to sort out the licorice strands by color to insure that each child would great one strand of each color. He pulled out one of our muffin tins to arrange the strands. (I thought that was a great idea.)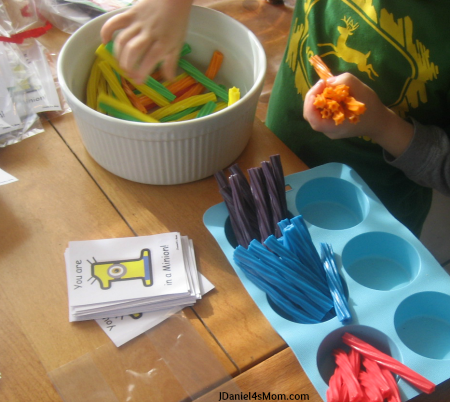 With the large bags we place the Despicable Me Minion Valentine's Day cards in the bag. ( I was worried that the would be detached from their ribbons on their way to school. We then added the licorice to each bag. The bags were closed with a twist tie and a ribbon was placed on to top the tie.
The smaller bags had licorice placed in them. Then the Minion card received a hole for the hole punch. Ribbon was placed through  the hole. Finally the ribbon was tied around the bag to close it up.
We couldn't decide which way of packaging we liked better. JDaniel didn't really have a lot to say on the topic. He mostly wanted to inhale the remaining strands of licorice.
What kind of Valentine's Day cards will or have your children taken to school to share with friends?

(Visited 2,509 times, 1 visits today)