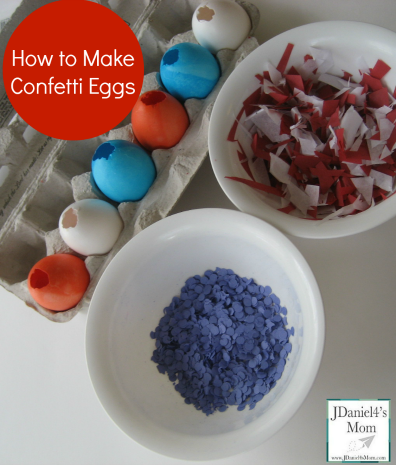 "Mama, can you find out how to make confetti eggs and make some?" JDaniel asked. "Sure! I will find out and make you some confetti eggs," I said.
Every year JDaniel's school fun fair has confetti eggs available for purchase for one ticket. For the last two years he had bought a few eggs and then chased his dad and I around until he was able to hit us with one. This year we bought two confetti eggs for JDaniel to share with the boy next door. He really wanted them to chase each other around the yard until the got each other.
Confetti eggs are fragile and the eggs made it in the house from the car after the fun fair, but they did not make it outside for the chase. That is when JDaniel asked if I could find out how to make confetti eggs and make some more.
I searched the internet for ideas on how to make them. I watched a video by Happy Auer  and read a few blog posts. Each had unique or different twist on how to make them. After reading and watching how to make confetti eggs, these are the steps I ended up using and the supplies needed to make them.
Here are the supplies you need to make confetti eggs:
Raw eggs
Spoon
Small bowls for dye bowls
Vinegar
Water
Food Coloring
Homemade or store bought confetti
Tissue paper for strips or stripes (optional)
Tissue paper or cupcake liners for confetti egg lids (optional)
How to make confetti eggs:
Create a hole in the top of each raw egg. Some people tap the egg on the counter to get the initial crack. (I tried this technique and ended up with a hairline crack going partially down the side of one egg.) The second technique was to tap the top of the egg with a spoon to make the first crack. This is the technique that worked best for me.
Remove enough of the egg shell from the top of each egg to create a small whole or a medium sized hole. It is up to you.
Remove the raw egg from the shell of your eggs by shaking it over a measuring cup. (I used the raw eggs to to make of brownies. You could clean out an egg as you needed it and save the shells until you had enough eggs for your kids or just make a giant omelet or strata.)
Prepare dye bowl with mixture of water, vinegar and food coloring. I used about a 1/4 cup of vinegar, a half cup of water and enough squirts of food coloring until I got the color I wanted.
Place the eggs into the color baths. (I created two red and two blue eggs. I left two eggs white.)
Place the dyed eggs back in the egg carton to dry.
Use a hole punch to create small dots for the eggs or buy confetti at the store. I wanted tissue strips or stripes to put in the eggs  so, I cut small strips out of tissue paper.
When the confetti eggs are dry place the confetti mixture into the top of each egg. I used a funnel for the dots and my fingers to put the tissue strips into them.
If you are worried about the confetti and tissue falling out, you can glue the center of a cupcake liner over the opening like Happy Auer did. Another option is that you could glue a tissue paper circle over the opening. I just left the top open. The idea of having confetti fly out of the egg as it is thrown appealed to me.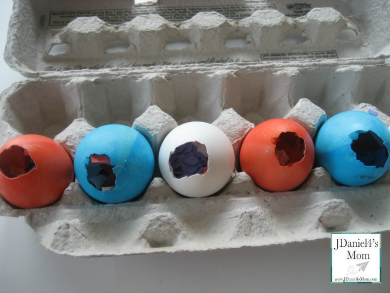 Tips for Throwing Confetti Eggs
Throw them in the driveway for easy clean up.
Try to have at least two eggs per child.
Create eggs and confetti to match an upcoming holiday or event.
Throw the eggs outside
Our eggs were created with a patriotic themed for Memorial day. Confetti eggs could really be made for any event or holiday. It might even be fun to have creating them be a party activity.
For more outdoor play ideas please stop by my Outdoor Fun for Kids Pinterest board.

(Visited 600 times, 1 visits today)