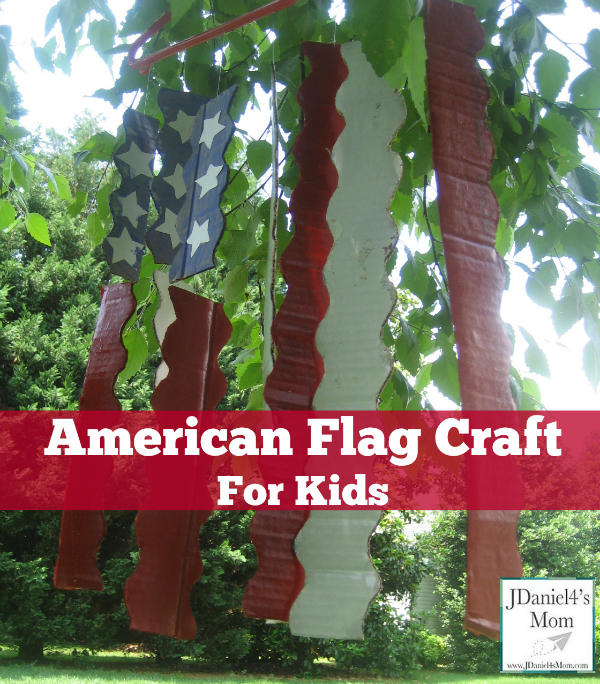 Using a few simple craft materials you can create an American flag  craft mobile that can twist in the breeze or decorate your child's room. It is super easy! We made this mobile two years ago for a guest post on the blog Not Just Cute. I thought you would love to see it!
A flag mobile like this one would be great to  hang up on Flag Day, Memorial Day, Veterans Day or the 4th of July. We have had it hung up in a tree in our yard on bright sunny days lately, but we take it in a night. It isn't weather safe. It has spent the most time in JDaniel's room hanging  from one of the arms of his ceiling fan.

How To Make Our American Flag Craft for Kids
The first thing you have to do it so gather your supplies.
We used: 
Cardboard box ( Colored poster board could be used instead)
Paint (Red, white and blue)
White construction paper
Fishing line
Plastic hanger (red)
Scissors
X -Acto knife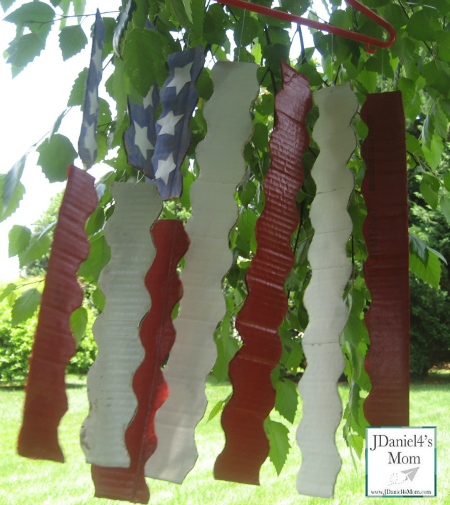 Directions for creating the mobile:
Trace the outline of a flag and mark off six stripes of equal length.
Draw wavy lines to separate each of the stripes.
If you are using poster board for your stripes, cut out the stripes with scissors. If you are using cardboard, cut out the stripes with an X-Acto knife.
Cut a four inch length from three of your stripes. The short stripes with be the blue area of the flag.
Now it is kid's time! Have the kids color the three short stripe sections blue. Two of the long stripes and one of the shorter stripes will need to be painted white. Two of the shorter stripes and two of the long stripes will be painted red.
While the paint is drying, cut stars out of the white construction paper. We have nine stars on our flag.
When the paint is dry, glue the stars onto the short blue stripes.
Thread a needle with fishing line.
Use the fishing line to connect  each of the small blue stripes to one of the medium sized or shorter stripes. Then connect the blue stripes to the red hanger with fishing line.
Next use fishing line to connect the longer stripes to the coat hanger.
Make sure the stripes will have enough room to spin.
Hang your mobile up and watch it spin.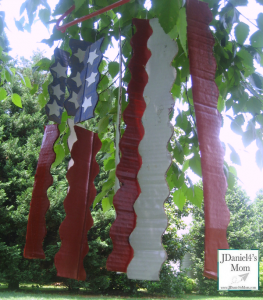 I hope you like our tribute Old Glory!
Other Patriotic Crafts for Kids
If you are looking for patriotic crafts and fun, you may want to check out my  Summer Crafts and Fun Pinterest board .
Follow JDaniel4's Mom's board Summer Crafts and Fun on Pinterest.
Here are some other patriotic crafts I have shared here on my blog:
Crafts for Kids: Painted American Flag 
Bald Eagle Craft and Science Experiment

(Visited 374 times, 1 visits today)