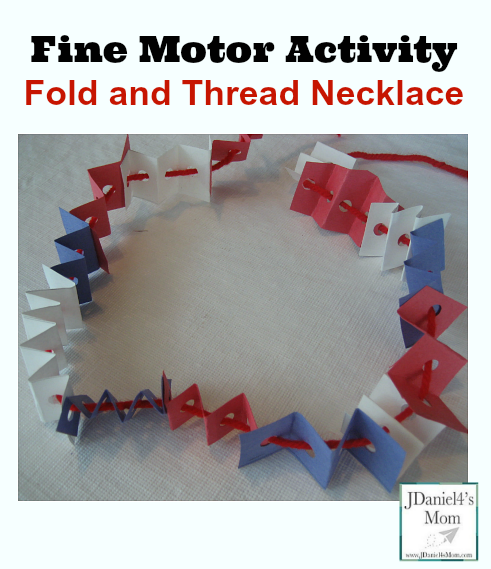 Children of various ages benefit from working on fine motor skills. This fine motor activity actually creates the opportunity for children to work a several fine motor skills. I have called this fine motor activity Fold and Thread Necklace, but there are really several other skills that children will work on while creating the necklace. I will tell you more about them as we go along.
Supplies Need For the Fine Motor Activity
Construction paper (red, blue and white)
Scissors
Hole punch
Ruler
Pencil
Yarn (red)
Directions for the Fold and Thread Necklace
I went ahead and drew vertical lines one inch apart on front of  pieces of red, blue and while construction paper. On the back on the construction paper I drew horizontal lines three inches apart.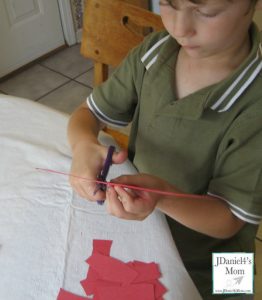 JDaniel cut the vertical strips out first. It was hard to cut the strips perfectly straight. Some strips ended up a little wavy. They looked really cool with a little bit of wave. If you really want super straight strips, you may want to fold the paper in half horizontally. Children will have  much shorter strip to cut out. Don't worry about creating a crease in the paper. Children will cut along the crease when they make the horizontal cuts.
When the long strips had been cut out, JDaniel turned them over and cut the strips along the horizontal line I had draw on the paper.  He declared this much easier to do.
The next step was a little bit hard to do. Each strip need to be fan folded. That means folding a portion of the strip down turning the paper over and folding another portion of the strip down. This process continues until you reach the end of the strip. That is about four folds.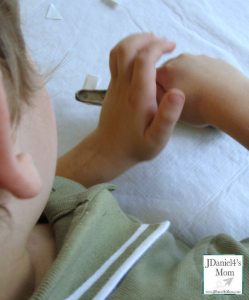 When you have strip fan folded, you will use a hole punch to create a hole in the center of the fan folded paper.  This can be a little challenging too. We found that if you used thin construction paper for this fine motor activity it was easier to punch holes through.
Keeping the strip fan folded thread a piece of yarn through its holes. Once the strip is on the yarn, you can open the fan fold a little or a lot. It is so much easier to thread the yard through as a  collapsed strip then it would have been to thread the yarn through each hole.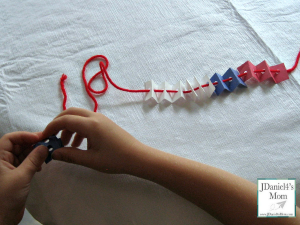 You will need to repeat the fan folding, hole punching, and threading steps until you have a number of strips on the yarn. We chose fold and hole punch all the strips before threading,  but how you complete these three steps is really up to you.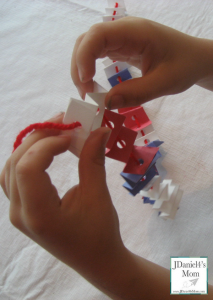 While creating this fine motor necklace, kids have worked on cutting, folding, hole punching, and threading.  Combining  of all these skills  gives kids the opportunity to create a really fun necklace.
Feel free to try a variety of different types of paper, foam or material to create a fold and thread necklace. The key is the thickness of the material you decided to use. The thinner the material is the easier it will be to hole punch. Warning: If the material is too thin, it could tear while children are trying to cut or thread it.
Here is another fine motor activity we have tried. Weaving ribbons through a dish drying mat help children work on planning,  creating, and threading. We had a lot of fun fine motor weaving.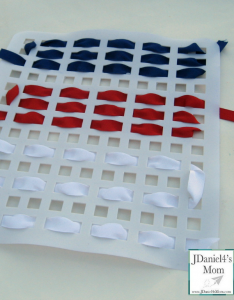 Watch for more fine motor activities this week and a huge giveaway here on Friday. When I say huge I mean huge, you won't want to miss it.

(Visited 1,098 times, 1 visits today)