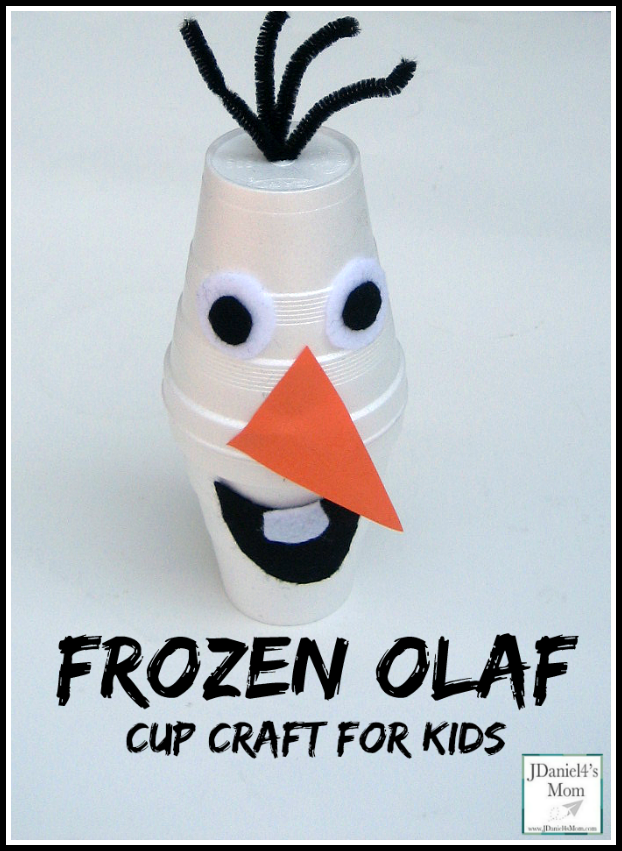 We didn't see Frozen when it was in the movie theater last winter. JDaniel was introduced to Frozen Olaf while watching in on DVD at a friend's house recently. He was definitely JDaniel's favorite character from the movie. I decided it would be fun to make Frozen Olaf at home and we hunted through our craft supplies and under the kitchen sink for cups to make him.
We ended up not having white Styrofoam cups under the sink so, I borrowed some from my mom. (I had purchased a large supply of them for her last week so, I knew she had some.) We found the rest of the supplies among the craft elements in our crafts closet.
Here is what we used to make Frozen Olaf:
Styrofoam cups (two)
Black felt
White felt
Orange construction paper
Black pipe cleaner
Glue stick
Scissors
How  we put Frozen Olaf Together:
Cutting Out His Facial Features
The first thing we did was cut out the mouth and eye components out of felt. The eyes are made of two small black circles and two large white circles. The mouth is made of a large fun filled sort of pocket shape made with black felt and a white tooth. We looked carefully at the tooth Frozen Olaf had in the movie and decided it had rounded sides rather than straight sides. (You could probably make the tooth either way.)
The second step was to cut out a large triangle out of orange construction paper. Our nose is a little bit wider than Frozen Olaf's nose was in the movie, but I think it still looks great.
Gluing on His Facial Features
Once we had all the facial features ready, we glued them on to the cups. The mouth components were glued to cup that sits right side up. The mouth seems to look best right below the rim of the cups we used. You may want to try them in various places on the cup before gluing them down.
The eye components were glued at about the halfway point of an upside down cup. Frozen Olaf's eyes are really close to his nose. By placing his eyes halfway down the cup it gave us the look we wanted.
Frozen Olaf's nose had glue placed on only the top half of it before it was added to his face. We wanted to be able to disassemble cup craft and stack the cups together when we stored it to enjoy later.
Giving Frozen Olaf Hair
Frozen Olaf's hair was made of a pipe cleaner cut into fourths. After cutting the pipe cleaner into fourths, we poked a small hole in the bottom of the cup with the scissors. The hole was just the right size for pipe cleaners to fit it and not large enough for them to wiggle around it.  When all the pipe cleaners were in place, we twisted the ends inside cup together to keep them in place.
Three Fun Things About Our Frozen Olaf
One of the fun things about our Frozen Olaf craft is that you can turn the cups back and forth until two cups are  placed where you want it to be. It is fun to try to balance the cups just right.
The second fun thing about it is that you can stack the top part of the head into the bottom part of the head.  This makes them great for traveling from school to home. It also makes them easy to store for later.
The third fun thing about keeping the two sections separate we didn't have to worry about attaching them. (That might have been tricky unless we want a tape them together on the inside or back. We decided not to have tape appear on or in the craft.)
Other Fun Children's Art Projects
If you are looking for other children's art project on the Children's Art board displayed below. It is a group board contributed to by top kid bloggers.
Follow Debbie Clement's board Children's Art on Pinterest.



(Visited 8,424 times, 1 visits today)