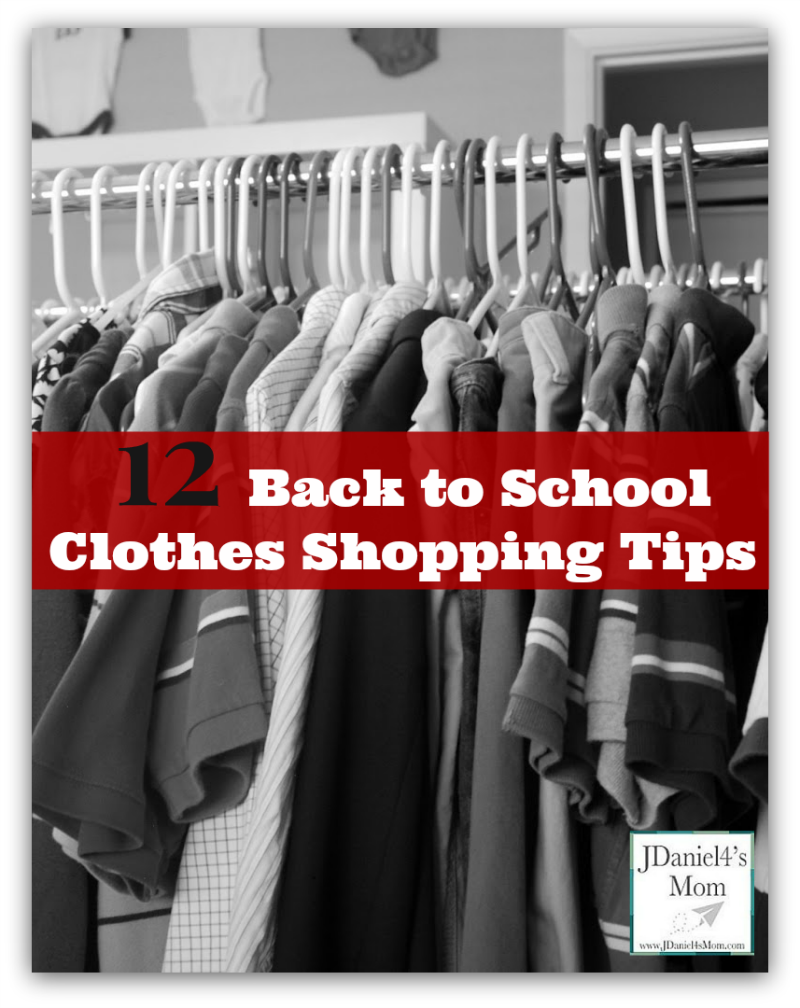 When it comes to making sure that you have your children ready for school, these twelve Back to School Clothes tips should really help. They cover a variety of gathering and assessing tips. While gathering may make sense to you, you may be wondering why you need to assess your children's clothing. In many ways assessing is important than the actual gathering or shopping for clothes. That is why you will find almost many assessing tips as you will find gathering tips.
Back to School Clothes Tip One- Search at Home
Go through all the clothes that you have at home. You have probably boxed up somethings from this time last year as we did. Go through those boxes and see if your  child  or children can still wear any of those clothes this year. Some of  shirts my son wore last year may still fit him this fall. We will have to try them on and find out.
If you find clothes that don't fit your child and you don't have children in your family to hand them down too think about donating or consigning them. There is no reason for them to take up space at your house.
My sisters send me clothing that their boys have worn as soon as they grow out of them. We have boxes and bags of clothes that I sorted through a few years ago when my sisters gave them to us that my son has now gotten big enough to wear. I honestly don't remember everything they have sent to us. Now is the time to look through those boxes and bags to see what we can use this fall. Knowing what you have that your children can wear will keep you from buying clothes that you don't need.
Back to School Clothes Tip Two- Decide What You Need
I heard a purging expert once say that she believed children needed five outfits for each season of the year. As the mom of a very messy boy who can go through more than shirt  or one pair of pants in a day, I think I may have to add a few more pants and shirt to that number. We live a mild climate so many of those pants and shirts can be worn in the fall and spring so, having a few more isn't a bad idea. My son is also at an age where he is growing a lot so having many more will not be necessary. He may not wear them for very long.
I have love having him wear shorts all summer. Their length isn't as important as the length of pants would be. My friend Kathleen is the queen of assessing. She knows just what her boys have and what they need. When she  heads out hunt and gather clothes for them, she has list of exactly what she needs. I don't think she deviates from that list much.
Back to School Clothes Tip Three- Think About Matching
Beyond making a list of what you need to hunt and gather think about trying to have clothing that will match. Neutral colored pants that will go with more than one shirt for example. Having clothing that can be worn in a variety of combinations also ensures that your child will probably come up with an outfit that matches. Some children love to wear clothes that match. Others will grab one pair of pants and one shirt with bothering to look at them. No matter what the combination looks like they plan to wear it.
Back to School Tip Four- Quality vs. Quantity
I was talking with a friend on Saturday morning about boys pants. She buys a number of pants from consignment stores for her son. He wears out the knees in his pants quickly. For her having a lot of pants that cost her $3 or $4 is more important economical than having more expensive pants with iron knees. There are some of you that would rather invest in a few pants that have iron knees from Lands' End instead.There really isn't a wrong choice here. Both types of moms want find the best value they can. Actually, the best choice might be to find the high-end pants with re-enforced knees at a consignment store or thrift shop. I haven't had a lot of luck with that, but my friends seem to find bargains all the time. The friends that have most success love to troll consignment stores and thrift shops often. They are die hard shoppers.
Back to School Clothes Tip Five- Clear Vision of What Is Appropriate for Your Kids to Wear
More and more schools are establishing dress codes. Assessing what your children can wear to school will impact that you think you need to add to their wardrobe. My son doesn't have at of clothing rules at his school.  He is also a boy. That means we don't have to worry much about what is too short or shows too much skin. Sometimes he tries to wear high water pants that he has outgrown but still loves.  I think there are probably other boys that do that too. Girl moms may have more of a challenge in this area.
Back to School Clothes Tip Six- Check With Friends
I have a friend Sandy who loves to buy high-end girls clothes for her daughter. She loves to add a monogram displaying the first letter of her daughter's name to them too. There are several moms at church that have girls younger than her daughter that have the same first initial. They are more than willing to buy her daughter's second-hand clothes.
The mom's group at my church has set up a Facebook group. There are posts on it regularly for moms selling or looking for particular clothing items. It is a great way to shop without having to go into a store. If you don't have friends that have children your age, check it see if your friends know of someone who does.
Back to School Clothes Tip Seven- Consignment Sales
I live in the land of consignment sales. The largest of these sales was this past weekend and there will be at least six others coming up. Some are huge and some are small. Most will have bargains. A local blog Kidding Around Greenville shares information on all the consignment sales in my area. If you have a local blog in your area, you may find a complete list of consignment sales on their site too.
Back to School Clothes Tip Eight- eBay
One of my sisters had bought clothing for her children by the pound on eBay. I have never tried this myself. She has told me that most of what she gets that way are great. She has gotten a few items with a stain. You don't get to see everything you will get so, you have to trust that the seller is selling you great items.
Back to School Clothes Tip Nine-Consignment Stores or Thrift Stores
The lady I co-taught VBS with loves going to local thrift stores. She has found clothes for her daughter's with store tags still one them. One of the benefits of going to a consignment store or thrift shop rather than a sale is that the prices drop after the clothes have been in the stores for a certain number of days. Yes, I know consignment sales have half price hours on their final day, but sometimes thrift stores will go even lower than that.
Back to School Clothes Tip Ten- Tax-Free Days
Some states have gotten rid of their tax-free shopping days. Thankfully we still have them here in South Carolina. For some reason, a number of the stores have decided to have Back to School sales on those days too.  That makes those days a great time to hunt and gather school clothes.
Back to School Clothes Tip Eleven- Online Coupons and Codes
If you absolutely dread going out to shop for back to school clothes, you can shop online. Many of your favorite stores are having End of Summer or Yipee It's Fall! sales. Sometimes you can Google your favorite store's name along with the words coupons or codes and find an extra discount. When you can stack a sale price with a discount code, you can really save a lot.
Back to School Clothes Tip Twelve-You Don't Have To Get Everything Now
You may want to get everything now. If you can get a great price on it now, go a head and buy it if you like.
Wait! You may not want to.
Why?
There will be more sales and more friend's whose kids outgrow their clothes during the school year.
Your child could grow three inches this fall and need to get new pants! It could totally happen. It happened here! One day your children's pants seem to fit!  The next day they are up to their ankles and heading for their knees.
You are probably on a budget and you don't want to spend more than you have to this month for school.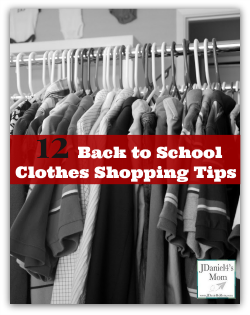 These are the Back to School Clothes tips I thought of. If you can think of more, please leave them in a comment below.

(Visited 1,930 times, 1 visits today)