As shared earlier in the week in my Educational Games- Color Sorting Turtles, learning games for kids that feature movie, book, or television characters catch children's interest. Just as in that post I went with the Teenage Mutant Ninja Turtles. In this post I only focused on one Ninja Turtle called Raphael who wears a red head band. Teenage Mutant Ninja Turtles love pizza so pizzas were  used as a game piece in this learning game for kids.
Sometimes learning games for kids focus on one particular skill. This learning game is open ended. The egg carton Ninja Turtle is the catching area or landing spot. Small pizzas were printed out on a section of a file folder to and then cut out. The pizzas as I mentioned are the game pieces.
How to Play These Learning Games for Kids
By keeping this game open ended we can play it to review or work on any type of learning concepts. If my son or I gets the correct answer, then we get to try to fling a pizza into the Teenage Mutant Ninja Turtles mouth.  In our version of the game we could get as close to the turtle's mouth as we wanted too. When you set up your rules for these learning games for kids, you could decide to try flipping, tossing or flinging the pizzas from 6 or 7 inches away.
Our pizzas were colored in so that it looks like they have olives, mushroom, pepperoni, cheese, and ground meat. ( I have attached a copy of the Pizza Cards we used. ) You or your kids can color them in to represent the topping they like. You could also write numbers, words or letters and make this game focus on a particular skill. That is all up to you.
How to Build These Learning Games for Kids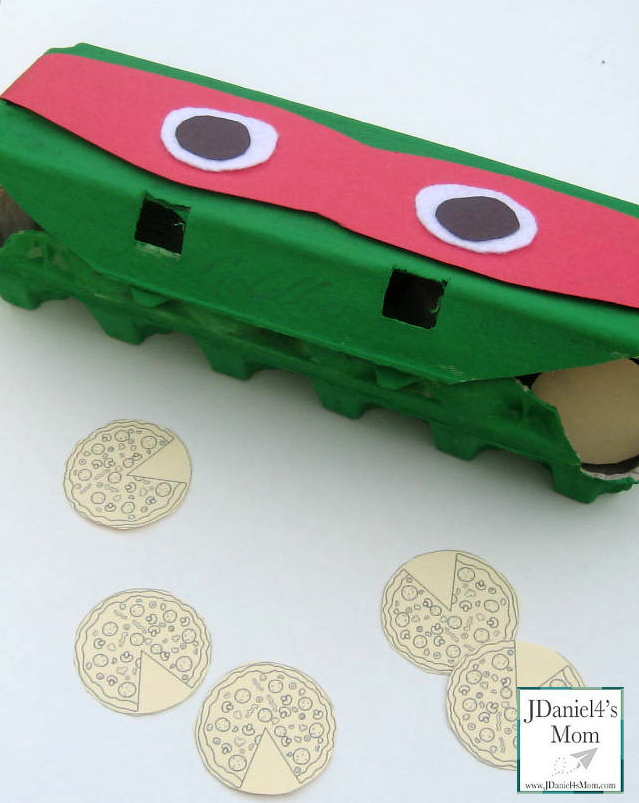 The Turtle's Head Carton
The link below is an affiliate link.
We took an old egg carton and painted in green. I think the Teenage Mutant Ninja Turtles may have skin that is a darker green, but we used the green acrylic paint.
that we had.  ( I found that acrylic paint works really well on cardboard.) We didn't paint the inside of the turtles mouth. If we had I think we would have used red.
Then a piece of red construction paper was measured to fit on the turtle as his mask.  We found that cutting the strip on a diagonal gave us the long piece we needed. After looking at several styles of turtle head bands, we went for one that has rounded areas for the eyes.
White felt and black construction paper cut out to be used for his eyes. I thought the felt would add texture to this learning game.
When everything was cut out, we used an  Elmer's X-TREME Extra Strength Washable School Glue Stick to get everything to say in place on the turtle.
After placing all the mask elements in place, I decide to round the end of the front of the egg carton to look more like a mouth. This isn't something you may choose to do.
We added a small popsicle stick to either side of the turtle's mouth to keep in open. We colored the stick green to help it blend in. You don't have to do that step if you don't want too.
Pizza  Game Pieces
After printing out the pizza game piece (see link to the game pieces above), we decorated. You can color them with markers, crayons or color pencils. We used markers for ours.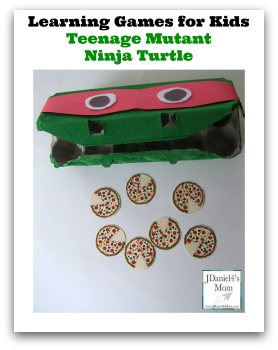 As I mentioned learning games for kids that feature characters they like will spark their interest and get them involved in the game easily.
What characters would  your kids like to see in homemade learning games for kids?

(Visited 1,682 times, 1 visits today)