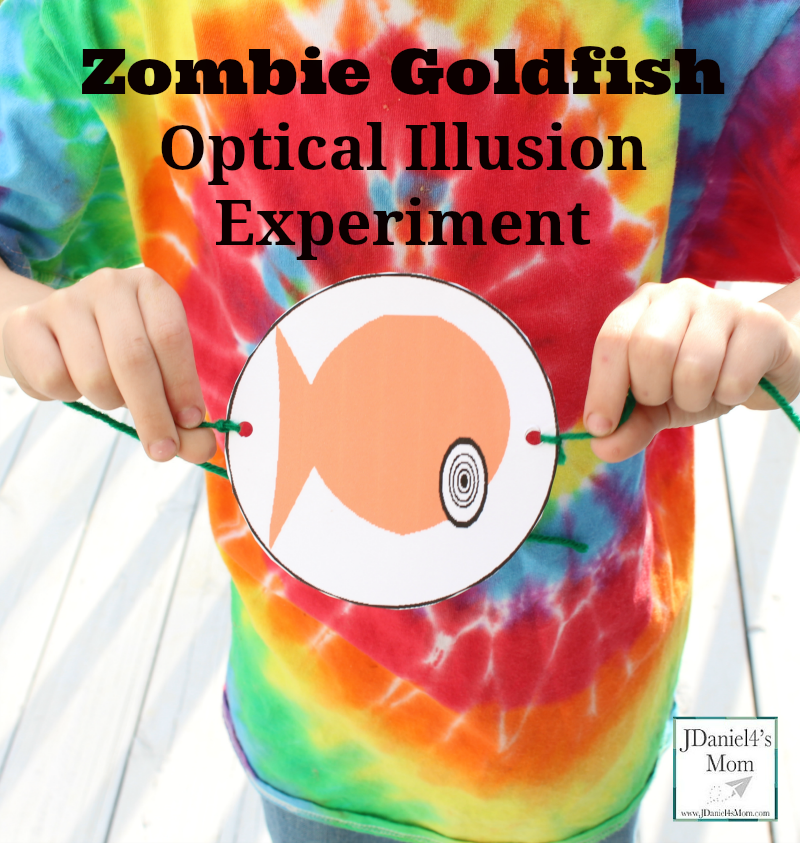 This post contains affiliate links. I was sent the books mentioned in the post to review.
JDaniel and I recently spent time trying to decide the best way to get our zombie goldfish optical illusion spinning. The experiment featured the main character from the children picture book called The Fintastic Fishsitter: A Big Fat Zombie Goldfish Adventure   and the children's novel Any Fin Is Possible: My Big Fat Zombie Goldfish
. ( We were sent both books to review. I will tell you more about them later.)  We both agreed that one of each of the two string needed to be held in each hand. Beyond that we have very different opinions about how to spin the zombie goldfish. We also had different opinions about which way work best at the beginning. Let me walk you through our spinning attempts and their results.
Getting the Optical Illusion Ready
Creating the Fish
I drew a  zombie goldfish is MicroSoft Paint. ( A very tame version of the goldfish. The fish in the books is much cooler and a little scary.) The goldfish was placed inside a circle.  To make the optical illusion work one circled goldfish was created facing left edge. Then the fish was flipped to crate a second goldfish facing upside down and to right. (If you create your own optical illusion design you will want to do the same thing.
Getting the Fish Getting to Spin
The fish were facing on the outside of each circle. One fish was right side up and one was upside down. I was very careful about making sure their  tails were lined up prior to gluing the circles together.
A hole punch was used to place a hole by the fish's mouth and one by the fish's tail. I really tried to make them right across from each other.
Then a string about 12 inches long was attached to each hole. The string was used as our spinning mechanism.
Two Spinning Techniques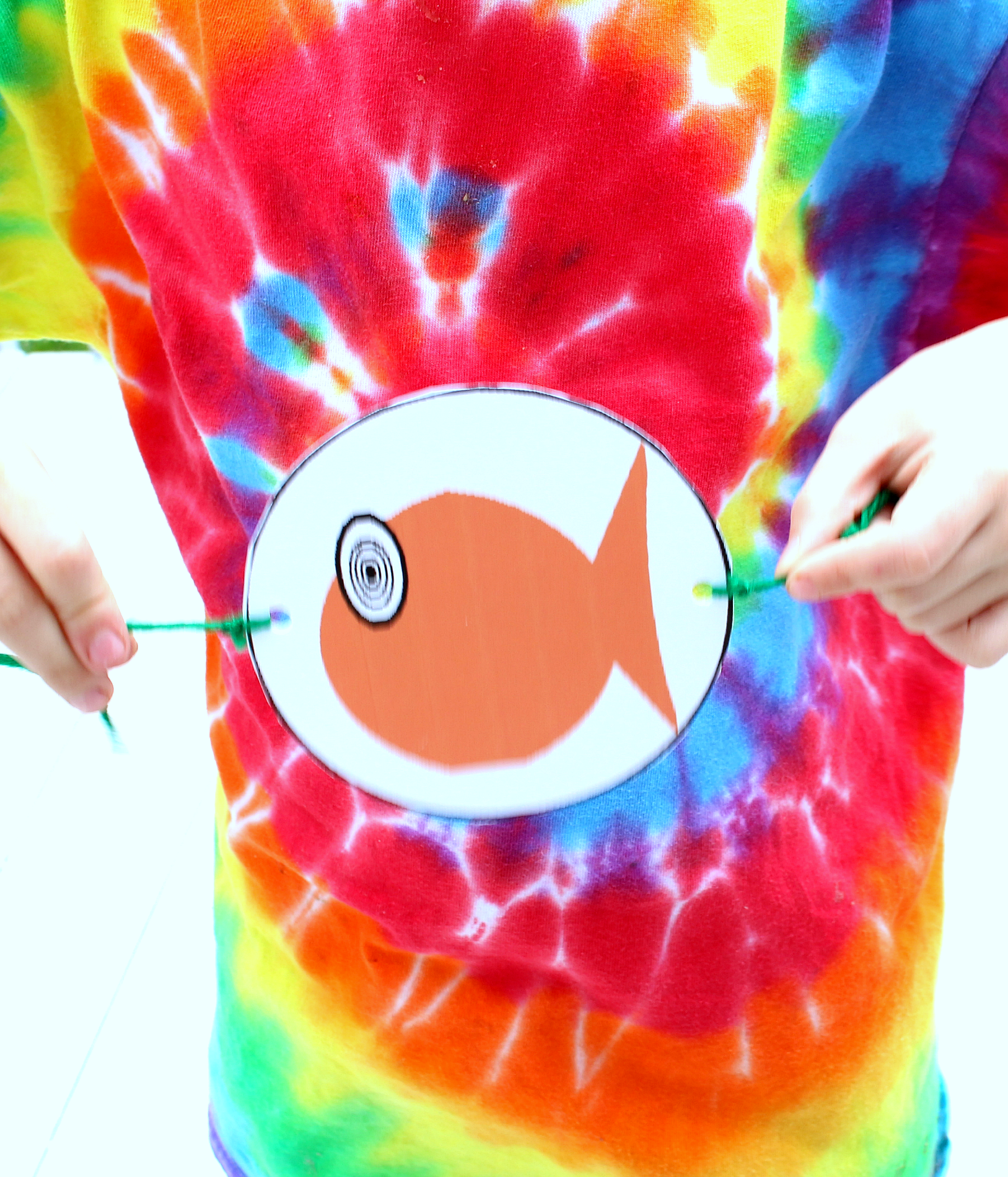 I have read about twisting each of the strings as tightly as possible with my fingers. Then I was to let the strings go. We tried this and the fish did spin and create the optical illusion.  While my technique worked, it was declared the slow way to create the optical illusion.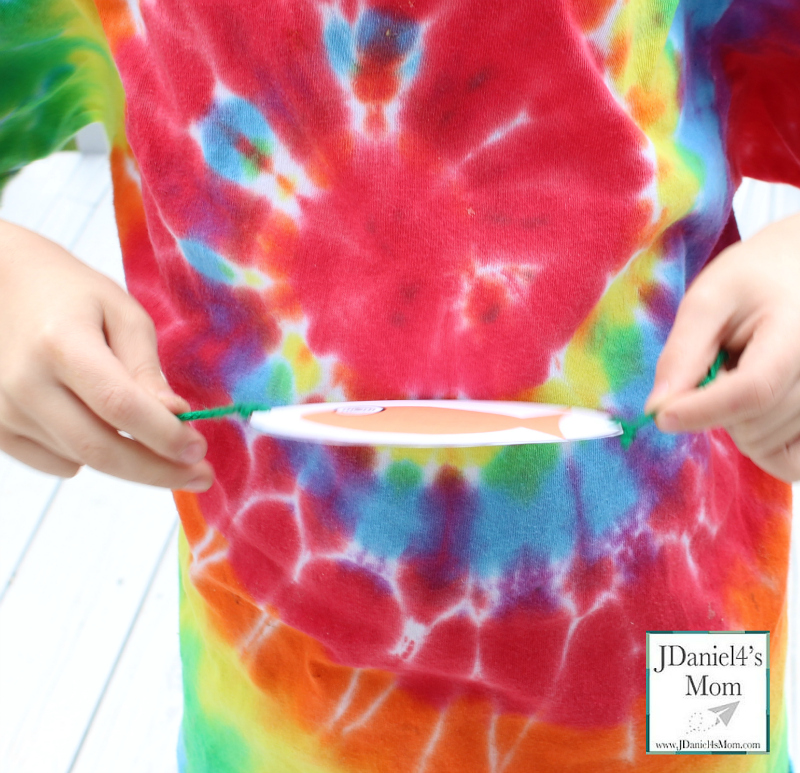 The faster way to get the fish to spin was to swing the two string and the zombie goldfish in big arcing circles. After a few swings, I was to pull the strings out as far as possible. (Don't pull too hard I was warned or you will pull the string off the zombie goldfish.)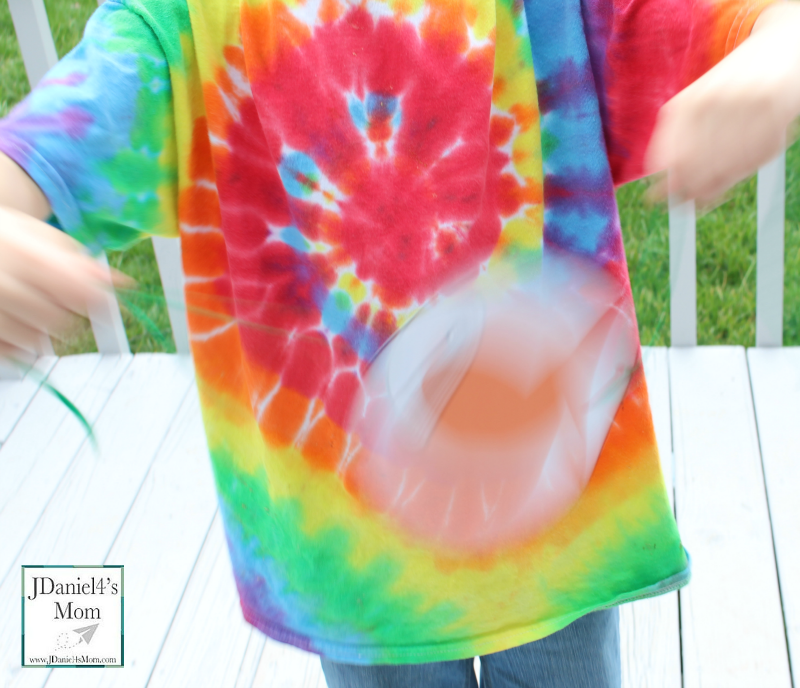 After trying both techniques were tried several times, I conceded that the arcing swings really did create the best optical illusion. We both had to admit that using this technique caused us to have to retie the strings a lot. We must not have tied the string enough times
Book Reviews
The Fintastic Fishsitter: A Big Fat Zombie Goldfish Adventure  is a picture book about babysitting a zombie goldfish. Sami is asked brother's best friend's zombie goldfish. She find the hardest thing is keeping her brother's vampire cat away from him. Finally she decides to teach them about why it will be better to get along. JDaniel and I both loved this book. It has a fun ending.
Any Fin Is Possible: My Big Fat Zombie Goldfish
 was JDaniel's favorite of the two books. It contains two separate stories. One about a mummy cat and one competing in a sports day. Both stories were a lot of fun! They would have to been if they featured a zombie goldfish. We both of humor found in stories. Some made parts made a smile and others made us laugh out loud.
This post is part of storybook science series hosted by Inspiration Laboratories. Each day in the month of March a different children's book will be tied to science project. I hope you will check them all out.

(Visited 1,629 times, 1 visits today)