When I was packing for our Spring Break Trip, I found that shoes were what I needed to think about the most. We needed sneakers or hiking boots for hiking. My sister Shell had planned a messy caving activity that would require shoes that could be super messy. The trip included attending Shell church for Easter Sunday. JDaniel doesn't have dress shoes so, I packed sandals for him. That is three pair of shoes for just one of us. With making shoe choices I my mind I selected the book Which Shoes Would You Choose?
 to explore this week. After reading the book, we did a number of learning activities with a homemade set of shoe work mats.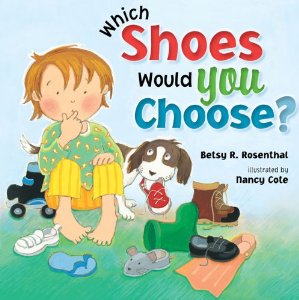 Which Shoes Would You Choose? is a really cute book about a selecting the right shoes for each activity. The main character Sherman wear flip flops to the beach, but should he wear them hiking. He wear hiking boots to hike, but should he wear them to play tennis.
We talked a lot about why some types of shoe could be worn to do more than one activity, but others could not.  The wonderful illustration in the book by Nancy Cole lead to discussions about different places Sherman visits and plays.
What learning activities did we do while exploring this book?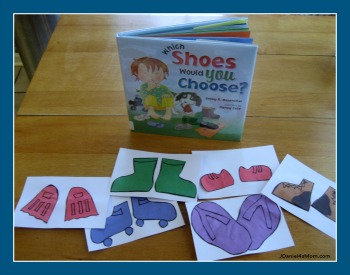 I created a bunch of different types of shoes out of construction paper and glued them onto blank index cards.  There were rain boots, hiking boots, flip flops, roller skates, and flippers.  We used the cards for each of the activities we did this week.
Find Them in the Book

The first thing we did was look for each of the types of footwear in the book.  Once we found them we talked about how my construction paper creations were alike or different from the ones Nancy Cole had drawn.
Where Else Could We Wear Them?
On our Spring Break Trip JDaniel ended up with only two pair of shoes in his suitcase. He had his sneakers and a pair of sandals. I had decided to really scrub his sneakers if they got messy.  Sherman probably could have worn some of this footwear other places too.
We made list of all the places each type of shoe on the cards could be worn. It ended up being a great discussion.
Arrange By Size
Some of the footwear I created ended up being really small and others filled the whole card. That is what happens when you cut things out freehand. I asked JDaniel to arrange the cards from smallest to largest.
Color Identification

JDaniel was asked to tell me what color each shoe was and and find something in our kitchen that was the same color. Thankfully I had purchased purple grapes this week at the store. He would have had a hard time finding something purple otherwise.
Land vs. Water

We then sorted the cards into two groups land worn shoes and water worn shoes. It was very interesting to hear how JDaniel worked through this task. He decided that roller skates could be only worn on land and flippers only worn in the water.  The rest of the footwear could be worn both places.
JDaniel told me that both pairs of boots could be worn in puddles of water or on land. He did wear his red rain boots most of last spring just because he loved them. He also wore his hiking boots everywhere this past fall and winter.  He told me his sneakers have been worn as he walked through puddles and dipped into creeks. If I had said worn on land or in the ocean it would probably have been better.
Initial Consonant 

Since JDaniel has started speech lessons, he has been very big into initial consonant sounds. He will announce the beginning sounds of a word he has been thinking of out of the blue.
I decided to have him tell me the beginning sound of each of the types of footwear. Since several of them have more than one word in their name, he got to practice several beginning sounds.
What are some other ways we could have used the footwear cards?

How did you explore books this week? If you have a post you would like to share, please link it up below. Once you have added your post, please visit at least  three other posts.


Disclaimer: This post contains an affiliate link.