The links below are affiliate links.
We spent time this week reading and exploring books about bats. JDaniel and I really love the book Baby Bat's Lullaby
by Julia Noonan. We spend a lot of time together just the way the mother and child bat do in this book.  The mother bat shares with her child many of the things he does during the day that make him special.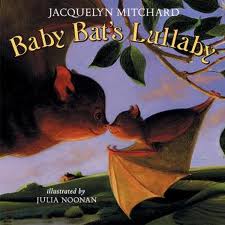 This lovely book's words flow as you read and the rhyming text draws you into their day. I love how the mother bat loves her baby. The pictures and the words both share that message.
Bats for Kids Activities
Bat Text Guide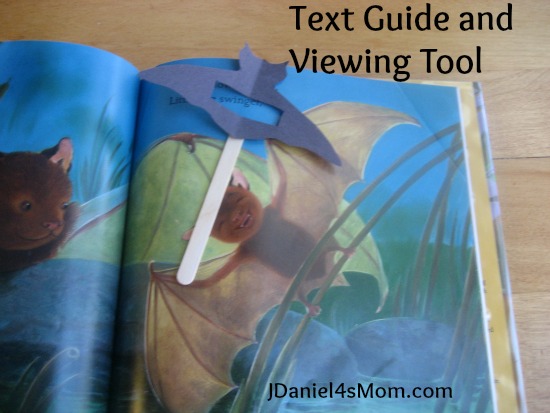 I created a bat text guide for JDaniel to use while we read the book.  We used the guide in several different ways. His first  job to turn the guide sideways and pull in under the text as I read the story.
JDaniel's second was to go through the book with me and look for action words in the story a second time.
Next he had to help me look for rhyming words.
If you are looking for more information on using a  reading guide or viewer, you will find some on this post I wrote for the Kid's Activities Blog called Simple and Fun Strategies for Reading.
Stained Glass Bats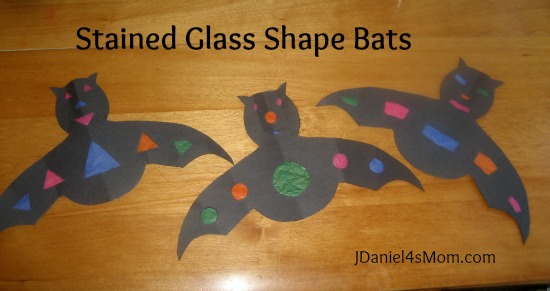 I cut out bats and added shape cutouts to the bats. There was a rectangle bat, a circle  bat and a triangle bat. JDaniel's job was to cut out tissue paper squares to use for the bats.
When we both had our parts of the craft ready, JDaniel glued the tissue paper squares to the back of the bats covering the shape cutouts I had made. This bats for kids craft looks wonderful hanging in a window.
Alphabet Bats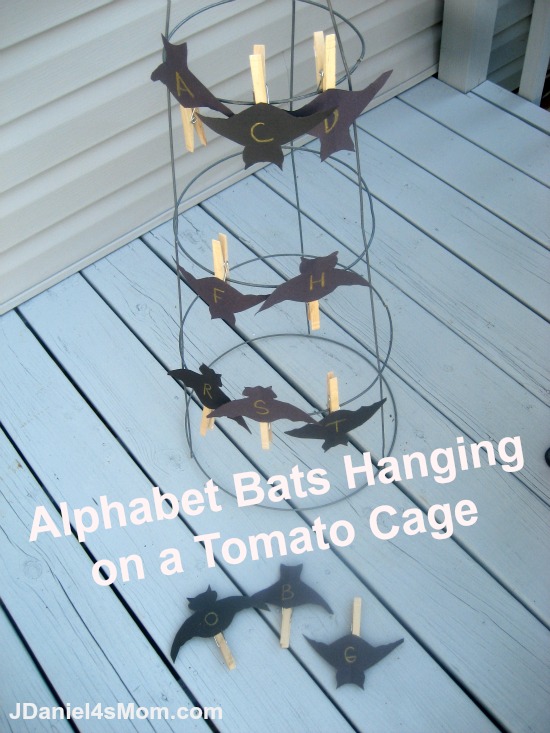 JDaniel was given some bats with alphabet letters on their tummies. He was asked to hang them on a tomato cage so the letter would be facing the right direction. The bats have clothes pins glued to the back of them to allow them to be attached to the tomato cage. This was my son's favorite bats for kids activity!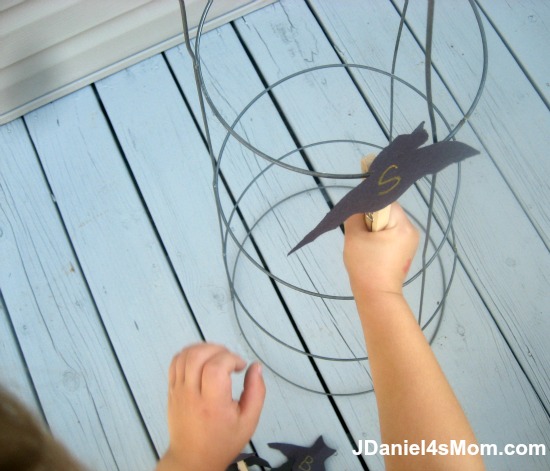 Here are some wonderful book exploration posts from last week:
I love the elephant Living Life Intentionally create to go with the book Elmer.
Reading Confetti created an amazing paper
Light Up Pumpkin
to go with the book Spooky Boo!
How have you been exploring books this week?

(Visited 464 times, 1 visits today)