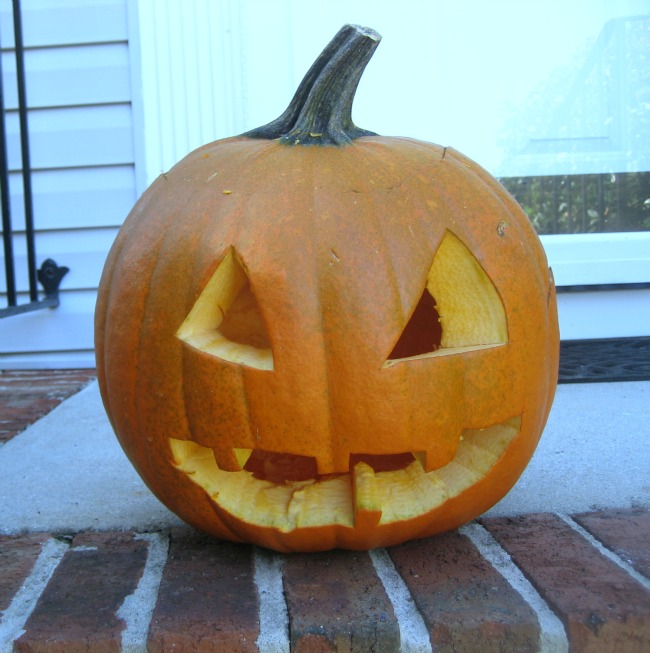 My life started in patch just as it did for many of my pumpkin relatives. I heard the farmer and his farm hands talk one day  about how one day many of us would be taken to large brightly lit stores where people would look us displayed on shelves and decide if we were right for them. When the right person came along, we would be taken to their homes for a time of carving pumpkins.
I waited and grew and waited and grew. Finally one day I was harvested from the patch and placed into a really large cardboard box. Many of my relatives were placed in the same box. Once the box was filled to the brim, we could feel ourselves being lifted by a machine someone outside the box called a forklift. The forklift carried us over to what another person outside the box called a truck. 
I think they were lots of boxes of us on the truck. I could hear the almost silent cries of pumpkins on the bottom of the boxes. They were feeling the heavy weight of the pumpkins that were in the middle and top sections of the box.
I was blessed to be near the top of my box. I couldn't tell where we were going as we traveled, but I knew we would eventually end up in a store glowing with light.
Finally my box was taken off  the truck and moved into a store. Aldi is what I heard the people in the store call the place. Apparently Aldi isn't a place with shelves for foods to be displayed, because I remained in the box as did everyone else I had traveled with in the box. Not a single pumpkin was removed from the box for awhile.
After a couple of hours, pumpkins started to  be lifted out of the box. I could look up and see the bright lights I had heard about back on the farm.
Not every pumpkin stayed out of the box. Some were lifted up and placed back in the box. Some were shifted so other pumpkins beneath them could be selected.

It seemed to take a couple of days for my people to come into the store and select me. Thankfully they selected my cousin too. We both ended up in this metal box with bars and wheels that carried us around the store. Soon there were other foods in boxes, bags, and cartons that surrounded us.  I didn't recognize any of them but I bet they were happy to be going home too.

After waiting in line behind other foods in their moving metal boxes, I was placed on a black moving strip with the other food in the cart.  It was a short trip down the black metal stip and then I was  back to the moving metal box. There must have been a reason for the moving trip, but I didn't really understand why I had gone on it.

The moving metal box was then wheeled outside. It was great to see the sun again. My glimpse of the sun was a brief one. I was then picked up and placed in dark place at the back of my people's car.  It was a little scary there. I prayed that I would be back in the sun soon.

My prayer was answered  a lot sooner that I thought it would be. The lid above my head was opened and I was carried to the front to the front of my people's house and placed on a step. The small person in my people's family complained that I should go in the house and not put on a step, but the big person said it wasn't  time for carving pumpkins yet.

I sat on the step soaking in the sun for many days. Other pumpkins on the street had been transformed into jack o' lanterns, but I remained as I had always been. I started to wonder if I would be changed.  Maybe the big person and convinced the little person I need to stay the way I had been born. I hope that won't happen. I longed to have decorations carved into me and display a bright light from inside my shell.

The little person and his friend the little person from the house next store talked of Halloween often as they rode back and forth on the sidewalk just below my step. They seemed to be counting the days until its arrival just as I was.

Finally the big person  came and carried me in the house. Whew! I was relieved. The little person looked relieved too. He said something about there only be one day left until Halloween and that he really wanted to see what I would look like carved.

I was taken to a place they called the kitchen and placed on a table. Beside me knives, carving tools, and spoons were all lined up.  A sheet of newspaper was placed beneath me to cover the table.

Before the pumpkin carving could be done, I had to have a lid placed in the top of me and my gooey insides had to be scraped out. My seeds were removed from the goo and placed in a bowl beside me. The orange goo was placed on the newspaper not to far from me.

As I sat there being cleaned out, I  tried to guess what I would be transformed into. Would I have design like R2-D2 placed into my thick orange skin? Would I have moon or stars on my belly? 

There seemed to be a lot discussion going on between the big person and small person. The little person had big plans for me and the big person was trying to get them to compromise. The big person wanted a simpler plan . After much discussion, they can up  a design the big person was able to do.

Finally knife was picked up and the big person started in on the plans that had been decided on.  I waited patiently as they carved to triangles for my eyes. Soon I had a toothy smile too. 

The little person commented that I looked great, but five teeth would have been better than four. The big person said they had tried to do five, but one tooth had broken when the pushed my mouth out of my skin. 

I was thrilled with how I looked. I was happy to be a jack o' lantern and my happy face would share that with everyone that would walk by me once I was back outside.


There was a long time between leaving the field and becoming a jack o' lantern, but the wait had been worth it.
Here are some more pumpkin carving posts:
35 Pumpkin Activities and Crafts
Pumpkin Faces Created and Carved

(Visited 87 times, 1 visits today)