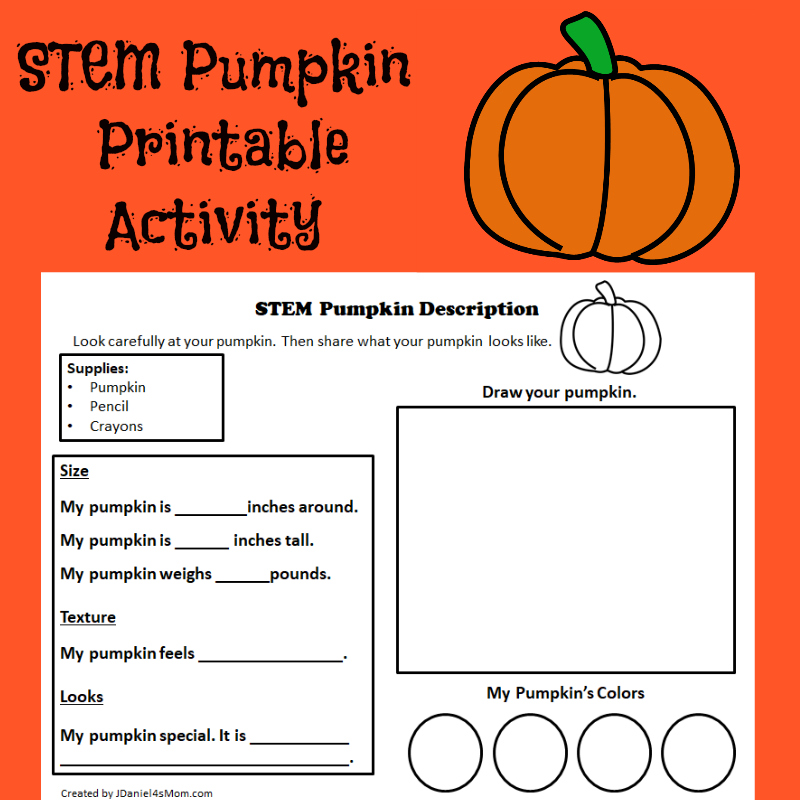 This STEM pumpkin printable my day four pumpkin activity. There will be a total of five sets of pumpkin activities shared by the end of this week. There are pumpkin themed printables for preschool and school-age children. Today's activity could be done with younger or older children.  Let me walk you through how to use this STEM pumpkin activity age with both age groups.
Pumpkin Printable Activity
Before You Start the Pumpkin Printable Activity
You will need to download a copy of the STEM Pumpkin Activites for Kids You will need one printable for each of your children.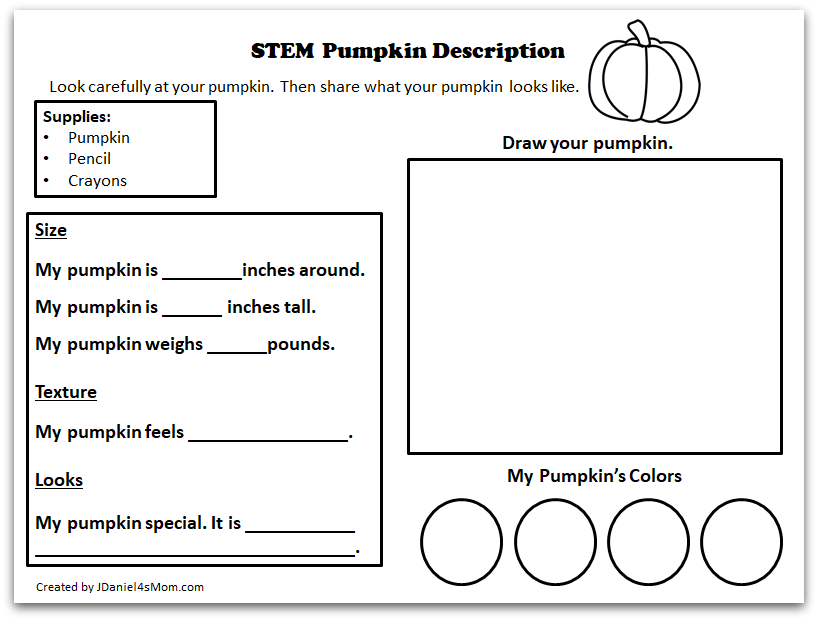 Using the Pumpkin Printable with Younger Children
If you have preschool or kindergarteners, you will have them fill in the picture and colors of the pumpkin on their own. Then you could have them dictate the words they want to use to describe their pumpkin's size, texture and look.
They may need help measuring the pumpkin's height, weight and distance around. Some children may not need help with this.
They may have trouble coming up with words to describe their pumpkin's look. You may need to prompt them with words like the following:
bumpy
smooth
slippery
speckled
rough
bruised
Using the Pumpkin Printable with Older Children
Your older children may feel like they will be able to fill out the pumpkin printable out on their own. It may help them to brainstorm words that describe the pumpkin's size, texture and look with you before they fill out those areas of the pumpkin printables.
You may even want to display the brainstormed words on a chart. A chart of words spelled correctly might inspire your children to use longer or more descriptive words to describe their pumpkin.
If you like this STEM activity, here are so more STEM activities with printables that you will want to check out.
Little Miss Muffet Coding Activity and Printable
Apple Weight Loss STEM Activity
Sedimentary Rock Cookie Recipe and Activity