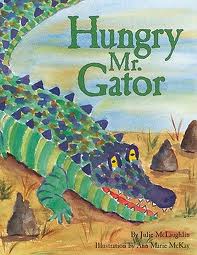 There are bloggers all across the United States sharing children's books that relate to their state or about a state they are interested in. I live in South Carolina and am going to share a wonderful book with you about animals that live long the Carolina coast called Hungry Mr. Gator
 by Julie McLaughlin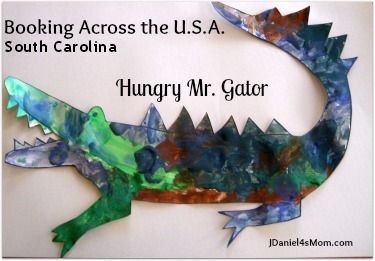 Hungry Mr.Gator is wonderful counting book that features animals found in the low country of South Carolina.  As Mr. Gator slips through the water he finds a number of groups wonderful animals to eat. If only they didn't try to get away or weren't too high in trees or weren't on his list of food interests.
JDaniel loved learning about animals that live in our state. He wasn't familiar with egret and the anhinga. I wasn't really either. It was fun to learn about them togehter. I also love this book's  wonderful illustrations by Ann Marie McKay. We had a book time trying to find Mr. Gator in each of them.
Both the words and pictures in this book draw you in and make you feel like you are visiting South Carolina.
Exploring the Hungry Mr. Gator
As you may know, I am big on reading books and exploring the concepts in the book. I host a weekly blog meme called Read.Explore.Learn. on Fridays that focuses on building a learning foundation by exploring concepts in children's books. JDaniel and I explored this book in two ways.
Painting a Mr. Gator
First we worked on creating a Mr. Gator painting. I drew and cut out the gator and JDaniel painted it. I tried to help with the painting, but it ended up being a one man show.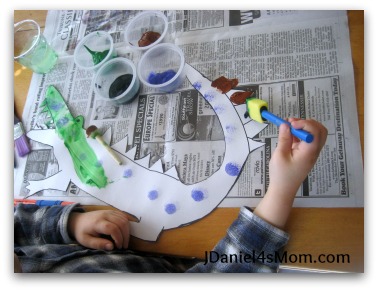 I think he did a wonderful job on the final product. He was most pleased about creating the color gray. I am not sure why. He just kept sharing that he was painting it all over the gator. I love how he layered colors. In some places he layered a lot of paint and others he kept to just one or two colors.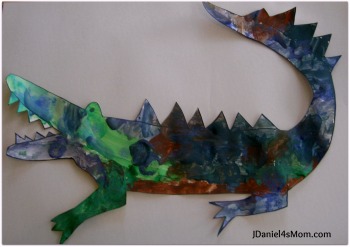 Hungry Mr. Gator Snack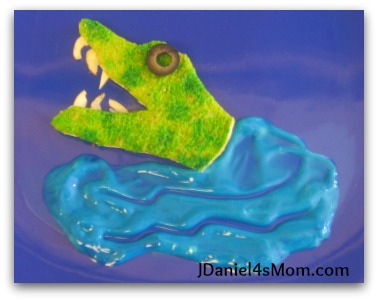 Mr. Gator spent the whole book looking for something to eat. I made a Mr. Gator snack for JDaniel to enjoy. It is made of watermelon yogurt (Which for some reason came colored blue in the yogurt tube.), milk and food coloring painted bread, almonds slivers, and a black olive.
JDaniel chomped this snack down and wanted me to make another one.
We thoroughly enjoyed exploring Hungry Mr. Gator!
Would you like to read posts from other blogs about other states? Here is a list of the other blogs that are participating in the Booking Across the U.S.A. event.
Arizona: Simply Kinder and Think, Wonder, & Teach California: Juggling with Kids and The Outlaw Mom Colorado: Learners in Bloom and Living Montessori NowConnecticut: The Teacher ParkDelaware: Mama MissFlorida: Teaching StarsGeorgia: Fabulously FirstHawaii: Teaching With StyleIdaho: True Aim EducationIllinois: Growing Book by BookIndiana: Teach PreschoolIowa: Surviving a Teacher's SalaryKansas: KCEdventuresKentucky: Chicken BabiesLouisiana: New Orleans Moms BlogMaine: Maine Adventure Mom and Country Fun Child CareMaryland: Picture Books and PiourettesMassachusetts: Mama Smiles Michigan: Play DrMomMinnesota: The Wise Owl FactoryMississippi: Hey Mommy, Chocolate MilkMissouri- Ready. Set. Read!Montana: The Honey BunchNebraska: The Good Long RoadNevada: Boy, Oh Boy, Oh Boy CraftsNew Hampshire: Growing Book by BookNew Jersey: The Pleasantest Thing New Mexico: Enchanted Homeschooling Mom New York: What Do We Do All DayNorth Carolina: Realistic Teacher Blog North Dakota: ND HealthWorksOhio: Smart Chick Teacher's BlogOklahoma: Herding Kats in KindergartenOregon: Journey of a Substitute Teacher Pennsylvania: Land of Once Upon a TimeRhode Island: Smiling in Second GradeSouth Carolina: Cookies and Kiddos and JDaniel4's MomSouth Dakota: The Wise Owl FactoryTennessee: No Monkey BusinessTexas: Curls and a Smile and Kid World CitizenUtah: Teach Beside Me Vermont: Burlington Vt Moms BlogVirgina: Once Upon a Story, and The Freckled Homeschooler Washington: Home Learning Journey and Boy Mama Teacher Mama West Virginia: This Week @ Great Peace Academy and Mamas Like Me Wisconsin: Reading Confetti Wyoming: No Twiddle TwaddleUSA: The Corner on Character
Disclaimer: Links to Amazon in this post are affiliate links.

(Visited 231 times, 1 visits today)