Last week I shared the book Patrick's Day with you along with several St. Patrick's Day themed activities in a post called St. Patrick's Day Activities- Part  One. Today I wanted to share with you another wonderful St. Patrick's Day themed book called Leprechauns Never Lie
by Lorna and Lecia Balian.
Wait you may be thinking! Haven't you shared this book with us before. I have shared Leprechauns Never Lie before
here
 and  on the
Book Chook
two years ago. I thought it was worth another share with look here and I am also sharing it on the Kid's Activities Blog. It is a really wonderful book. I just keeping wanting to share it.
Ninny Nanny lives with her Grandmother. Gran isn't able to do much around the house and Ninny Nanny is lazy. She doesn't like to fill the rain barrel with water, dig the potatoes, fix the wholes in the roof, or gather sticks for the fire.
Her solution to the growing list of chores is to find a leprechaun's gold and have the chore issues go away. She accidentally trips over one while searching and catches him. He is supposed to give her his gold. He ends up getting her to do her chores and almost has to give his gold to her. Ninny Nanny ends up not believing the location he tells at the end of his ranting about its final location.
Leprechauns Never Lie is so much fun. JDaniel loved watching Ninny Nanny get tricked and I love the humor in the stories illustrations.
What did we do to explore the book Leprechauns Never Lie?
I put out a number of sensory activities for JDaniel that recreated the chores Ninny Nanny had to do in Leprechauns Never Lie.
Water Pouring
Ninny Nanny has to pour water from a bucket into a rain barrel. JDaniel got to pour water into all kinds of containers.
Creating a Thatched Roof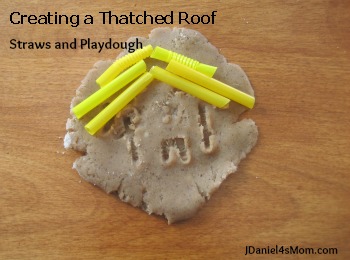 I put out some gingerbread scented play dough, yellow straw segments, and a chopstick for this activity.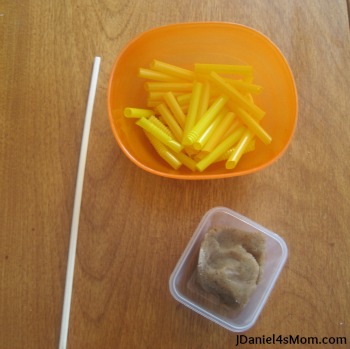 JDaniel and I both worked on drawing the house. It was a little harder than I thought it would be to draw the house in play dough.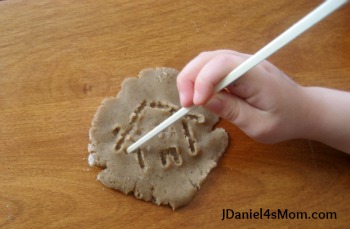 When the pictures was done, he added the yellow straws to roof to create a thatched roof like effect.
Digging Up Potatoes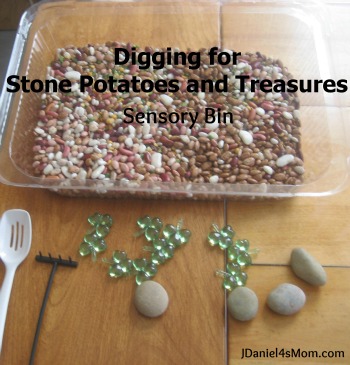 Last year I had JDaniel use the spoon and rake shown above to dig through beans to find shamrocks. This year I pulled out the same materials and added some new ones. I added a lot more beans and some rocks.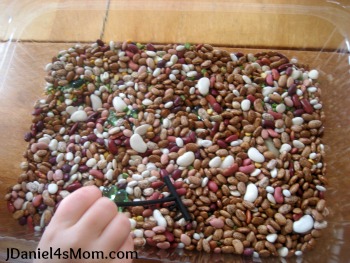 He had a great time placing the rock potatoes and shamrocks in the beans and digging them out. After he had dug out all of the shamrocks, he planted them in the beans in rows. He was so proud of getting them to balance and look like they were really growing up out of the beans.
Twig Transfer Activity 
We have had a lot of branches fall from our beech trees this winter. JDaniel loves to gather them up and pile them near the bushes along the back of the house. We call it his "beaver dam". I grabbed some his branches and broke them into tiny twigs.
JDanie was asked to move them from one bowl to the next. It was hard to hold the chopsticks tight enough to move the sticks, but he was able to do it.
How have you explored children's books this week?
Disclaimer: 

Links in the post to Amazon are affiliate links.

(Visited 679 times, 5 visits today)