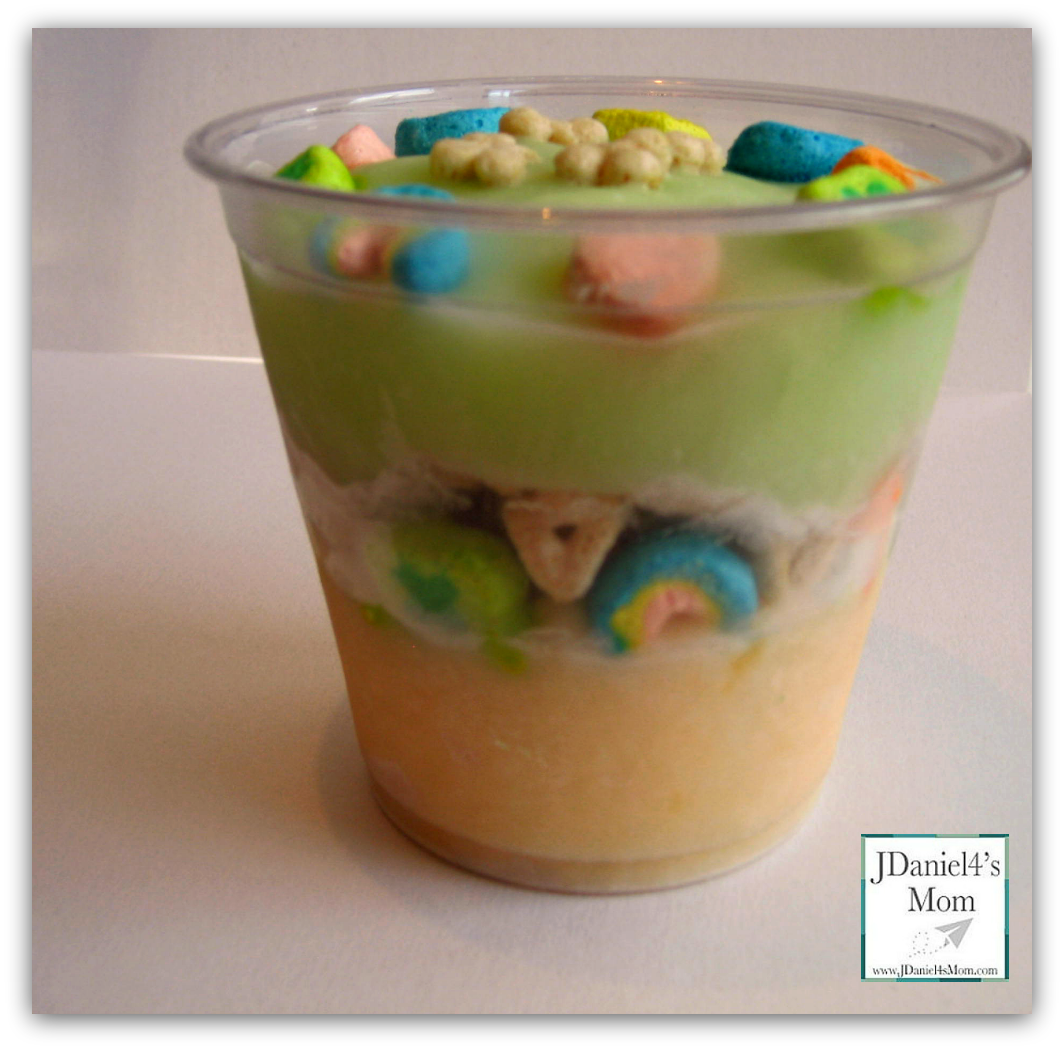 Every morning JDaniel asks for a piece of cheese on a  tortilla (I have tried serving them to him with fancy food additions), fruit and yogurt for breakfast. I thought I could convince him to try something new by creating a St Patrick's Day cereal and yogurt parfait for him. It isn't St Patrick's Day yet, but I didn't think St. Patrick would mind my creating a treat for JDaniel a little early.
Before I could even create the parfait one of the key ingredients disappeared. The key lime yogurt had apparently called out to my husband late one night from the deep recesses of the refrigerator from behind the french onion dip and cottage cheese. If my son had known it was there, he probably would have tried to have it early. (It is is very favorite flavor!)
JDaniel ended up getting have his parfait on a different day than I had planned, but he didn't seem to mind. He ate every bit of it.
How did I put this St Patrick's Day snack together?
Ingredients
1 small container of orange yogurt (I used  orange dreamsicle.)
1 small container of key lime pie yogurt
1/2 cup of Lucky Charms cereal
Directions:
Spoon the orange flavored yogurt into  the bottom of a plastic cup.
Place the marshmallow shapes and cereal in a pattern so it can be seen outside the cup.
Sprinkle cereal on top of the yogurt.
Spoon the key lime yogurt on top of the cereal.
Sprinkle Lucky Charms on the top of the lime yogurt or arrange it in a pattern.
I served this to him unfrozen, but I think these would be great a frozen yogurt treat. (We will have to try that next year.)  I hope you try this St Patrick's Day yogurt and cereal parfait.
Here are some other St Patrick's Day food related posts I have written:
St. Patrick's Day Food- Irish Soda Bread
Getting Children to Eat New Foods- St. Patrick Loves Veggies
Crafting a Healthy St. Patrick's Day Snack
Irish Symbols in a Snack for Muffin Tin Monday
If you do try any of the above recipes for St Patrick Day, please leave me a comment below telling me about it  or share a picture of it on my Facebook page.

(Visited 768 times, 1 visits today)