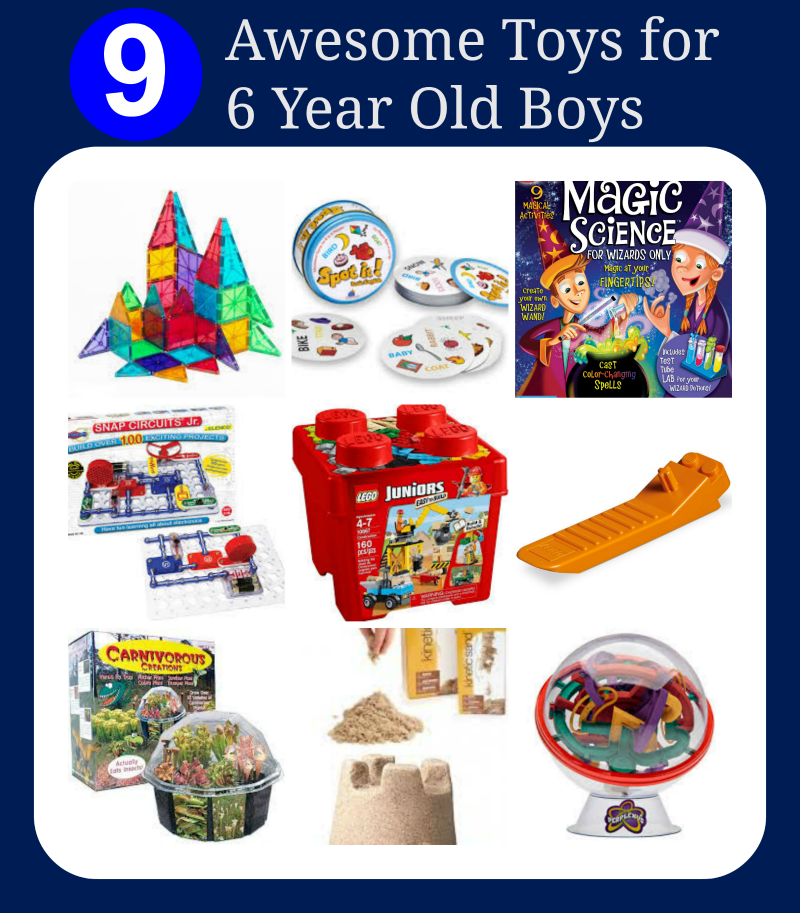 My six year old and I recently sat down and looked through catalogs my mom received to look for gift ideas.  She loves for him to pick them out for her. She just then has to order one or two of them. I thought you might want to see what awesome toys for six year olds that he selected.  Also included on this list are some toys and gifts that I have seen him enjoy playing with during the year.
Since he is a boy I have chosen to call this post 9 Awesome Toys for Six Year Old Boys. I think that girls will love these too.
The links below are affiliate links.
Awesome Toys for Six Year Olds
JDaniel has really loved playing with these at the library. It is amazing what creative structures you can build with them. He will really enjoy creating with them.
Spot It! Basic English
We have the original Spot It game and JDaniel really likes to play it. It reminds him of his Where is Waldo and I Spy books. I thought he would like have a version of the game that works on reading skills. ( Actually I thought he would like the game. I would like that they worked on reading skills.)
POOF-Slinky – Scientific Explorer Magic Science for Wizards Only Kit
This is one of the gifts that JDaniel pointed out in one of catalogs. He really loves science. Magical science really looked like fun to him. I think it looks like fun too.
Elenco Junior Electronic Snap Circuit Kit
Last spring I got JDaniel a Snap Circuit Kit for his birthday. I didn't realize at the time that there was a junior version of Snap Circuits. He needed assistance with the kit we gave him. I think this kit will be a better toy for six year olds.
LEGO Juniors  Construction
JDaniel is super big into LEGO. He just loves building with them. He will be getting this kit for Christmas. I love the bricks come in a sturdy storage container.
Lego Building Accessories Orange BRICK SEPARATOR
A brick separator was included in a kit that JDaniel got as a gift. It is the best thing ever. It makes separating bricks so much easier for him and for me. I think it would be a great stocking stuffer.
This sand looks like it would be amazing to play with. We haven't tried it, but I think we will have some under our Christmas tree. JDaniel thought it looked great.
We both think this sphere game looks like fun. I like that you really have to think and use eye hand coordination to play with it.
DuneCraft Dome Terrariums – Carnivorous Plants
This is another awesome toy for year olds and older that my son thought he might want for Christmas. He point it out to me in several catalogs.
I hope that you find these gift suggestions helpful. They lean toward creating and learning about science. (My son is interested in those areas.)  If you need to buy toys for six year olds, I hope you think about buying some of the toys I have listed.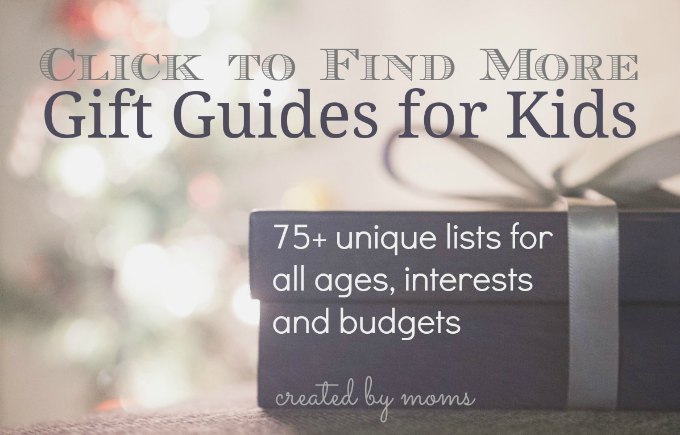 Follow Erica • What Do We Do All Day?'s board Gift Guides for Kids on Pinterest.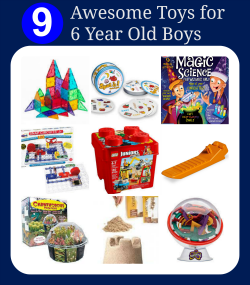 (Visited 1,904 times, 1 visits today)