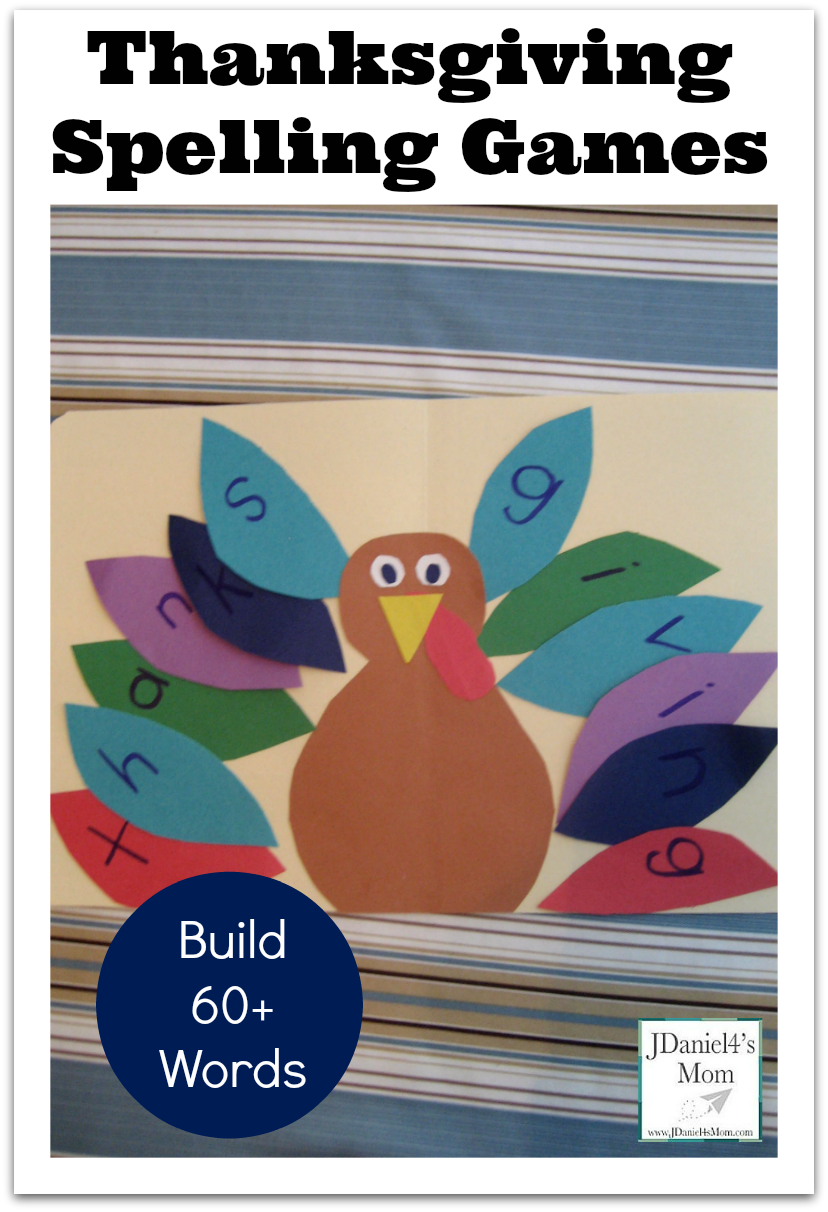 Spelling games that make you use your brain to build words are challenging and fun. In this game we tried to come up with a lot of  words using the letters found in the word Thanksgiving. While we searched our minds for words that we could build, we were using a variety of reading skills at the same time.
Spelling games that tap into reading skills use the following skills:
Once children discover a word they can build, they can look for other words that would be in that words family.
When you have found a particular ending sound like –ng, you can see if you can build words that have that same ending.
If you have built a word like think, you can add a letter to it like an "s" to build a new word.
After building a word, you can talk about what kind of words it is. (noun, verb, or adverb)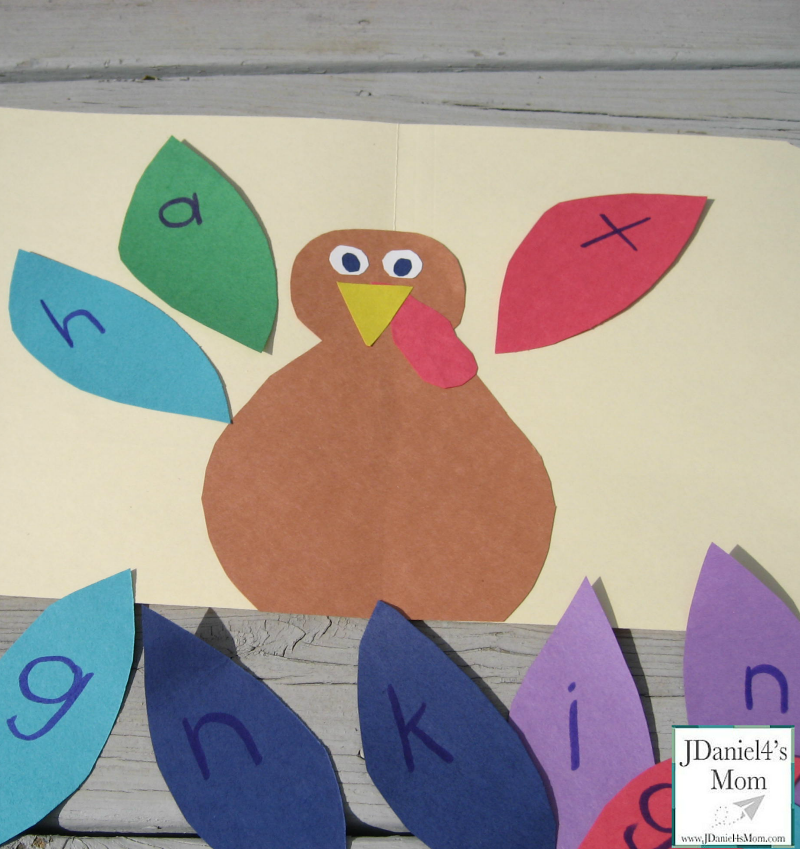 We found a ton of words that we could build using the letters in the word Thanksgiving. We found about sixty actually. Rather than list them all in this post I have created a printable word list that you can use all with our file folder game.
Spelling Games Assembly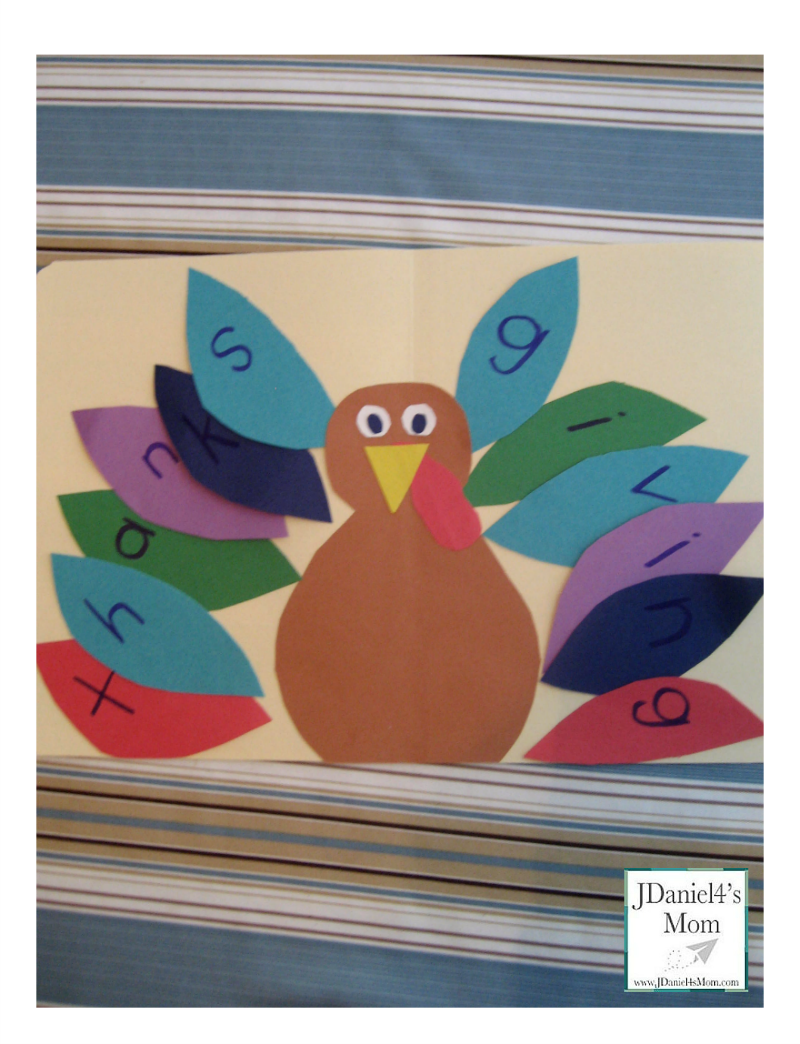 A simple turkey was cut out and glued into a file folder. The folder really displays just the turkey's head and tummy.  Then feathers were cut out of different colors of construction paper. Each feather had one of the letters in the word Thanksgiving written on it.
The file folder turkey is really just a work space for children to use to build words on. You could easily play this spelling game with just the feathers or just the letters on index cards.
Spelling Games to Play
As children are creating words on their own or with a partner, you may want them to record them on a piece of paper.  After creating all the words they can think of, you could give them the list of words. They could build the words on the list or search to see if all their words are on the list.
The main goal of the spelling games in to interact with letters and words. As children do that, they build connections from skills that they already know to new ways to use them.
This activity would be fun to doing in a learning center, as a whole group, with partners or even at a Thanksgiving gathering. It might we fun have the children at a gathering do this activity with an aunt or uncle.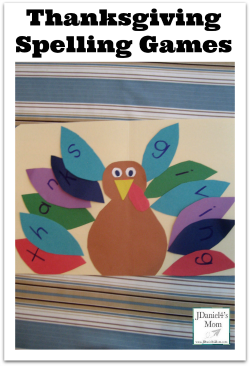 The list I have provided contains only some of the words you can make with the letters found in the word Thanksgiving. I have found list of almost 200 words.
Here are some other spelling games and activities:
Spelling Games- Skeleton Bone Words
Practicing Spelling Words on a Place Mat
Spelling Games with Mixed Up Words and Apples

(Visited 818 times, 1 visits today)