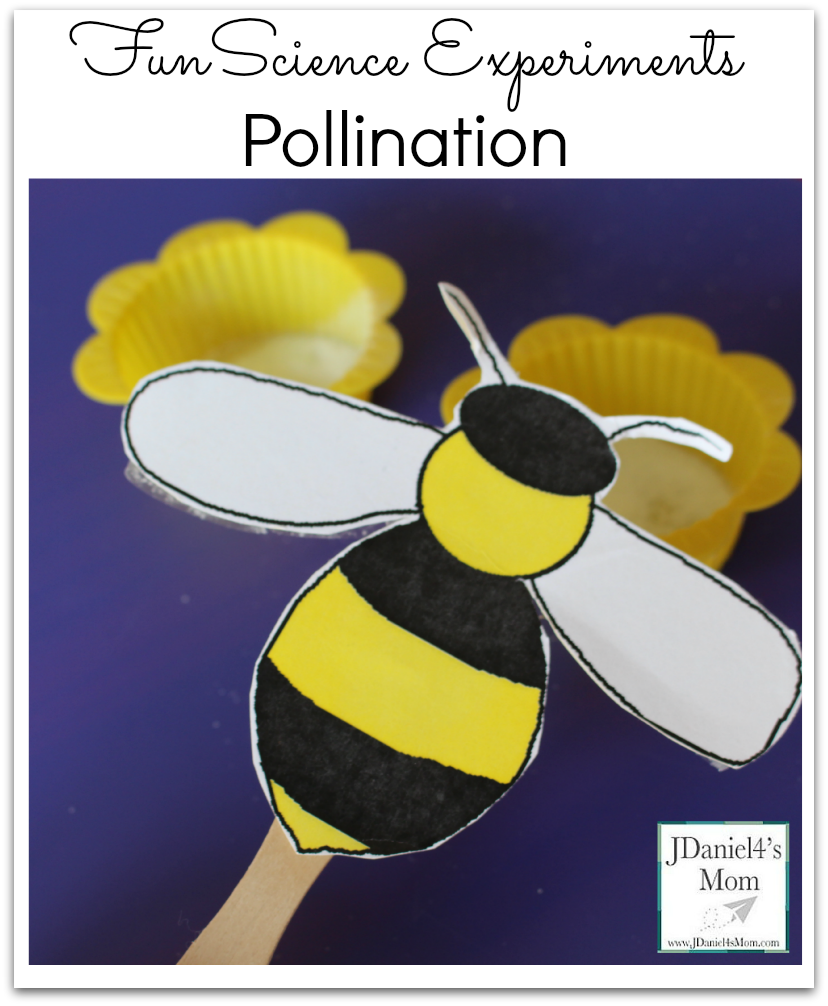 If a flower is going to grow, it needs for its pollen to be moved from to another plant. One way the pollen is moved is by bees. While they are dipping into a flower, some of the pollen ends up on their body and wings. When the bee visits the next flower on their hunting and gathering trip, some of the first flower's pollen drops into this flower. Here is pollen transfer experiment helps kids to see this process happening first hand.
Fun Science Experiment's Directions
The first thing you need to do is make or find a bee. I drew the bee we used for this experiment in a paint program on our computer. You could print out a clip art bee from the internet or make a bee of your own.
The link below is an affiliate link.
Once you have bee, you will need to glue it to a ice cream paddle spoon or a popsicle stick. We happened to have small ice cream cup spoons leftover from a craft we did awhile ago. If you don't have them available you could easily use a long popsicle stick or a tongue depressor. They idea is that the stick keeps children's hands out of the pollen and make the bee a little easier to dip. You may have a number of bees visiting the same flowers. By not reaching into the cups with their hands the pollen will stay a little cleaner.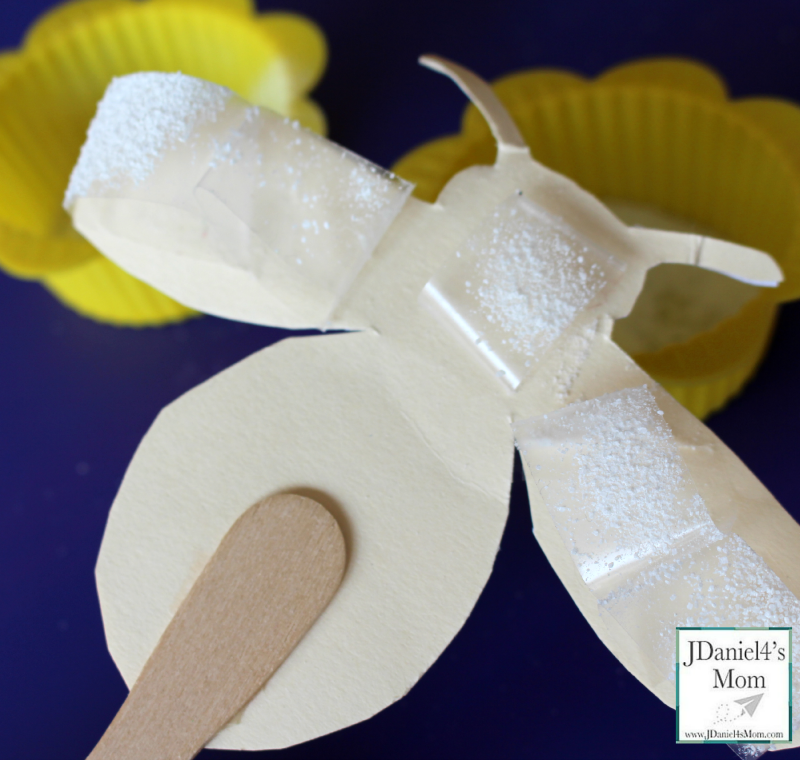 Strips of clear plastic tape were placed on the back off the bees' wings and body. While pollen might have stuck to the bee without it, it made it easier to collect. By using clear tape for this experiment it was really easy to see the pollen.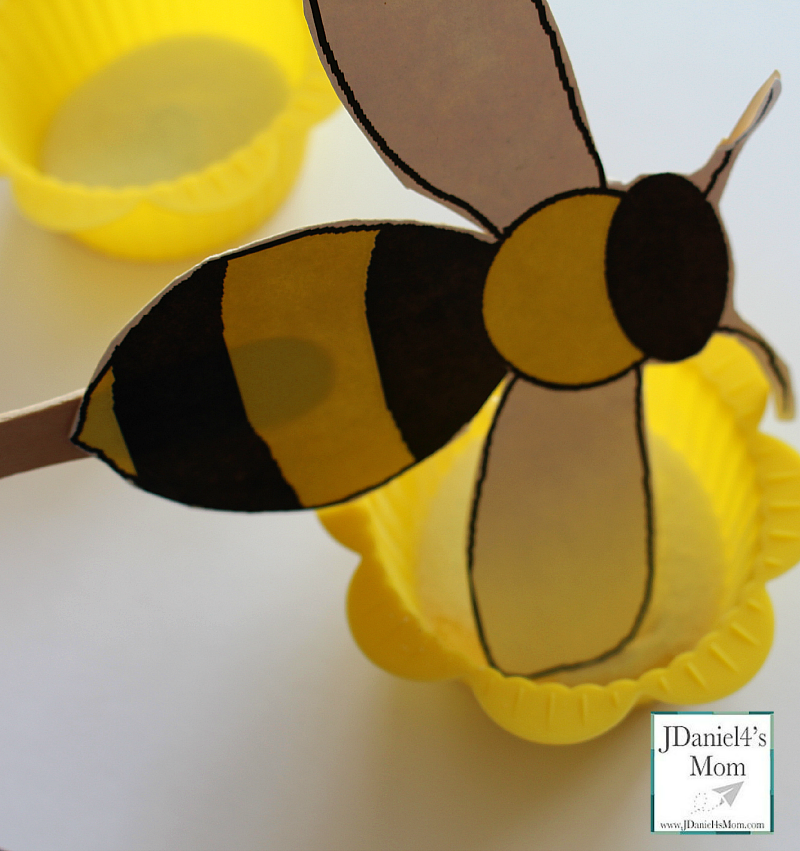 Now it was time to set up the flowers and the pollen. We used flower shaped silicone cups with lime gelatin crystals in them.
Hints:
You could use a plastic plate or saucer placed on the outline of a flower it you like. A flat surface would be easier to dip into than the deep silicone up.
You don't have to use gelatin. You could use drink mix, sugar grains, or a small grain like quinoa.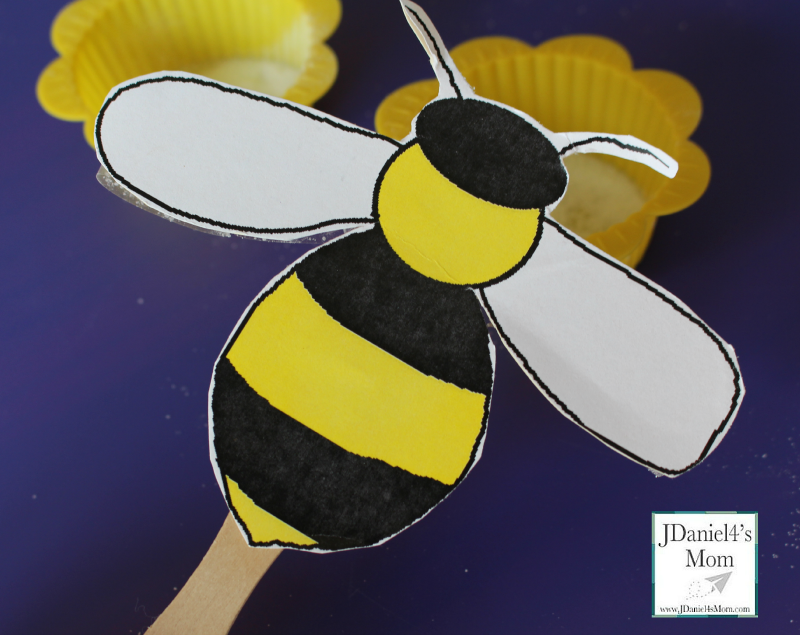 We found that as the bee moved from one flower to the next some of the pollen fell off. I was really glad we had placed a plastic mat under the silicone flowers. We would have had pollen everywhere without it.
As we experimented, we talked about what was happening.  We concluded that it is totally not a surprise that pollen gets dropped into neighboring flowers. We had pollen on the bee, on the plastic mat and in the neighboring flower. We talked about how some of that pollen ends up in air. It is that pollen that can cause kids with allergies to sneeze and have watery eyes.
If you like this experiment, here are a number of science experiments for kids on my Early Learning- Science Pinterest Board I hope you will check them out.
Here are some wonderful books about bees:
In the Trees, Honey Bees!
– This beautiful book shares the life of a bee.  The text flows in rhyme on most pages. I think little kids and big kids will like learning more about bees and looking at amazing illustrations in this book.
Bee-Wigged
– This is the tale of a bee that just wants to have friends, but he is a giant bee. His size scares people. Will putting on a wig help him make friends? He decides to try. This book has a really sweet message.
The Beautiful Bee Book (Beautiful Bug)
– A wonderful reference book for kids! If your children love reading facts about creatures, they will love this book. There is so much information on its pages that you will need to read it again and again.

(Visited 9,228 times, 2 visits today)