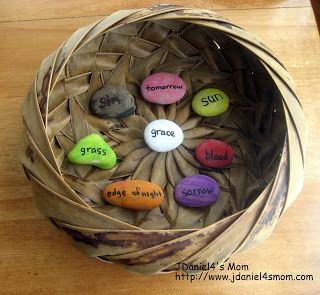 I love the Jelly Bean Prayer. I found it mentioned on the
Little Llamas
and
1+1+1=1
. In fact I printed out the little coloring book 1+1+1=1 has on her blog last year to share with JDaniel.
The idea is that you share the gospel with your child as you give to them the jelly beans one at a time while they learn the poem that makes up the prayer.
Red
is for the blood He gave,
Green
is for the grass He made,
Yellow
is for the sun so bright,
Orange
is for the edge of night.
Black is for the Sin we made
White is for the Grace He Gave
Purple
is for the hour of sorrow,
Pink
is for the new tomorrow.
While I love the idea of using jelly beans to share the gospel with children, I didn't want to have to give JDaniel jelly beans every time we went over the Jelly Bean Prayer.
Little boys love stones and they love to hold them. I decide to  have JDaniel help me paint some stones the colors mentioned in the prayer. I later went back and wrote the message each stone conveyed in the poem on it.
This set of stones is so easy to work with. Right now it lives in a basket in our kitchen and I have pulled it out to go over the prayer during meal times a few times this week.
By the time we get to Easter Sunday JDaniel will have a real understanding of Easter and of God.
Here are some other wonderful Easter activities for kids:
Experiments with Egg Parachutes
You will find even more Easter activities on my Easter board on Pinterest. 
This post is linked to Mrs. Matlock's Alphabe Thursday.
(Visited 2,979 times, 1 visits today)