This week we have been working on pumpkin activities and reading It's Pumpkin Time!
by Zoe Hall. It's Pumpkin Time walks its readers through the stages of growing a pumpkin from seed to sitting carved on a front step.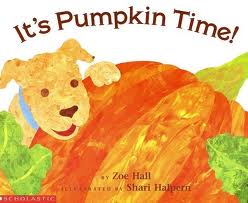 The illustrations in this book are amazing. I love the coloring layers and vivid pictures. Sharl Halpern did a wonderful job sharing in pictures each of the stages Zoe Hall described.
What did we do to explore It's Pumpkin Time?
Pumpkin Emotion Game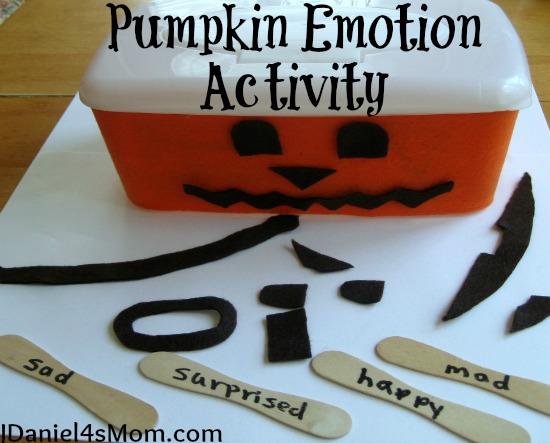 JDaniel and I created an emotion box and facial features that expressed different emotions. We talked about the emotions and how to express them.

This activity was created for The Studio by Kiwi Crate. I have written several activities for The Studio. I hope you will check out my page of activities there.
Pumpkin Dice Game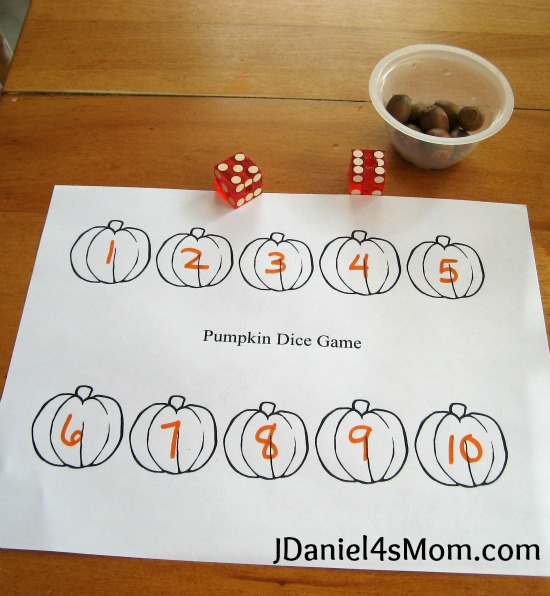 I created a game sheet with ten pumpkins and wrote the numbers 1-10 on one of each of them. JDaniel rolled the dice and then put an acorn on the numbers as he rolled them.

We used dice with dots on them so JDaniel could count them. An older child would be able to use a set of dice with numbers on them and add the numbers together to make sums. They could then cover the sums with an acorn.
Here are some of  the wonderful posts that linked up last week:
Healthy Eating Starts At Home created an amazing lunch to go along with the book In the Tall, Tall Grass.

Tots and Me has a wonderful moon unit. I really like the activities she selected to learn about the moon. Her moon craters activity really looks like fun.
How have you been exploring books this week? Share your children's book exploration posts below. I will be featuring them on the Read.Explore.Learn. Facebook page during the next week.
Disclaimer: This post contains affiliate links.

(Visited 858 times, 1 visits today)